EURUSD: "High Wave" pattern
2019-11-11 • Updated
There's a "High Wave" pattern, which has been formed at the last local high. If the 34 Moving Average acts as support, there'll be an opportunity to have another upward price movement.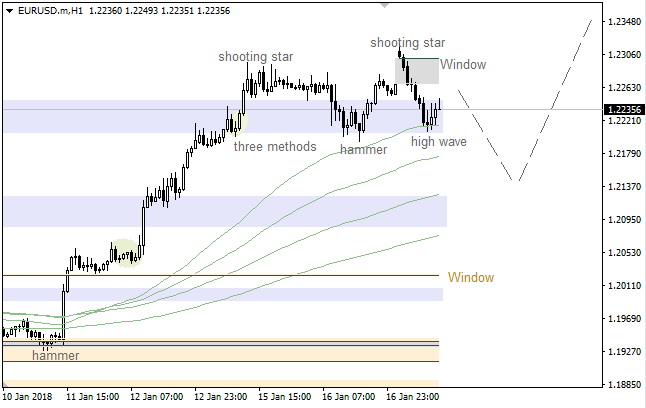 The last "Shooting Star" led to the current decline. However, we could have a local upward correction in the coming hours. Nevertheless, the 89 Moving Average is likely going to act as support little later on.
Similar
EUR/USD Hit All Targets
4H Chart  Daily Chart  EURUSD managed to rise further on Friday inline with our expectations, reaching our entire targets mentioned in our previous notes at 1…
Latest news

Can USD Recover?
The EUR/USD pair is making gains, approaching multi-month highs around 1.0960, driven by a weakened USD and Christine Lagarde's somewhat hawkish remarks before the European Parliament. Minor housing data from the U.S., specifically New Home Sales for October, came in below expectations but didn't significantly impact the pair. Lagarde, President of the...

Stock Market Rally. How Far Can It Go?
Global equities on Wall Street experienced a mixed session following the Thanksgiving holiday, heading for the most significant one-month rally since November 2020. MSCI's global shares index slightly eased but was still on track for an 8.5% monthly gain, fueled by growing investor confidence that U.S. interest rates...
OPEC Boosts The Oil Market
Brent crude futures is maintaining stability this Friday, with traders awaiting an OPEC+ meeting that might lead to further supply cuts. Brent crude was down 8 cents at $81.34 a barrel, following a 0.7% drop in the previous session.
Deposit with your local payment systems