Oil is back to pre-pandemic levels!
2021-02-09 • Updated
What happened?
The global recovery increased the demand for crude oil and dragged the price to the pre-crisis levels. It was mainly caused by the vaccine rollout, which improved the overall market sentiment and gave hope to investors that the Covid-19 pandemic will come over soon. Besides, OPEC+ continues cutting oil production, helping to avoid the oversupply. Besides, expectations for extra Biden's stimulus package added to hopes of a quicker global rebound and boosted oil prices.
What's next?
Follow crude oil inventories on Wednesday at 17:30 MT time. The market forecast is the drop of 1 million barrels. If actual inventories are less than this forecast, crude oil will jump! Otherwise, oil will fall.
Technical analysis
Oil prices have taken a break today after a long rally up. The RSI indicator went above the 70.00 mark, signaling the overbought area. Elsewhere, it has approached the upper trendline of the Bollinger Bands. Therefore, the short pullback to the downside is likely to happen soon, but it shouldn't go lower the support of $52.00. On the flip side, the move above $60.00 will drive oil to the high of December 2019 at $65.00.
The current oil CFDs are WTI-21H and Brent-21J.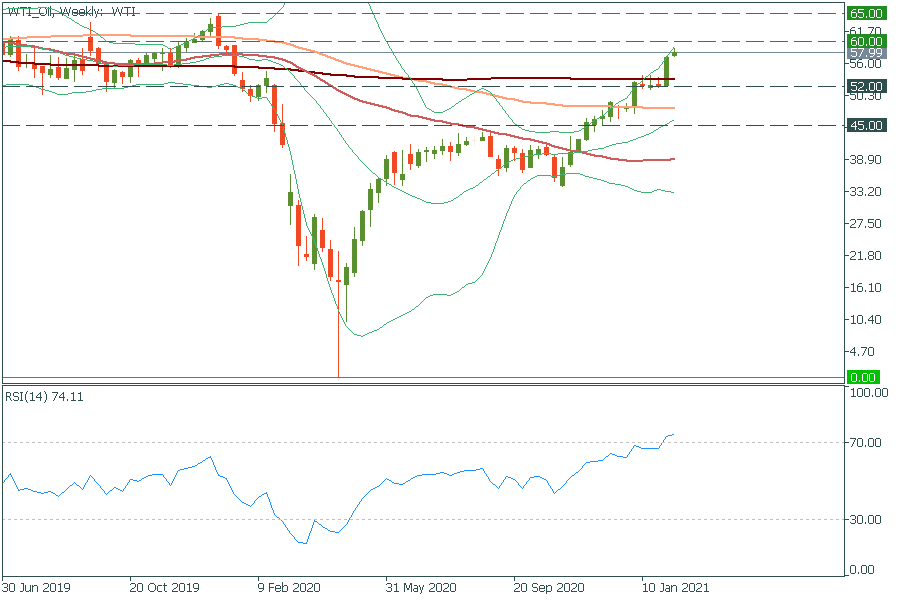 Similar
What Can Drive Oil below $90 a Barrel?
The past two years have seen the biggest swings in oil prices in 14 years, which have baffled markets, investors, and traders due to geopolitical tensions and the shift towards clean energy.
Deposit with your local payment systems