All attention to AUD: cash rate and RBA statement
The Reserve Bank of Australia will make a statement and release the cash rate on Tuesday, June 2, at 8:30 MT time.
Instruments to trade: AUD/USD, AUD/CAD, AUD/CHF, AUD/JPY, AUD/NZD
A cash rate is the interest rate that a central bank such as the Reserve Bank of Australia (RBA) charges commercial banks for overnight loans. When the coronavirus pandemic broke out, the RBA cut the cash rate to its record low of 0.25%. Analysts expect that it won't change for a long time. Firstly, negative rates won't help because other countries tried it and it didn't work well. So any government support can come only from quantitative easing. Secondly, the cash rate won't go up either as the RBA promised not to raise the cash rate until it sees some progress towards full employment and inflation within the 2-3%. Why do traders care? They wait for RBA Rate Statement as it's the way the central bank communicates with investors about the monetary policy. The Australian dollar is quite sensitive to the sentiment, that's why it will be vulnerable to the tone of the central bank's prognosis.
If the RBA keeps the rate unchanged and gives some dark forecasts, AUD may go down under pressure.
Otherwise, if the RBA is optimistic about future recovery, AUD can go up.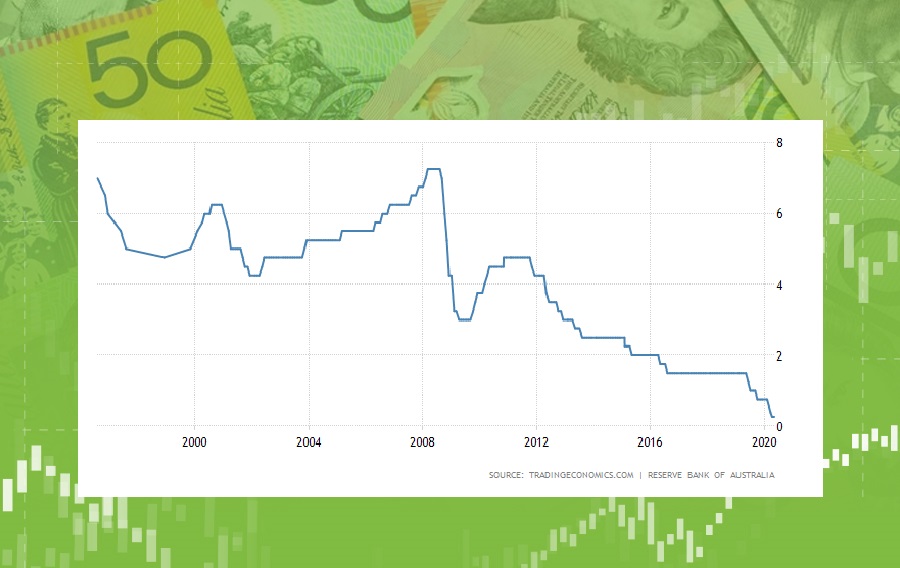 Similar
Latest news
Market Crash Incoming?
This week may be the most important since the year started as the Fed assess the economic outlook and the US presents fresh NFP readings.
What Currency Will Overperform?
S&P Global, a private banking company, will release a monthly change in British Flash Manufacturing Purchasing Managers Index (PMI) on January 24, 11:30 GMT+2. The index is a leading indicator of economic health as businesses react quickly to market conditions, and purchasing managers hold the most current and relevant insight into the company's view of the economy.
Deposit with your local payment systems