Apple event surprised traders
Every year in early autumn Apple holds its event where it presents new iPhones, Apple Watches, and iPads. This year wasn't an exclusion. But yesterday's presentation didn't result in Apple stock growth, and here's why.
What happened?
Apple has presented several new models of already familiar products:
new iPhones (13, 13 Mini, 13 Pro, and 13 Pro Max). All models got a new A15 chip, that is now more powerful than ever, new cameras, with improved dark mode and new ultrawide lens, and a new screen, that is now even more durable to drops.
Apple Watch 7 now has a new widescreen and some software improvements, that will help to detect whether its owner starts doing sports.
an iPad with a new camera and TouchID sensors inside the power button.
an iPad Mini, which now looks just like an iPad Pro, with thin borders and 4 loud high-quality speakers.
Seems like a fair trade, isn't it? Lots of new products and decent improvements, but that's now quite true. The thing is this presentation didn't show us anything truly special, new, or at least some huge update on any of the products. Instead, we had got some minor updates on both hardware and software parts.
Why is it affecting the price badly?
First, the expectations were already in the price, and as you can see on the chart below, Apple stock prices have been surging in anticipation and managed to make a new all-time high.
Second, we consider the consequences of this event as weak. Without any "revolutionary" products have been shown, only new iPad Mini (that is lovely) and an Apple Watch with a mesmerizing screen can generate enough revenue for the company, thus, the target price for Apple now can move lower as the company might generate less income in the future.
Let's look at the chart to analyze its further movements. Apple had a false breakout of the channel and now has a chance to plunge to the middle or the lower border of it before the uptrend continuation.
Apple daily chart
Support: 145.0; 140.0; 130.0
Resistance: 155.0; 160.0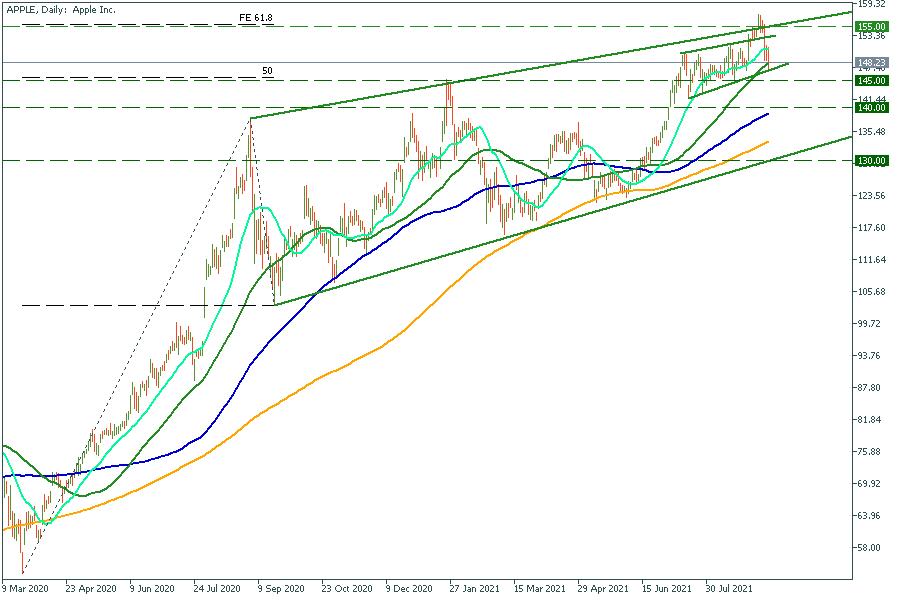 Similar
Latest news
The US Dollar May Decline
Mester (Fed) says the Fed will have to raise rates again this year. However, the US dollar index shows signs of a short-term decline. Read the full article and learn more!
NFP, Oil, and US Stocks Highlight This Week
Welcome to the first week of October!  As usual, at the start of the week, we are looking for valuable insights that will bring us profits in trading. Let's observe the main events. 
Deposit with your local payment systems