Elon Musk Fires People and Brazil Real Rises Ahead of the Elections
Markets never sleep! Let's be prepared for a beautiful trading experience by looking at the most important news of Tuesday!
Events of the day:
17:00 GMT+3: ISM Manufacturing PMI
17:00 GMT+3: JOLTS Job Openings
How do Brazil's elections affect the BRL?
After Luiz Inacio Lula da Silva won the elections in Brazil, the country slipped into protest from his opposers who voted for Jair Bolsonaro. They are blocking roads in states that supported the last president the most, stating that the voting process wasn't fair. Still, Brazil Real has been rallying since the elections ended, rising against the USD by 3% in a single day.
Lula will probably use his victory to try to revive Brazil's economy, which has suffered over the last four years. USDBRL approached the support line of 5.190, bouncing from it. We expect a breakout to happen, pushing the pair lower to 5.130 and 5.060.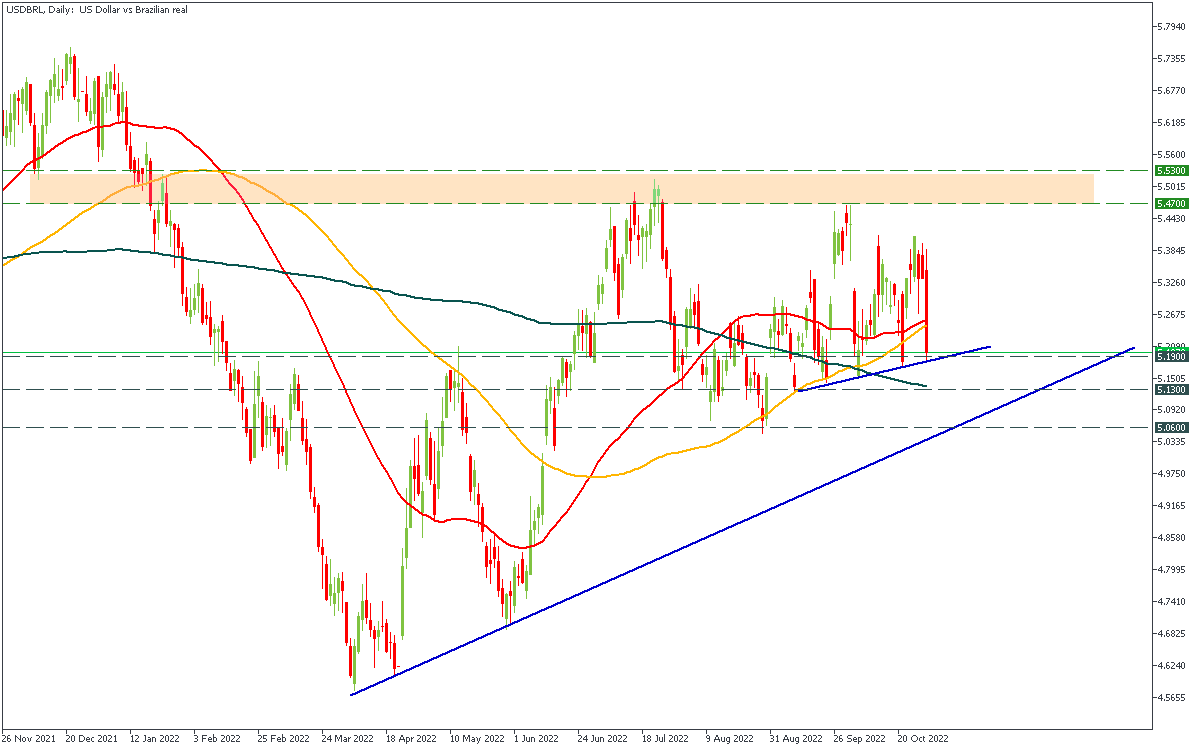 The most impactful news of the day:
Elon Musk dissolves Twitter's board of directors. Nine people were on the board, and now Elon is the sole director.
Reserve Bank of Australia increased the Cash Rate by 25 basis points to 2.85%. The market expected this decision. Still, AUDJPY decreased by 620 points since the release.
Pfizer (PFE), Electronic Arts (EA), and Coca-Cola will release earnings reports today. Follow them in the economic calendar.
New orders for production in the UK have shrunk the fastest since May 2020. UK Manufacturing PMI fell to a 29-month low of 46.2 in October, down from 48.4 in September.
The cryptocurrency market remembered Dogecoin in anticipation of including it on Twitter after Elon Musk acquired the company. DOGE skyrocketed by 180% over the last few days.
Reserve Bank of India may launch its CBDS (central bank digital currency) called the digital rupee this month.
JP Morgan Says the S&P500 could surge by 10% in a single day if the Federal Reserve only raises interest rates by 50 basis points on Wednesday.
Gold is on the rise today and may reach the resistance of $1662.
Good luck in trading! For more market updates, follow FBS Telegram Channel.
Similar
US Dollar Index at a 3-month Low
The USD weakened after Fed Chair Powell hinted at a slowdown of rate hikes, and stocks strengthened. What else is moving the markets today?
Soon Bullish Rally for Gold
The winter is coming, and risky markets expect a rally to come with it. Will this December be bullish for stocks, crypto, and gold? A pack of news will surely help you out.
Latest news
Deposit with your local payment systems