Elon Musk: Tesla is sold for bitcoins
What happened?
You might remember, Tesla has recently invested $1.5 billion in Bitcoin and at the same time announced its plans to accept the cryptocurrency as payment for its vehicles. What was said, was done! Bitcoin skyrocketed 5% after Tesla's founder Elon Musk officially announced it will accept the cryptocurrencies as payment.
Besides, he emphasized that bitcoins for Tesla wouldn't be converted to fiat currency. For now, this option is available only for US customers, but later this year people from other countries will have this opportunity as well.
Elon Musk has tweeted this news immediately after other Twitter users saw the new bitcoin support for all models of Tesla's autos in online US shops. "Musk," "Tesla," and "Bitcoin," quickly became trending hashtags.
What does it mean?
BTC/USD should rise further due to this positive news. From the technical view, BTC/USD should jump as well as it has bounced off the lower trend line. Thus, the way up to the high of March 20 at $59,000 is open now. If it manages to break it, it may surge to the all-time high of $61,100 reached on March 13. Support levels are $55,000 and $53,000.
Trading of cryptocurrencies is only available in our app FBS Trader app.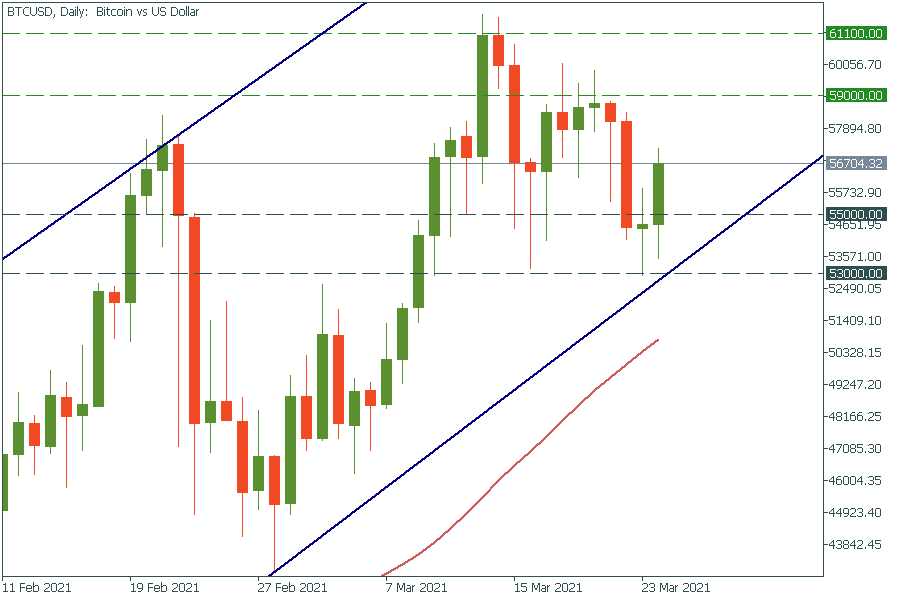 It should help Tesla to recover from the recent losses as well. It has started slowly moving up. If it jumps above the intersection of the 200-period moving average and the 38.2% Fibonacci retracement level of $675.00, the way up to the 50.0% Fibo level of $720.00 will be open. Support levels are $625.00 and $560.00.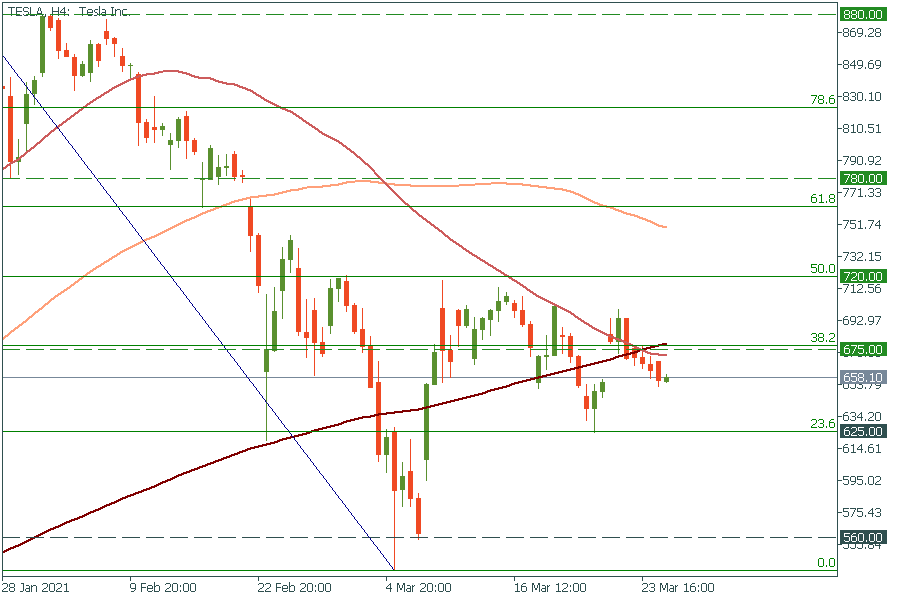 Don't know how to trade stocks? Here are some simple steps.
First of all, be sure you've downloaded FBS Trader app or Metatrader 5.

FBS allows you to trade stocks only through this software.
Open an account in FBS Trader (the MT5 account in your personal area).
Similar
Is it time to buy Coinbase?
Coinbase dropped as Elon Musk crashed Bitcoin. Is it a good time to buy the dips or should you wait a little longer? Let's try to find out!
Latest news
Gold Rises as Central Banks Buy More
About 24% of global central banks intend to increase gold reserves in 2023. Rising inflation, geopolitical turmoil, and worries about interest rates are reasons to increase gold reserves.
US Evades Default This Time
Greetings to a brand new week full of events, economic releases and US debt frictions. We are here to tell you everything you need to know!
USD Gains Momentum
The US dollar index breaks one resistance after another. Read the report to learn the next target for the US dollar index!
Deposit with your local payment systems