FOMC Minutes Brought Insights
Hello, dear traders! We hope you have a great day! Let's see what news is worth following today!
Market closing
US stock exchanges will be closed due to the Thanksgiving holiday. Today is a day off, and tomorrow is a shortened day.
Rate hikes are over?
On November 23, the report was released. At the November 2 meeting, FOMC hiked an interest rate by 75bp. Federal Reserve officials agreed that a small interest rate hike should come soon after assessing the policy's impact on the economy, the meeting minutes said.
Reflecting statements made by several officials over the past few weeks, the outcome of the meeting pointed to a small rate hike to come. Markets broadly expect FOMC to hike the rate by a 0.5 percentage point in December after four consecutive 0.75 percentage point increases.
Officials hint there will be less serious steps ahead but say they still see no signs of lowering inflation. However, some committee members expressed concern about the risks to the financial system if the Fed continues to act at the same aggressive pace.
Gold reacted positively to the release. The asset gained around 1500bp. If the concerns about smaller rate hikes are stronger, the gold will continue to rise.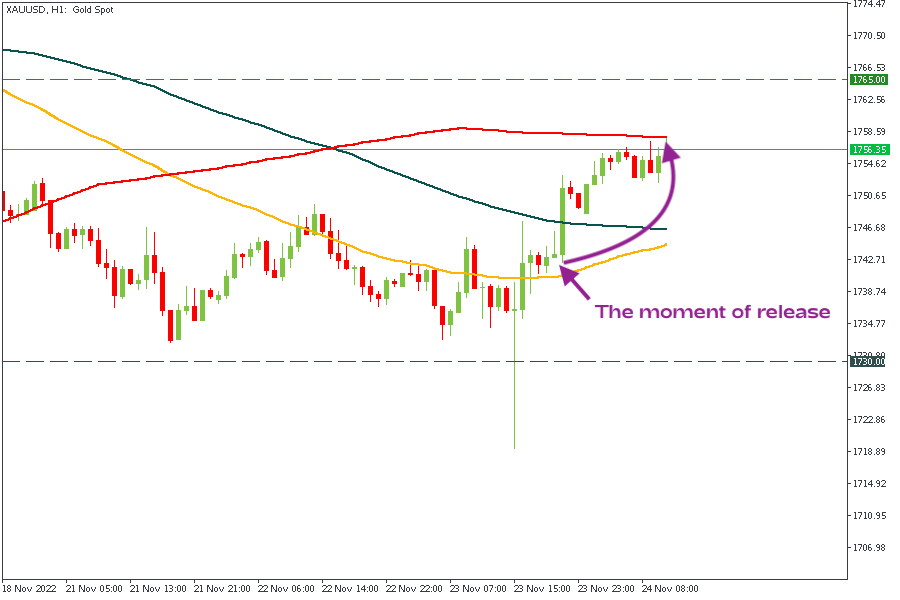 Other important news:
Most EU countries agree with a $65-70 per barrel oil price limit from the Russian Federation, except for Poland, which favors a $30 limit. XBRUSD is 84.84.
Tesla's rating was upgraded from Sell to Neutral, citing a more balanced risk/reward ratio. After the news, TESLA gained 8.3%.
The Central Bank of Japan will begin practical testing of the digital yen in 2023.
European natural gas prices have fluctuated as cooler temperatures create the prospect of a tougher market, even as politicians gather to work out measures to ease the energy crisis. XNGUSD is 7.527.
Have a nice day!
Similar
US Dollar Index at a 3-month Low
The USD weakened after Fed Chair Powell hinted at a slowdown of rate hikes, and stocks strengthened. What else is moving the markets today?
Soon Bullish Rally for Gold
The winter is coming, and risky markets expect a rally to come with it. Will this December be bullish for stocks, crypto, and gold? A pack of news will surely help you out.
Latest news
Deposit with your local payment systems