Gold and USD ahead of the Fed
Good day, traders! Yesterday, the release of the US Inflation rate came out lower than the forecasts (0.1% vs. 0.3%). The soft figures pulled the US dollar index down by almost 1%. At the same time, S&P500, EURUSD, and gold strengthened. Today, the Fed will hold a meeting at 21:00 GMT+3. The Federal Reserve is widely expected to raise the interest rate by 50 basis points. At the same time, traders will be extremely focused on the insights about further monetary policy decisions and economic outlook, as the Fed may signal a higher peak than previously forecast.
Today's events:
US FOMC Statement and Interest Rate Decision - 21:00 GMT+2
FOMC Press Conference - 21:30 GMT+2
Gold awaits volatility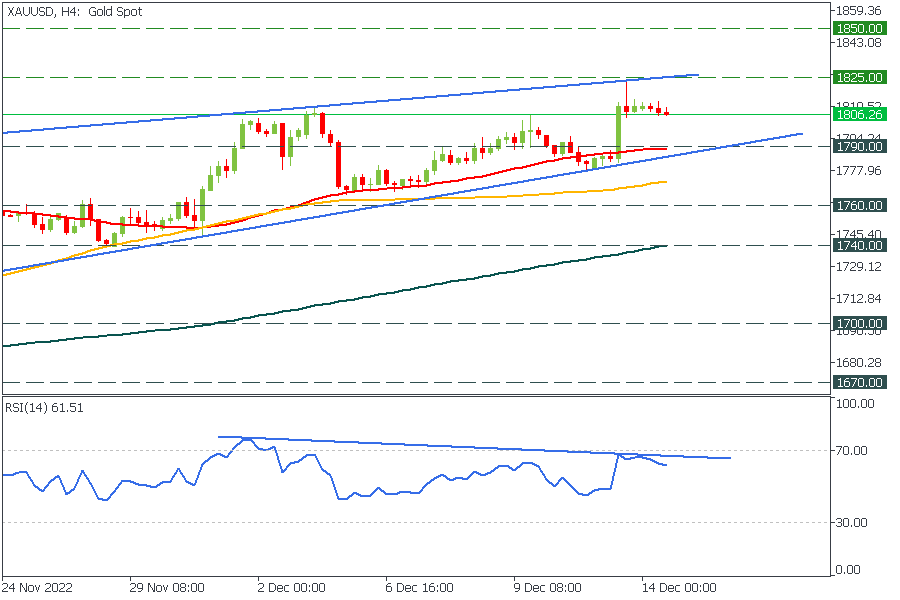 The price of gold tested the resistance at 1825 but then corrected lower yesterday. Now, it may retest the 50-period SMA on H4 at 1790. The price formed a bearish divergence with RSI, which confirms a possibility of a slide to 1790. On the upside, the resistance is placed at 1825.
Other important news:
The inflation in the UK fell from 11.1% to 10.7% amid lower oil prices. Combined with lower-than-expected inflation, this factor pushed GBPUSD toward June's high.
A Bahamian judge denied the FTX founder Sam Bankman-Fried bail on Tuesday after he was accused of violating campaign laws and embezzling billions of dollars.
According to the foreign minister of Hungary, the EU energy ministers have not agreed yet on the gas price ceiling.
The number of withdrawals from Binance reached $1.9 billion in the past 24 hours after the world's biggest crypto exchange temporarily paused withdrawals of USDC stablecoin. Meanwhile, the US Congress is considering the crypto consumer protection bill that Sam Bankman-Fried backed before FTX collapsed.
Take advantage of the market and good luck!
Similar
Latest news
Gold Rises as Central Banks Buy More
About 24% of global central banks intend to increase gold reserves in 2023. Rising inflation, geopolitical turmoil, and worries about interest rates are reasons to increase gold reserves.
US Evades Default This Time
Greetings to a brand new week full of events, economic releases and US debt frictions. We are here to tell you everything you need to know!
USD Gains Momentum
The US dollar index breaks one resistance after another. Read the report to learn the next target for the US dollar index!
Deposit with your local payment systems