Gold Remains Weak Despite Dollar Plunge
The fact of the day:
XAUUSD remains under pressure despite the US dollar index plunge and the stock market rally.
What to expect?
Earlier this year, XAUUSD had a strong inverse correlation with the greenback and a positive correlation with the US dollar index. However, the yellow metal has been trading around its year lows during the past two weeks while the US dollar index corrected. This fact highlights the weakness of gold, as investors prefer to invest in US bonds with historically high yields this year. Currently, the 1615 - 1622 range remains the main support for the price. If buyers lose this range, the price will head toward 1560.
XAUUSD, daily timeframe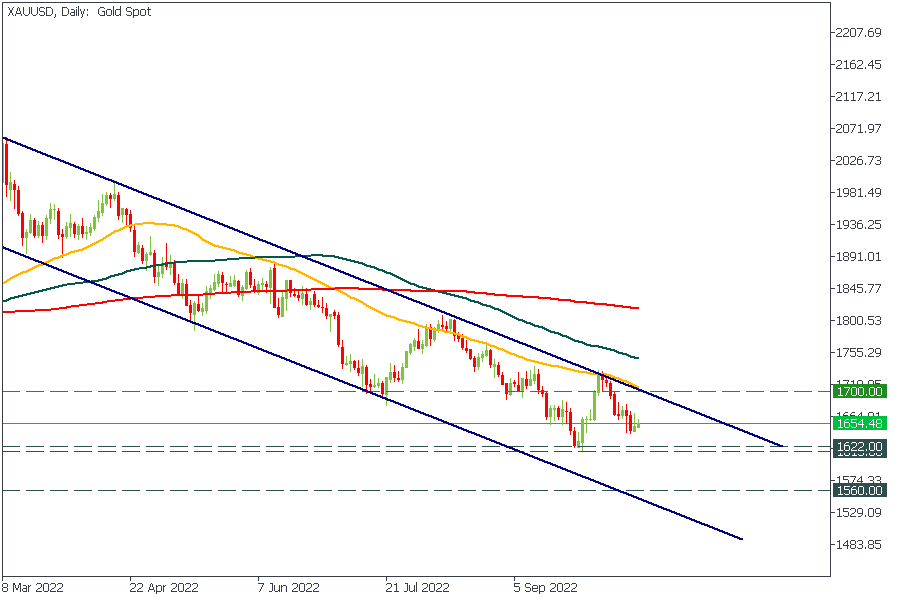 What else is moving the markets?
The Biden administration plans to sell oil from the Strategic Petroleum Reserve to lower fuel prices ahead of next month's congressional elections.
The Bank of England intends to delay quantitative tightening until the market is calmer.
USDJPY reached 149. The highest level in 32 years.
JP Morgan strategists said they are cutting back on their overweight position in equities and trimming their underweight position in bonds due to the increased risk that central banks will make a hawkish policy error.
The European Union will not introduce a ceiling on gas prices yet amid political disagreements in the countries of the association and problems with fuel supplies.
US500 bounces from the 200-week moving average, which is historical support for the price. The index is up by 1.5% today.
Similar
Latest news
The Most Important News For Today
News is always essential. Especially when we speak about the FOREX market. What is the most important information for today? Let's see together.
Forex News March 29
Forex, Crypto, Metals, and Stocks News for March 29. Here's what you need to know for today:
The Most Important News For Today
The news is essential if you want to trade. Don't miss our digest, where we'll tell you about the most interesting events, happening right now.
Deposit with your local payment systems