Happy Friday, traders! Are you ready to trade at the end of the week? Here's what you need to know before you start:
Event of the day:
New Zealand Retail Sales q/q, 23:45 GMT+2
Japan prices to the moon
Tokyo's inflation picked up more speed to hit its fastest pace in 40 years, an acceleration that suggests price growth will quicken in November. Consumer prices excluding fresh food rose 3.6% in the capital in November. The reading was the highest since April 1982 and outpaced a 3.5% forecast by analysts.
USDJPY is slowly declining to the last low of 137.60. As the pair went below the 100-daily MA, its next stop lies near the 200-daily MA. The breakout is unlikely to happen on the first touch. However, the mid-term downtrend in the pair is highly probable.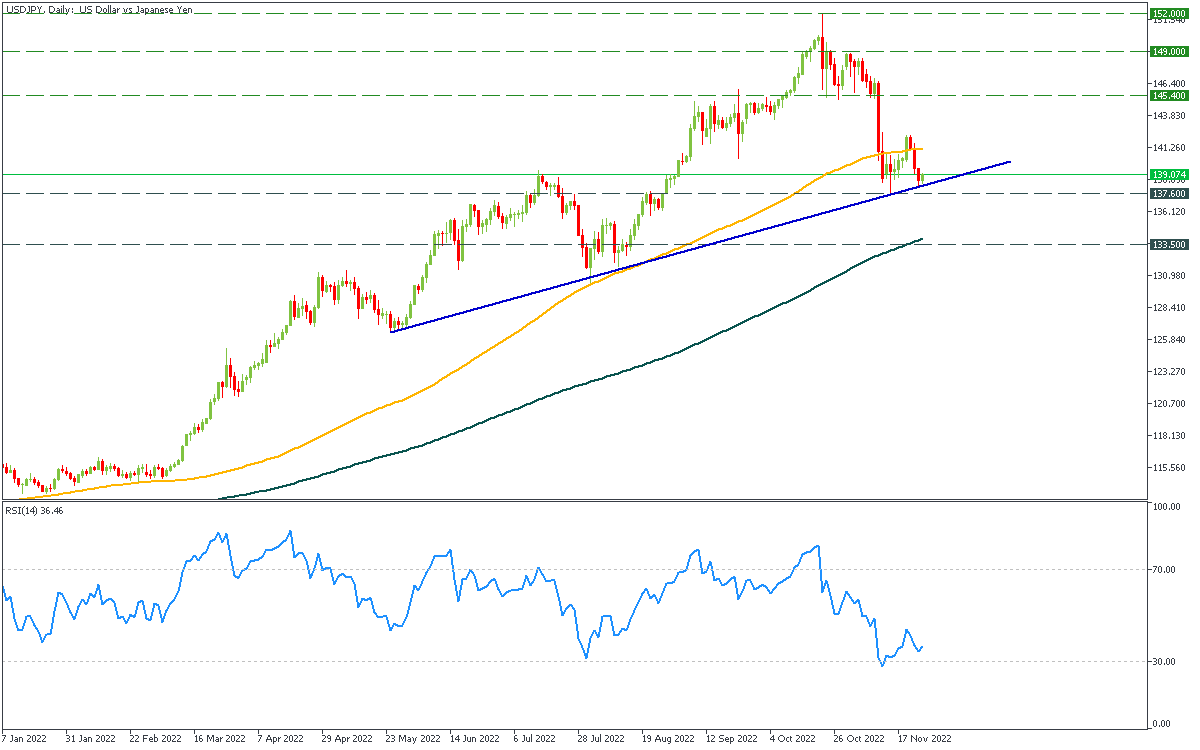 What you need to know:
The dollar stood close to a three-month low yesterday as investors turned risk on. The decline of the currency index below the 200-daily MA will cause a rally in XAUUSD and risky assets.
ECB insider said he's almost sure the December interest rate increase will be 50 basis points.
Fears of colder-than-expected weather in Europe boosted the gas price. XNGUSD (the US natural gas) also soared to 8.131, the highest in three months.
Binance CEO Changpeng "CZ" Zhao plans to create a $1 billion "market recovery" fund. He will buy projects that are fundamentally strong but lack liquidity.
The Malaysian ringgit jumped, making the currency the best performer in Asia for a second day, following the appointment of Anwar Ibrahim as Malaysia's new prime minister.
Don't forget to decrease your risks before the weekend; the next week is going to be hot!
Similar
USD and GBP Traders Await Big Moves
The first week of November promises to be eventful, as we have the Fed meeting, the BOE update, and the NFP release. Read more details here.
Latest news
The Most Important News For Today
The news is essential if you want to trade. Don't miss our digest, where we'll tell you about the most interesting events, happening right now.
Deposit with your local payment systems