How will the Russian war against global media affect Twitter?
What?
On Wednesday, Russia's department of communications control Roskomnadzor slowed down Twitter's speed. The move came after the platform did not remove the content prohibited in Russia. According to Russia's watchdog, Twitter did not delete more than 3000 posts with illegal content. Those posts contain information from opposition allies of Alexei Navalny, who was jailed last month.
What's next?
The Russian government has already threatened the US social media platforms with big fines if sites fail to delete banned content. Another bill allows the country's regulators to restrict foreign websites if they are accused of discrimination against Russian media. Interestingly enough, several Russian government sites, Youtube, Google, and Russian telecommunications provider Rostelecom experienced problems after the restriction of Twitter.
What does it mean for the stock market?
Russians represent a big and important part of the Internet community. If social media platforms are banned or restricted in Russia, it will not only hurt the investment potential of the country, but also affect the operations of Facebook, Twitter, and Google. If it happens, the outcome will have a negative impact on the performance of their stocks.
If we look at the chart of Twitter's stock, we can see that its price recovered yesterday after a 5-day slump. The resistance lies at the consolidation area of 74.8. If the stock goes down, it will likely break the 63.4 level and target the support at 58.9.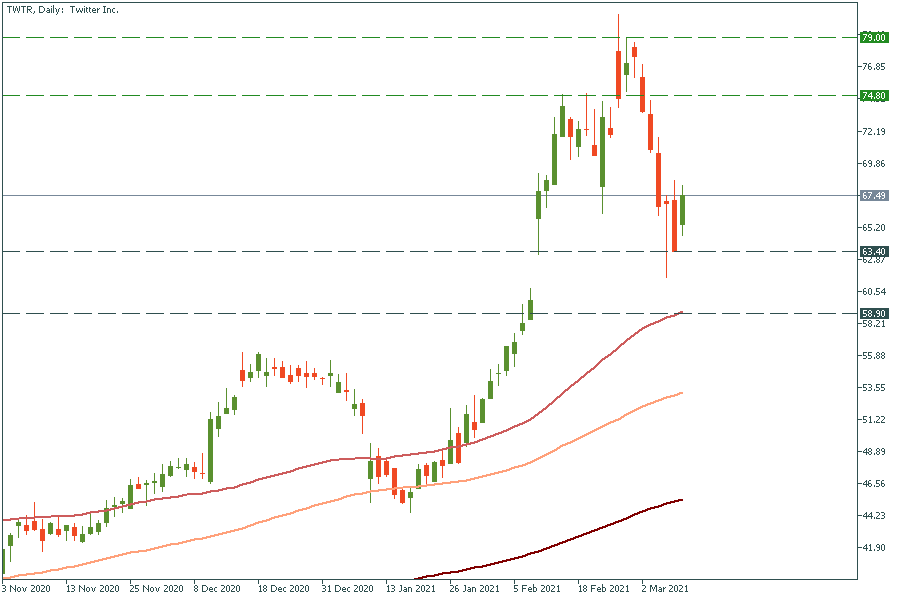 By the way, you can trade Twitter with FBS Trader!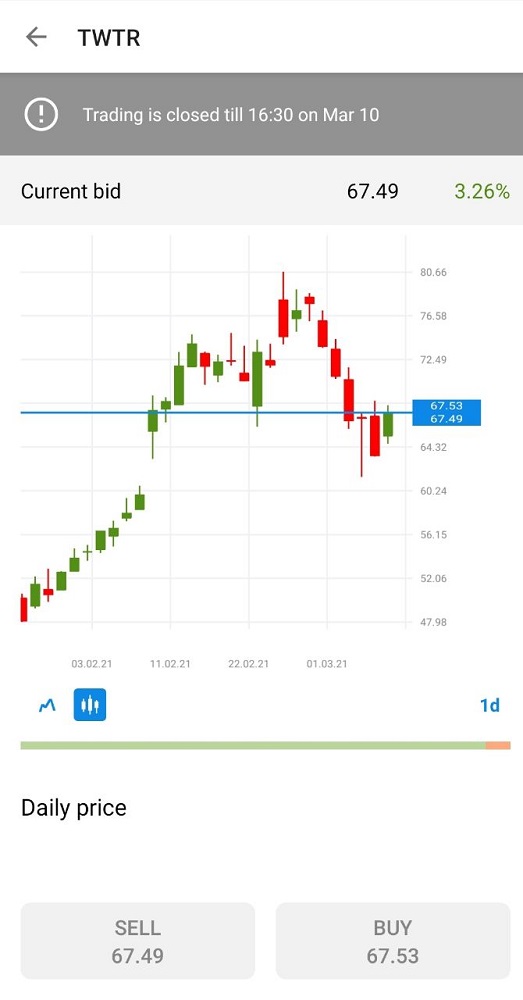 Don't know how to trade stocks? Here are some simple steps.
First of all, be sure you've downloaded Metatrader 5

or

FBS Trader app.

FBS allows you to trade stocks only through this software.
Open the MT5 account in your personal area

(an account in

FBS Trader).
Similar
Latest news
Increased Volatility is Coming
The Reserve Bank of Australia (RBA) will make a statement and release a Cash Rate on February 7, 05:30 GMT+2. It's among the primary tools the RBA uses to communicate with investors about monetary policy.
Market Crash Incoming?
This week may be the most important since the year started as the Fed assess the economic outlook and the US presents fresh NFP readings.
What Currency Will Overperform?
S&P Global, a private banking company, will release a monthly change in British Flash Manufacturing Purchasing Managers Index (PMI) on January 24, 11:30 GMT+2. The index is a leading indicator of economic health as businesses react quickly to market conditions, and purchasing managers hold the most current and relevant insight into the company's view of the economy.
Deposit with your local payment systems