How Will US PMIs Affect the USD?
What will happen?
The US Markit will publish Flash Manufacturing and Flash Services PMIs (purchasing managers' indices) on June 23 at 16:45 GMT+3. These are the diffusion indices based on surveyed purchasing managers in the manufacturing and services industries. The surveys ask about 800 purchasing managers to rate the relative level of business conditions.
Why is it important?
Generally, businesses quickly react to the changing economic situation. After the indices are calculated, we can compare them and see the conditions of industries. If the index is above 50, an industry is expanding. Vice versa, if it is below 50, an industry is contracting. An expansion is usually a bullish sign for the USD because it means that the economy is growing.
During the previous release, Flash Manufacturing PMI came out at 57.5 (vs. 57.6 forecasted), while Flash Services PMI dropped to 53.5 (vs. 55.1 expected). As a result, the US dollar weakened in the short term. If you traded one lot of EURUSD on this release, you could have earned around $270.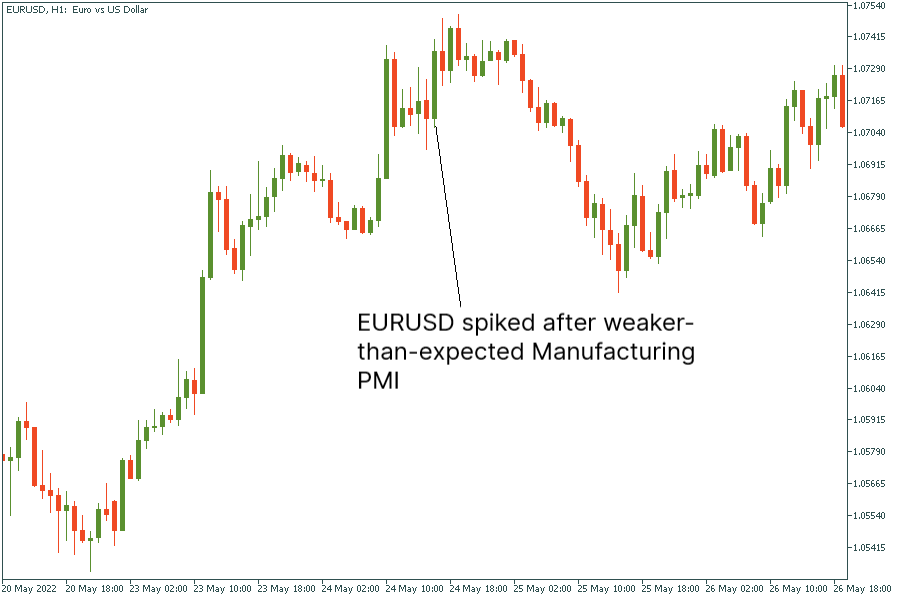 How to trade on US Flash Manufacturing and Services PMIs?
The indicators are likely to influence the USD pairs. You need to wait for the releases and compare the actual figures from the economic calendar with the forecasts.
If the actual numbers beat expectations, the USD will go up.
On the contrary, lower numbers will pull the USD down.
Instruments to trade: XAUUSD, EURUSD, USDCAD, USDCHF.
Similar
USD Holds the Line
The US dollar index keeps rounding above the 103.60 historical support level. The buyers have already defended this level for three weeks, highlighting their interest in the greenback. Thus, buying USD looks less risky right now. 
Apple is Under Pressure
Happy Monday, dear traders! Hope you had a great weekend and you're ready for the last trading week in 2022! Later this week we'll announce some exciting news for you, but now let's look through some interesting news!  Today's events: USA, UK, Hong…
Latest news
Market Crash Incoming?
This week may be the most important since the year started as the Fed assess the economic outlook and the US presents fresh NFP readings.
What Currency Will Overperform?
S&P Global, a private banking company, will release a monthly change in British Flash Manufacturing Purchasing Managers Index (PMI) on January 24, 11:30 GMT+2. The index is a leading indicator of economic health as businesses react quickly to market conditions, and purchasing managers hold the most current and relevant insight into the company's view of the economy.
Deposit with your local payment systems