Inflation concerns led tech stocks down and gold up
Latest news
Stocks especially tech ones dropped on Tuesday as increasing commodity prices raised concerns over inflation. Higher inflation may push up interest rates, pressing down stock valuations. Bloomberg said that a measure of inflation expectations hit the highest mark since 2006.
The US inflation report will be out already this Wednesday. It's widely expected to reveal a strong gain. Investors are trying to predict whether the inflation increase pushes the Fed to tighten the policy sooner than expected.
Gold is often viewed as a hedge against inflation, that's why it's trading now near the three-month high. Gold showed the largest weekly increase since November on Friday after a surprisingly poor NFP.
Oil fell as traders monitored the worsening fallout from the closure of the largest US oil-products pipeline.
Tech analysis
EUR/USD has broken through the upper trend line at 1.2130. It retraced to this line, but it should be just a natural short sell-off ahead of the further rally up. On the way up, the pair will meet resistance levels at 1.2175 – the recent high and 1.2250 – the high of February 25. However, if the sentiment changes, the pair may fall to the 100-day moving average of 1.2050 and the one-week low of 1.2000.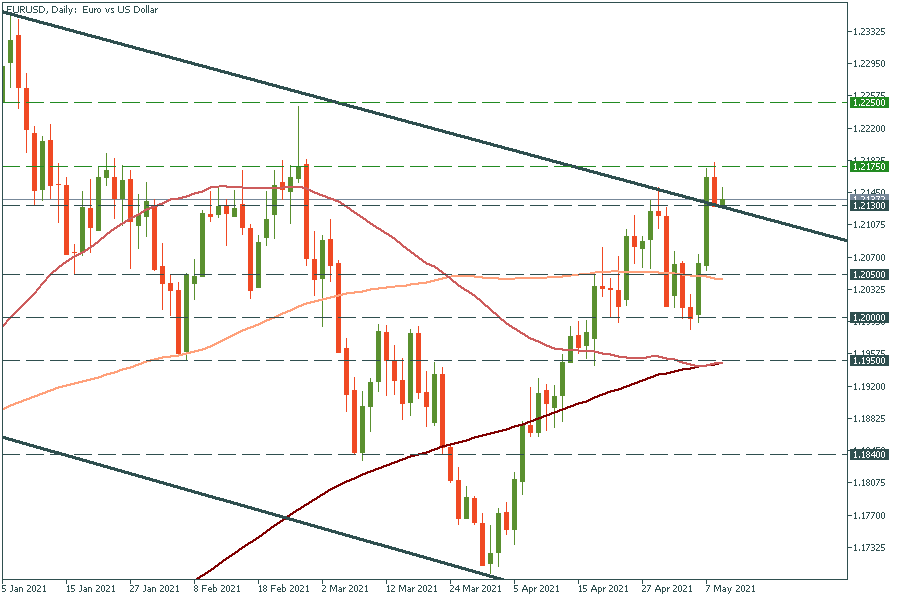 Gold is getting closer to the upper trend line of the descending channel, which coincides with the 200-day moving average of $1850. If it manages to break it, the way up to the highs of late January of $1875 will be open. In the opposite scenario, the move below the $1825 support will press the metal further down to $1813 – the intraday low of May 6.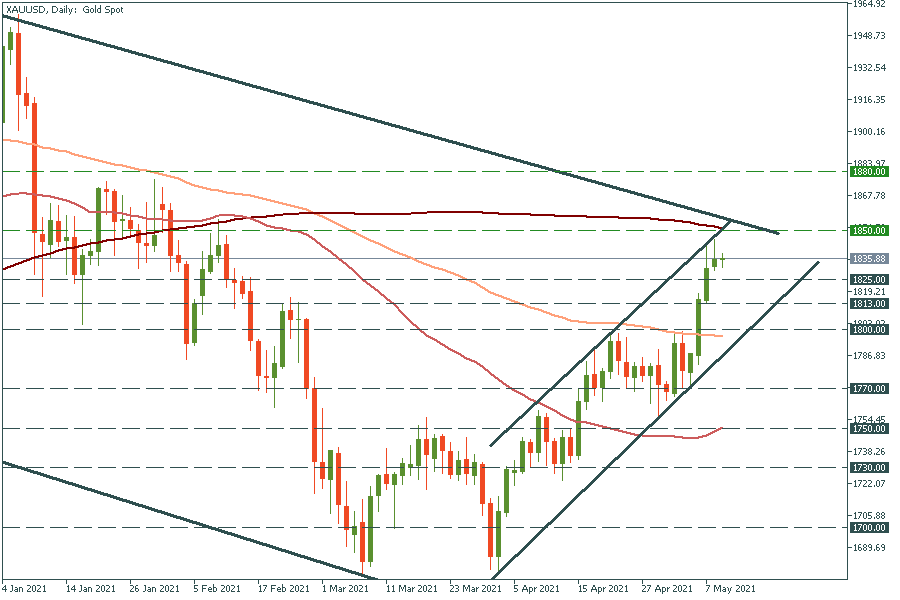 GBP/USD has broken through the psychological mark of 1.4000 since political risks eased in the UK. It looks like the pair is overbought: the price went above the upper line of Bollinger Bands and the RSI indicator flattened just below the 70.00 level. On the smaller timeframes, GBP/USD has already reversed down. Therefore, it may retest 1.4000 again.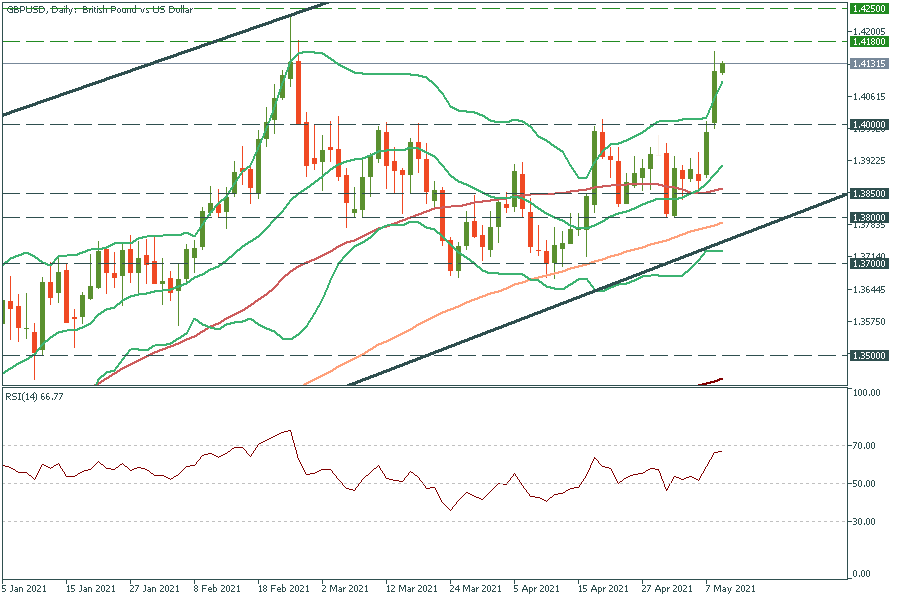 Similar
Latest news
Gold Rises as Central Banks Buy More
About 24% of global central banks intend to increase gold reserves in 2023. Rising inflation, geopolitical turmoil, and worries about interest rates are reasons to increase gold reserves.
US Evades Default This Time
Greetings to a brand new week full of events, economic releases and US debt frictions. We are here to tell you everything you need to know!
USD Gains Momentum
The US dollar index breaks one resistance after another. Read the report to learn the next target for the US dollar index!
Deposit with your local payment systems