Is it time to buy Coinbase?
Coinbase, one of the world's top crypto exchanges, has started the year on a positive footing as it has become the first crypto exchange in history that went public. On April 14, it was listed on Nasdaq. However, 60% of its trading volume depends on Bitcoin and Ethereum, which have lost a large part of their value recently. For newbies, it can be frightening, but for experienced traders – it's an opportunity to buy the dips.
Bitcoin's dominance wanes
Coinbase may have problems if it continues to be as dependent on Bitcoin as it's now as Bitcoin's dominance is waning. That's why the crypto exchange is adding new cryptocurrencies. For example, it has recently announced it would add Dogecoin to its exchange in 6-8 weeks (the one that Elon Musk called a 'hustle' in a Saturday Night show).
What's wrong with Bitcoin?
As Elon Musk tweeted, Bitcoin mining requires a lot of electricity, which in turn increases the usage of fossil fuels and pollutes the environment. Indeed, this problem exists as bitcoin mining uses more electricity than most countries do. And if other eco-friendly companies join Tesla and reject payment in Bitcoin, the cryptocurrency may fall even deeper, and for Coinbase it would be a blow.
Coinbase's performance
Coinbase's earnings results came out slightly worse than expected, but the broad picture is great. The company has attracted 56 million users and its revenue tripled from the quarter before.
Trade Coinbase and other stocks in our app FBS Trader and don't forget that stock trading is available from 16:30 GMT+3 to 22:59, while crypto trading is available for trading 24/7!
Coinbase is touching the dips these days. Therefore, it's important to keep an eye on the chart as the reverse up may occur soon because the popularity of cryptocurrencies is growing despite all these negative factors mentioned above.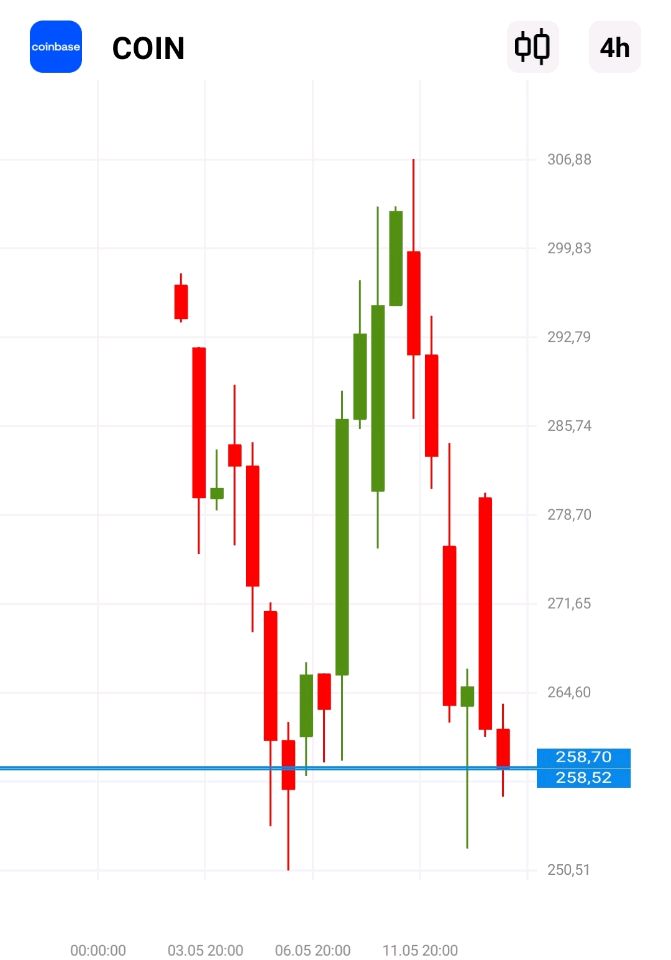 Similar
Latest news
The Yen Sets New Lows
The Japanese yen fell to its lowest level against the US dollar in 33 years. Read the full report to learn the next target for USDJPY!
BlackRock CEO Supports The USD
BlackRock CEO forecasts the Fed may have to raise rates further. The US dollar index (DXY) gains 130 points today. Read the full report to get more fresh news and technical analysis!
Deposit with your local payment systems