Main market drivers on May 21
Let's start with the stock market. The US-China relationship got worse and set a risk-off market sentiment. The US Senate claimed that it could bar Chinese companies from listing on American exchanges. While President Donald Trump tweeted criticism of China's handling of the coronavirus outbreak. Everybody took it really seriously. As you can see on the chart S&P 500 has a strong upward trend, but after the swing up yesterday, it hit a 100-day moving average and contracted today. Support levels are at 2815 and 2705. However, if it breaks through the retracement at 2975, it will go up to 3000 and then 3110.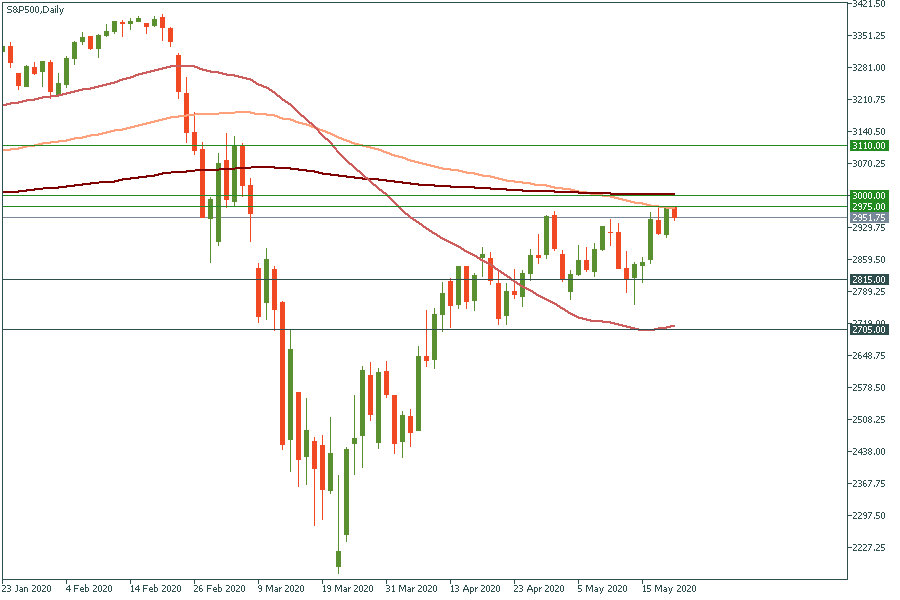 Let's move on to the oil. May has brought some relief to the oil market. The worst of the demand drop seems to be over. The WTI oil price ticked up to $34 a barrel, while Brent crude rose to $36. Governments are easing lockdowns, and that's boosting consumption. At the same time, Saudi Arabia, Russia and other OPEC members have started unprecedented oil production cuts, easing the massive oversupply. We haven't seen such high prices since March 10. If it breaks through the resistance at 35, it may go even further to 37. Support levels are at 27 and 23.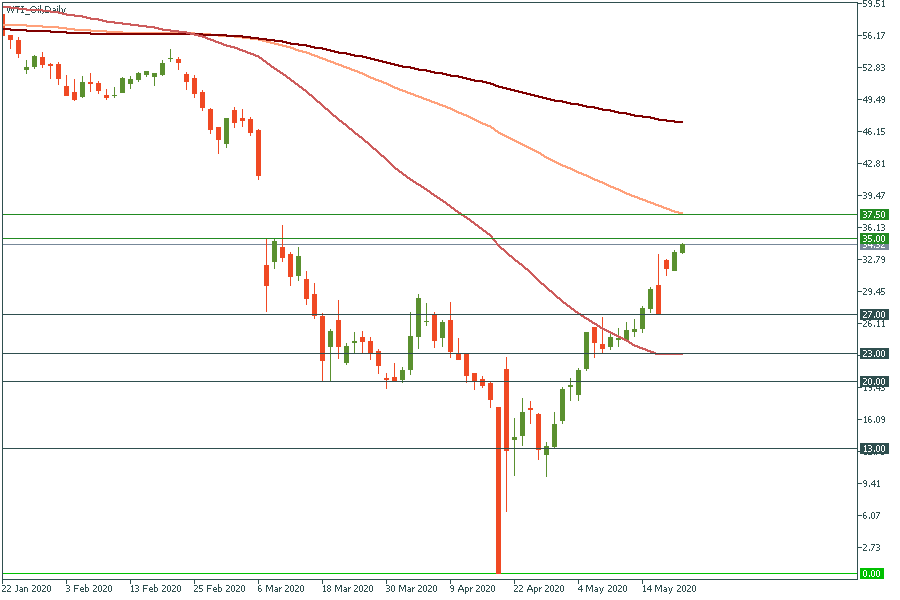 And finally let's talk about gold. The gold trades at high rates these days. We hadn't seen any growth yesterday. The price was spiking high, but closed negative. That's why we could assume that the price will move down in the short term, but the long term remains bullish. It could have a pullback to 1715 or even 1685 and then jump again.
Similar
Gold and USD ahead of the Fed
Yesterday, the release of the US Inflation rate came out lower than the forecasts (0.1% vs. 0.3%). The soft figures pulled the US dollar index down by almost 1%. At the same time, S&P500, EURUSD, and gold strengthened. Today, the Fed will hold a meeting at 21:00 GMT+3. The Federal Reserve is widely expected to raise the interest rate by 50 basis points.
The Last Volatile Week of 2022
The US Bureau of Labor Statistics will release its Consumer Price Index and many other critical events that will move the market this week!
Latest news
Market Crash Incoming?
This week may be the most important since the year started as the Fed assess the economic outlook and the US presents fresh NFP readings.
What Currency Will Overperform?
S&P Global, a private banking company, will release a monthly change in British Flash Manufacturing Purchasing Managers Index (PMI) on January 24, 11:30 GMT+2. The index is a leading indicator of economic health as businesses react quickly to market conditions, and purchasing managers hold the most current and relevant insight into the company's view of the economy.
Deposit with your local payment systems