Oil Stabilized After Short-Term Supply Crunch
Good morning dear traders! Are you ready for a new trading day? Let's see what news is worth mentioning today:
Events that take place:
Microsoft, Google, Twitter, Coca-Cola, General Electrics, and General Motors earnings reports.
Oil performs well
Oil stabilized as traders assessed a short-term supply crunch in the crude oil market and a broad appetite for risky assets, including commodities. However, it's still influenced by fundamental factors.
Investors are weighing fears about the impact of the global economic downturn and monetary tightening on plants to cut supply. They also await further details on the US plan to cap Russian oil prices.
In addition, the poor economic outlook for China, the largest importer of crude oil, added to concerns. The country's GDP posted a mixed relusts in the third quarter, with strict Covid-19 controls and a downturn in the real estate market continuing to weigh on growth and, consequently, oil demand.
Now Brent's price is consolidating between 92.50 and 88.00. In the short term, it slowly continues its downtrend. We can expect the price to fall to 88.00 and then to 86.00. In case of reversal, 95.30 is the nearest target.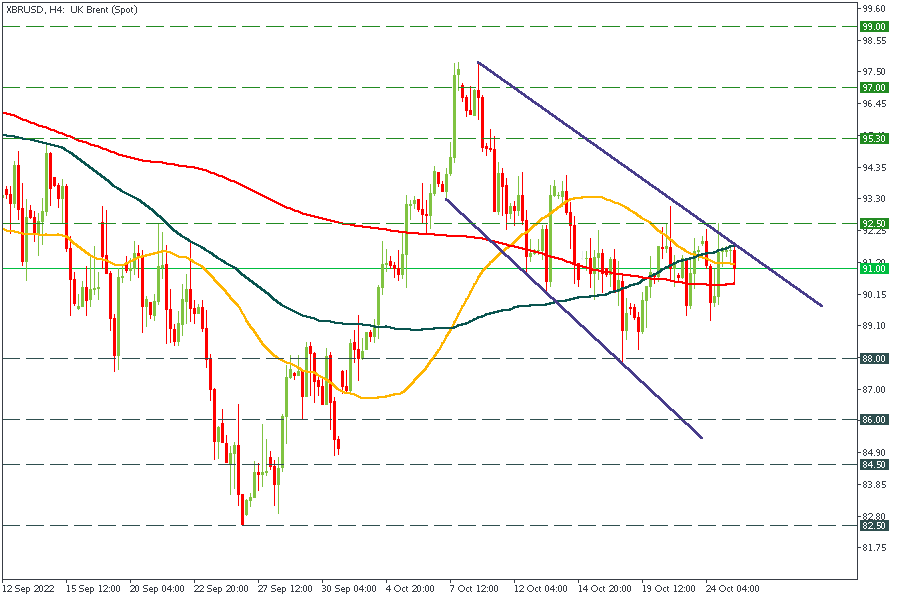 Other important news:
According to the RTRS survey, the probability of a recession in the US within 12 months rose to 65% from 45% earlier.
Rishi Sunak will officially become British Prime Minister after meeting with King Charles III on Tuesday. After spending the summer warning that Liz Truss will cripple the economy, he is now in charge of cleaning up the mess.
Elon Musk's Twitter deal could be closed by the end of the week, probably on Friday.
The weakening of the yen is starting to put pressure on Japanese importers. USDJPY is 148.95.
The fifth part of S&P 500 companies posted third-quarter earnings that were more than half their estimate.
The Tel Aviv Stock Exchange (TASE) announced the creation of a blockchain-based platform to expand its trading services to cryptocurrencies and other digital assets as part of a new strategic plan for 2023-2027.
Have a great trading day!
Similar
US Dollar Index at a 3-month Low
The USD weakened after Fed Chair Powell hinted at a slowdown of rate hikes, and stocks strengthened. What else is moving the markets today?
Soon Bullish Rally for Gold
The winter is coming, and risky markets expect a rally to come with it. Will this December be bullish for stocks, crypto, and gold? A pack of news will surely help you out.
Latest news
Deposit with your local payment systems