The Fed's Rate Hike Consequences
Hello, dear traders! This Thursday will be active, with plenty of events and news to follow! Let's see what we can expect:
Today's events:
14:00 GMT+2, BoE Official Bank Rate and monetary policy report
16:00 GMT+2 USD ISM Services PMI
Moderna, eBay, BMW and Coinbase earnings reports
The Federal Reserve hiked the rate again
The Fed raised rates by 75 basis points for the fourth consecutive time, pushing the top of its target range to 4%, the highest level since 2008.
The Federal Reserve has warned that rates will have to be raised even higher to bring stubbornly high inflation under control. The rate, close to zero in March, has jumped 3.75 percentage points over the past eight months. This is the most aggressive series of rate hikes in decades, but it has done little to curb inflation.
After the fourth consecutive rate hike, Jerome Powell made it clear that he was ready to continue tightening to tamp down inflation, shifting the focus from the size of the next hike to where rates will peak.
After the announcement, the dollar index gained 2280 points, pushing other currencies down.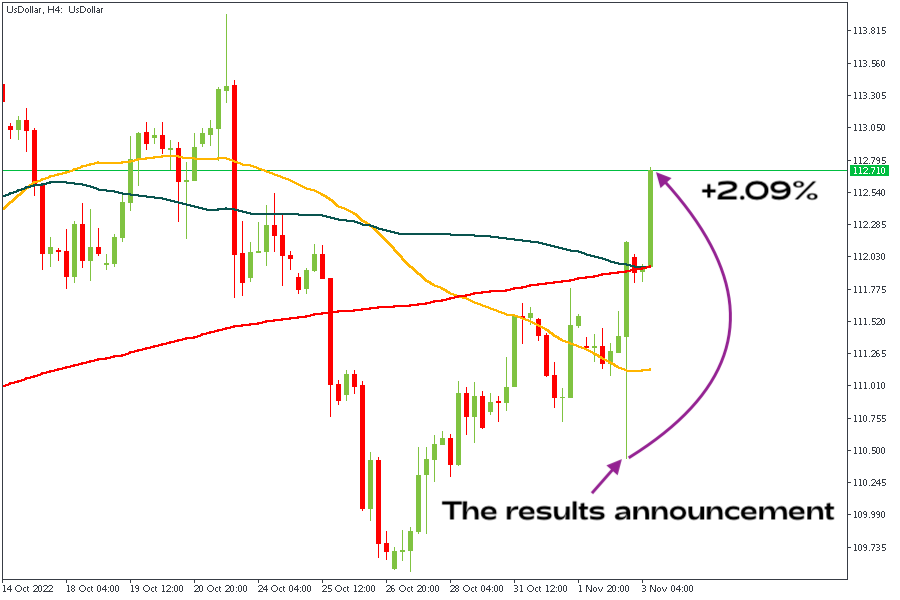 Other news worth mentioning:
The Australian government is considering taking action, including possibly capping the price gas producers can sell domestically, amid efforts to curb rising energy prices.
Elon Musk plans to cut about 3,700 jobs at Twitter Inc., or half of the company's workforce, to cut costs following its $44 billion acquisition.
Chinese stocks underperformed in Hong Kong after the government's reaffirmation of its Covid-Zero stance dashed hopes of a reopening.
Oil fell after Powell's comments on interest rates overshadowed supply cuts. XBRUSD is 94.50.
Amazon's capitalization fell below $1 trillion for the first time since 2020. AMAZON's price has lost 12,25% for the last three days.
Airbnb released disappointing quarterly reports as the sharing platform's summer high passed.
Have an amazing trading day!
Similar
Crucial News For The Following Week
Consumer Price Index, Existing Home Sales, US Fed rate decision - all of these things we will discuss in our new review. Don't miss it out!
Latest news
The Most Important News For Today
The news is essential if you want to trade. Don't miss our digest, where we'll tell you about the most interesting events, happening right now.
Deposit with your local payment systems