What will happen?
The US Bureau of Labor Statistics will announce average hourly earnings, nonfarm employment change (NFP), and the unemployment rate on July 8, at 15:30 MT time. These data are published monthly, usually on the first Friday of the month. Due to its seasonality, average hourly earnings and nonfarm payrolls don't include the farming industry. The unemployment rate is a key indicator of overall economic health that helps analysts assess the US economic situation.
How can the USD react?
The last release showed that the US economy added 390,000 jobs. It's better than expected, despite fears of economic growth slowdown and soaring inflation. At the same time, the unemployment rate remained at 3.6%, just above the lowest level since December 1969.
These numbers made the greenback strengthen. GBPUSD fell 471 points. It's -0.38%. If you traded one lot there, your income could be $471.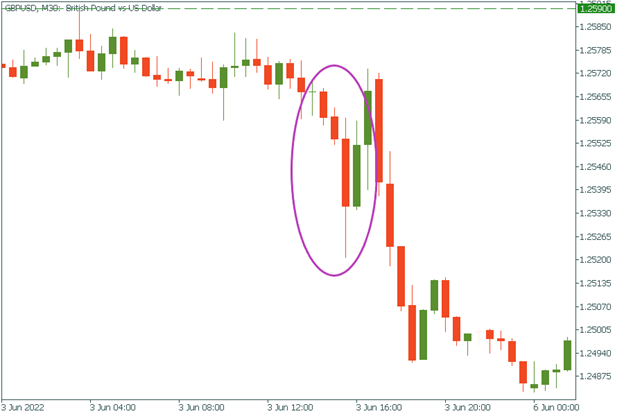 How to trade on the US NFP release?
If NFP is higher than expected, the USD will rise. If NFP is lower than expected, the USD will fall. The unemployment rate situation is the opposite: the lower the indicator, the better for the US currency.
If actual numbers of NFP beat expectations, then the USD will go up.
Otherwise, it will fall.
Watch the video from our analyst to learn more about an NFP trading strategy!
Check the Economic Calendar.
Instruments to trade: EURUSD, USDCAD, USDCHF.
Similar
Crucial News For The Following Week
Consumer Price Index, Existing Home Sales, US Fed rate decision - all of these things we will discuss in our new review. Don't miss it out!
Latest news
The Most Important News For Today
The news is essential if you want to trade. Don't miss our digest, where we'll tell you about the most interesting events, happening right now.
Deposit with your local payment systems