Thursday News: Fed Brings Ideas to Others
After Federal Reserve announced an interest rate, the wave of changes went through different spheres.
The Fed has raised rates by a quarter of a percentage point and has signaled higher rates at all six remaining meetings in 2022. Chairman Jerome Powell said the US economy is "very strong" and can handle monetary tightening.
The dollar was stable, while the yen hovered around a six-year low. USDJPY has rocketed to $118.70.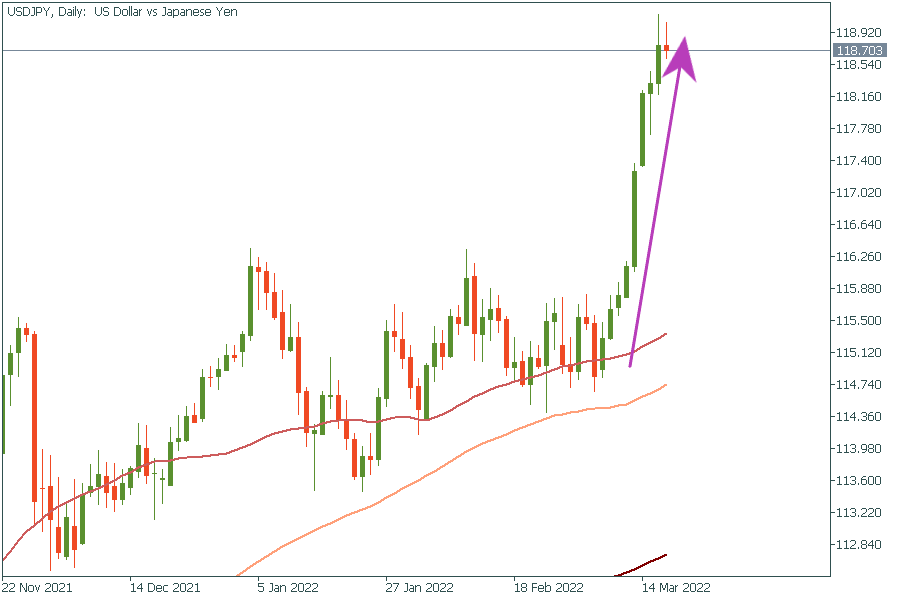 Crude oil has fallen in price for the third day, partly due to signs of progress in negotiations between Russia and Ukraine. Now XTIUSD is 96.40.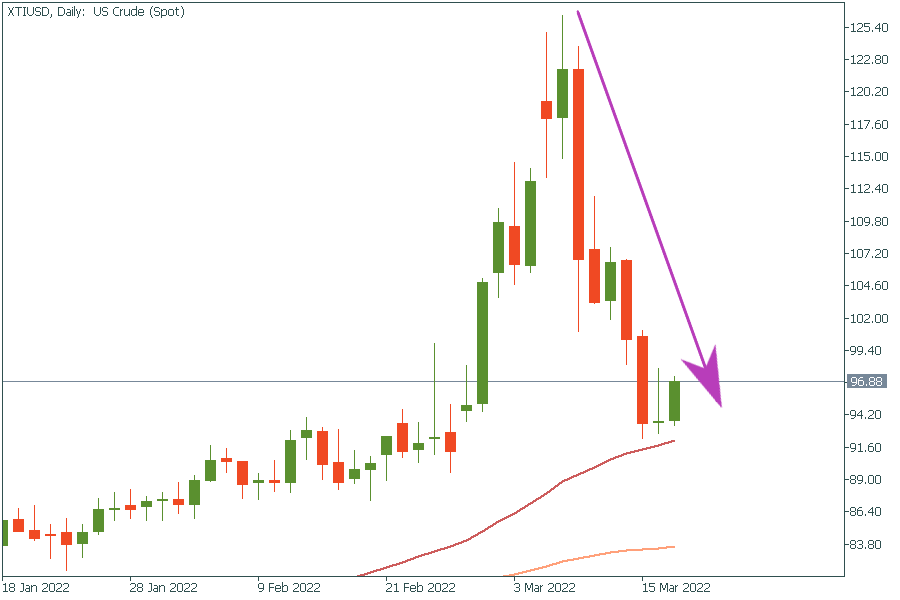 The Chinese HK50 and the US S&P 500 and Nasdaq 100 (US500 and US100) rose on Wednesday as market sentiment improved on Chinese economic support, Fed optimism and hopes for progress in Russia-Ukraine ceasefire talks.
The President of Ukraine signed a bill on the legalization of cryptocurrency. The bill is called "On Virtual Assets" and establishes the legal basis for the operation of a regulated crypto market in the country.
Toyota suspended the work of two of its plants in Japan after the earthquake.
Don't miss: GBP BOE official bank rate, March 17 14:00 MT time.
Have a nice trading day!
Similar
USD Holds the Line
The US dollar index keeps rounding above the 103.60 historical support level. The buyers have already defended this level for three weeks, highlighting their interest in the greenback. Thus, buying USD looks less risky right now. 
Apple is Under Pressure
Happy Monday, dear traders! Hope you had a great weekend and you're ready for the last trading week in 2022! Later this week we'll announce some exciting news for you, but now let's look through some interesting news!  Today's events: USA, UK, Hong…
Latest news
Market Crash Incoming?
This week may be the most important since the year started as the Fed assess the economic outlook and the US presents fresh NFP readings.
What Currency Will Overperform?
S&P Global, a private banking company, will release a monthly change in British Flash Manufacturing Purchasing Managers Index (PMI) on January 24, 11:30 GMT+2. The index is a leading indicator of economic health as businesses react quickly to market conditions, and purchasing managers hold the most current and relevant insight into the company's view of the economy.
Deposit with your local payment systems