What happened?
Chinese stocks were pressed by the US plans to kick them off US stock exchanges. US securities want Chinese companies to comply with US auditing standards. Otherwise, if they fail to do so in three years in a row the US has all rights to de-list Chinese companies from US exchanges, according to the law signed by Donald Trump in December. Besides, firms can't be owned or controlled by foreign governments or Chinese Communist Party officials. Some analysts believe Chinese firms won't be able to comply with US regulations as they may risk breaking Chinese law as accounting may involve national security data.
What does it mean?
This news is negative for Chinese stocks. It triggered a sharp sell-off of the US-listed Chinese companies. Alibaba has already plunged by 4% in pre-market hours. Do you remember, at the beginning of Biden's presidency, most people thought the new president would be more amicable towards China, US-China relations would improve? However, the reality has turned out to be different. The US and China will continue negotiating, which will cause market volatility.
Technical analysis
The second from the last candle is a shooting star, and the last candle is long and bearish. Therefore, we might expect the continuation of the falling. The support is placed at the recent low of $225.00. If Alibaba manages to break it, the way down to the low of December of the last year at $215.00 will be clear. In the least likely scenario, if the price crosses the recent high of $240.00, the doors will be open to the 50-day moving average of $250.00.
Trade stocks in our app FBS Trader!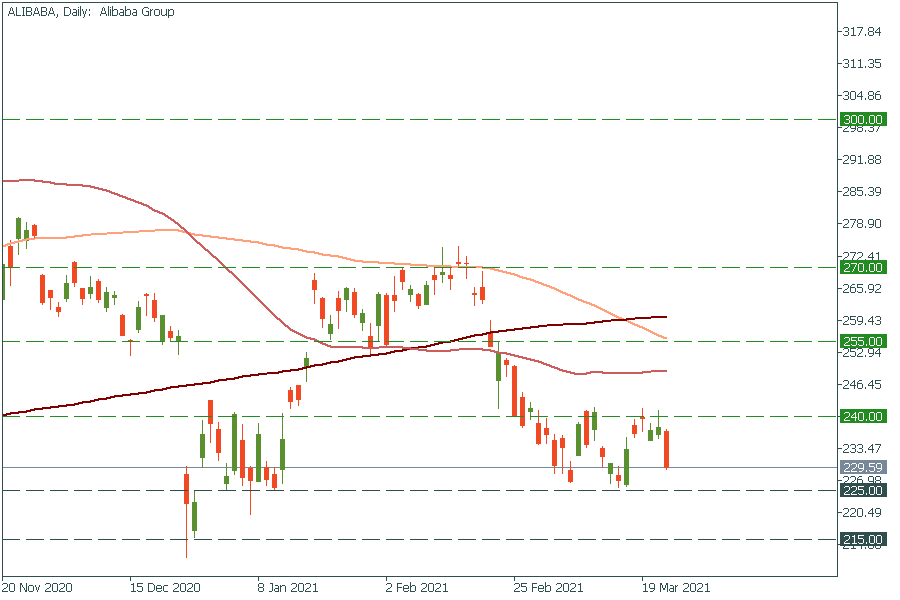 Don't know how to trade stocks? Here are some simple steps.
First of all, be sure you've downloaded FBS Trader app or Metatrader 5.

FBS allows you to trade stocks only through this software.
Open an account in FBS Trader (the MT5 account in your personal area).
Similar
Latest news
The Yen Sets New Lows
The Japanese yen fell to its lowest level against the US dollar in 33 years. Read the full report to learn the next target for USDJPY!
BlackRock CEO Supports The USD
BlackRock CEO forecasts the Fed may have to raise rates further. The US dollar index (DXY) gains 130 points today. Read the full report to get more fresh news and technical analysis!
Deposit with your local payment systems