US Non-Farm Employment Change, also known as Nonfarm Payrolls or NFP, will be released at 15:30 MT time on October 5.
The indicator shows how many jobs were created in the United States during the last month. It's released together with the unemployment rate and the average hourly earnings indicators. All 3 of these indicators have a great impact on the USD.
The last time, on September 7, NFP came out at 201K (readings close to 200K are considered to be strong), and wage growth accelerated to 0.4% (this is the change in average earnings index). The slight disappointment with the unemployment rate didn't spoil the picture. Traders bought the US currency on the news, and the USD rose versus all major currencies.
• If the NFP indicator is bigger than expected, the USD will go up.
• If the NFP indicator is smaller than expected, the USD will go down.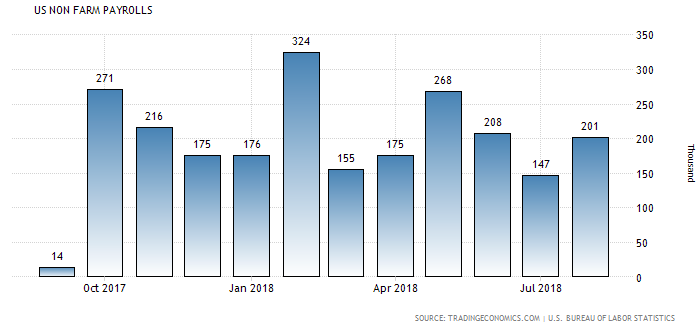 Similar
Latest news
Gold Rises as Central Banks Buy More
About 24% of global central banks intend to increase gold reserves in 2023. Rising inflation, geopolitical turmoil, and worries about interest rates are reasons to increase gold reserves.
US Evades Default This Time
Greetings to a brand new week full of events, economic releases and US debt frictions. We are here to tell you everything you need to know!
USD Gains Momentum
The US dollar index breaks one resistance after another. Read the report to learn the next target for the US dollar index!
Deposit with your local payment systems