Traders need to watch Australian GDP
The Australian dollar has strongly depreciated in the recent months. The Reserve Bank of Australian doesn't aim at a soon rate hike. It means that the AUD needs a support from other sources. As positive economic data always supports a currency, better GDP figures will lead to the rise of the AUD.
GDP is the broadest measure of a country's economic health. Australian economic growth declined to 0.4% in the fourth quarter of 2017 from 0.7% in the previous quarter. It was the weakest growth rate since a contraction in the third quarter of 2016.
The economic data will be out at 4:30 MT time on June 6.
• If the data are greater than the forecast, the Australian dollar will appreciate.
• If the data are weaker than the forecast, the Australian dollar will go down.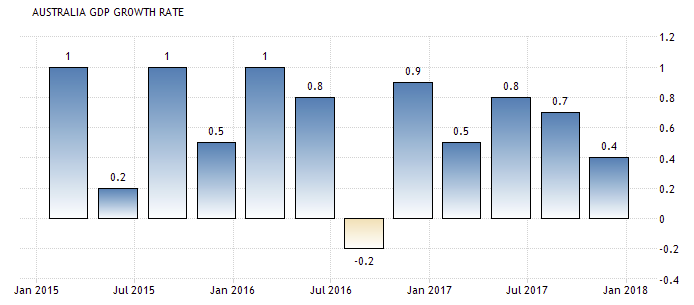 Similar
Latest news
Gold Rises as Central Banks Buy More
About 24% of global central banks intend to increase gold reserves in 2023. Rising inflation, geopolitical turmoil, and worries about interest rates are reasons to increase gold reserves.
US Evades Default This Time
Greetings to a brand new week full of events, economic releases and US debt frictions. We are here to tell you everything you need to know!
USD Gains Momentum
The US dollar index breaks one resistance after another. Read the report to learn the next target for the US dollar index!
Deposit with your local payment systems