Uptrend in Gold Starts Now
Events to follow today:
Canadian monthly CPI, Median, Trimmed, and Common CPI – 15:30 GMT+2
US CB Consumer Confidence – 17:00 GMT+2
Gold is about to leap
The US dollar index is bearish on the daily timeframe, with a probable decrease of up to 10%. The downtrend will remain as long as the index is below the 200-daily MA. Therefore, gold is significantly underpriced. The recession and economic uncertainty are perfect for the metal, so we expect a mid-term uptrend to continue.
If the breakout of the $1820 level comes with volatility and momentum gain, we would consider opening a trade in the direction of the movement. $1880 resistance level is the first on the way up, but the metal may go far beyond the all-time high.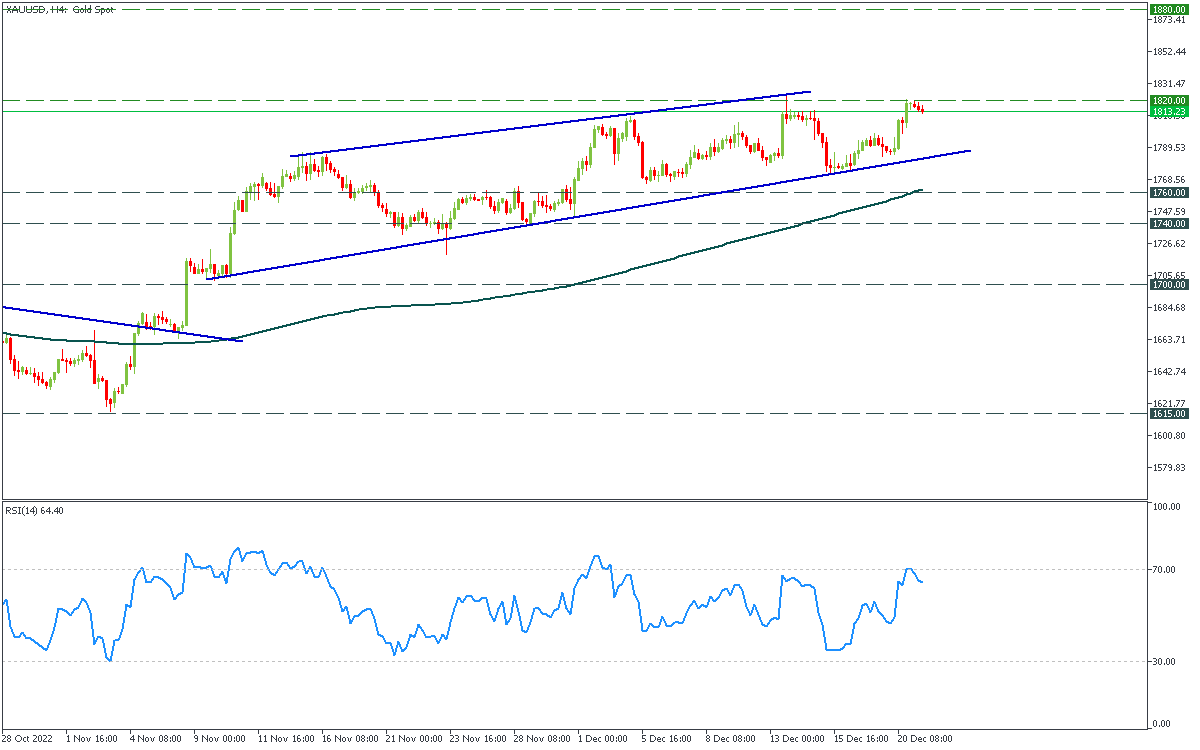 Don't miss the market wrap
Canadian monthly core retail sales turned out to be higher than expected (1.7% actual vs. 1.3% forecast). However, retail sales were lower than expected (1.4% vs. 1.5%).
Fed stated that inflation needs to drop sharply to set the stage for a pivot in monetary policy. Also, the labor market has become significantly weaker.
Chinese President Xi will work with Australia to promote China-Australia's comprehensive strategic partnership. In the long term, this partnership may result in the AUD rise.
Consumer sentiment in Germany rises for the third time in a row, continuing its cautious recovery. Moderate energy prices may push the sentiment even higher, boosting the EUR.
Indonesia will ban bauxite (raw ore) exports from the middle of next year. This move aimed at boosting the domestic processing of its mineral resources.
Take the most from today's trading, good luck!
Similar
No More US Debts in Sight
The first day of June should've brought us the US default. Unsurprisingly, the US House passes the debt ceiling bill at the latest possible moment.
Gold Rises as Central Banks Buy More
About 24% of global central banks intend to increase gold reserves in 2023. Rising inflation, geopolitical turmoil, and worries about interest rates are reasons to increase gold reserves.
Latest news
Bank of Canada Surprises Markets
The CAD is dominating the markets after the key rate increase! Read the full report to learn more about trading opportunities with the Canadian Dollar!
Deposit with your local payment systems