US - China tension falls, Japanese Economy Struggles
Today's events:
15:30 GMT+2 - Empire State Manufacturing Index
15:30 GMT+2 - PPI m/m
Tention falls
Before Joe Biden sat face-to-face with Xi Jinping on Monday night at a seaside resort in Bali, US officials played down hopes for tangible progress. The outcome easily exceeded those low expectations.
At the end of a meeting that ran about three hours, the US said the two sides would resume cooperation on issues including climate change and food security. Chinese Foreign Minister Wang Yi called it a "new starting point," saying the meeting went longer than planned. Both sides "hope to stop the tumbling of bilateral ties and to stabilize the relationship," he said in a briefing with state-run media.
Just four months ago, tensions between the US and China reached the highest point in years as House Speaker Nancy Pelosi flew into Taiwan. As a result, before the 20th Congress of the Chinese Communist Party, the US authorities announced a ban on the supply of high-tech technologies to China to slow down the development of advanced industries in the country.
A positive meeting outcome between the two leaders could positively impact US and Chinese tech stocks. US100 has formed a double bottom pattern on the daily timeframe with the target at 12 200.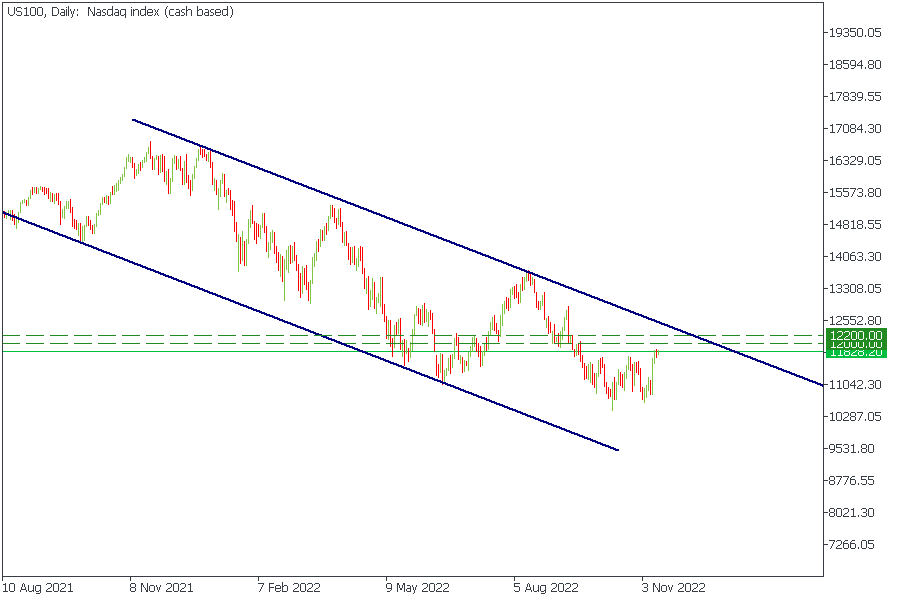 Other news worth mentioning:
FedEx to send employees in select US markets on unpaid leave as current business conditions reduce traffic volumes.
JPMorgan cuts its forecast for China's GDP growth in 2022 to 2.9% (from 3.1% earlier).
Bank of America November Poll: 72% (a record percentage) of global money managers believe the USD is currently overvalued.
Villeroy (ECB) stated the Central Bank will continue to raise rates but may slow down the rate of increase.
Australia meeting minutes: The Central Bank of Australia does not rule out a slowdown in the pace of rate hikes to a step of 0.5%. The Central Bank of Australia might take a pause in raising rates.
Japan's economy enters recession as the country's GDP falls for the first time in four quarters. GDP growth decreases by 0.3% q/q and 1.2% y/y against the 1.1% growth forecast. The fall was caused by the rise in the cost of imports due to rising energy costs.
For more news, fresh market updates, and trade ideas, visit the FBS Telegram Channel.
Similar
US Dollar Index at a 3-month Low
The USD weakened after Fed Chair Powell hinted at a slowdown of rate hikes, and stocks strengthened. What else is moving the markets today?
Soon Bullish Rally for Gold
The winter is coming, and risky markets expect a rally to come with it. Will this December be bullish for stocks, crypto, and gold? A pack of news will surely help you out.
Latest news
Deposit with your local payment systems