US ELECTION: markets before the election day 2
The scores
As of 14:00 UTC this Wednesday, November 4, Joe Biden is slightly ahead of Donald Trump in the overall view. A lot of states still have to finish the counting and officials comment that it may not be earlier than Thursday or even Friday when we have data accurate and complete enough to have the winner. Waiting it is then.

Source: Bloomberg
The market
In the meantime, the USD is going through major turbulence. After a heavy gain it made against the EUR with EUR/USD dropping from 1.1770 to 1.1610, it gave in to weakness again. Currently, EUR/USD is following an upwards trajectory of similar velocity to the one it had yesterday on the way to 1.1700. Watch this level now - it will be key to detemine whether bulls will keep pushing or not.
USD/JPY shows the picture of a similarly heavy plunge of the USD: the pair left the areas below 105.00 and went down to 104.50. Very likely, it will be aiming at the range of 104.35-104.45: crossing the 200-MA will confirm that.
Gold keeps losing value. Currently, it trades right below $1 890. This is zone is the area of local lows so don't be surprised if the price bounces upwards - just out of sheer volatility and nervousness of the election.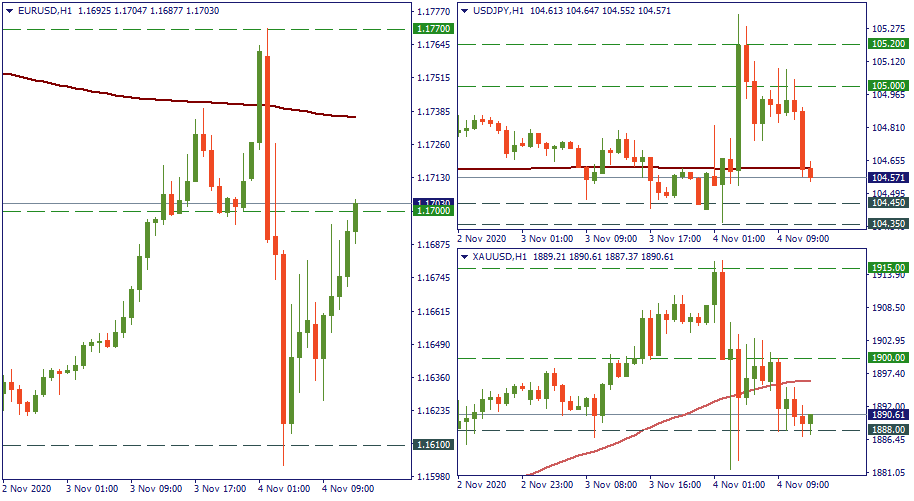 Similar
Latest news
Gold Rises as Central Banks Buy More
About 24% of global central banks intend to increase gold reserves in 2023. Rising inflation, geopolitical turmoil, and worries about interest rates are reasons to increase gold reserves.
US Evades Default This Time
Greetings to a brand new week full of events, economic releases and US debt frictions. We are here to tell you everything you need to know!
USD Gains Momentum
The US dollar index breaks one resistance after another. Read the report to learn the next target for the US dollar index!
Deposit with your local payment systems