US stimulus package improved sentiment
Fundamentals
The market sentiment is mixed as investors weigh US stimulus package against the rising coronavirus cases. US Democrats are planning to unveil $2.2 trillion dollars to support the economic activity in such a tough time. Everybody has been waiting for this financial aid to be confident in reaching the full recovery soon, that's why that announcement has cheered up investors for a while. However, the optimism has been offset by the worse-than-expected US unemployment claims. 870 000 people filled for jobless benefits last week, while the forecast was 845 000.
Moving on, the Chinese property developer cautioned about a possible upcoming default, which may undermine whole China's financial system and lead to a cash crunch. The Chinese yuan dropped.
Germany recorded 2 321 new virus cases, the highest level in five months. Elsewhere, German ifo Business Climate came out worse than analysts expected: 93.4 vs. the expected 93.9.
Technical tips
EUR/USD has started the day on the positive footing. The move above the high of 1.1700 will push the pair to Monday's high of 1.1770. On the flip side, if it falls below the psychological level of 1.1650, the way towards yesterday's low of 1.1625.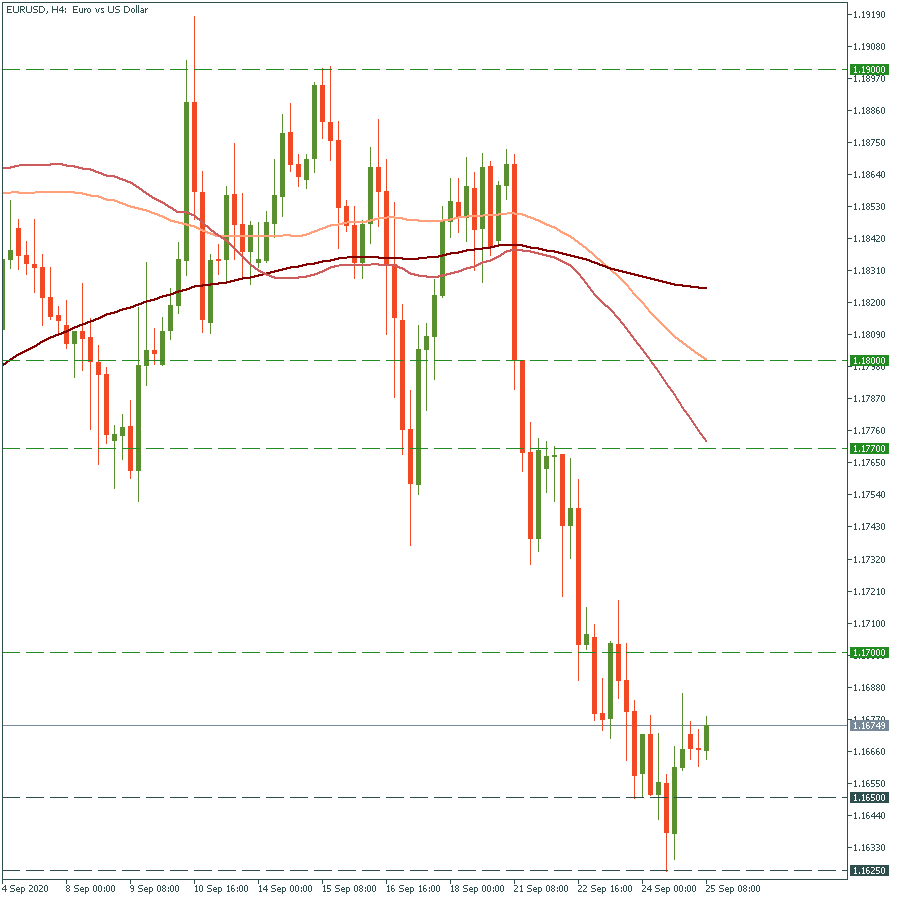 S&P 500 has approached the key resistance of 3 250. If it breaks through it, the way towards the high of September 22 at 3 300. In the opposite scenario, the move below the low levels of late July at 3 200 will drive the stock index lower to the next support of 3 150.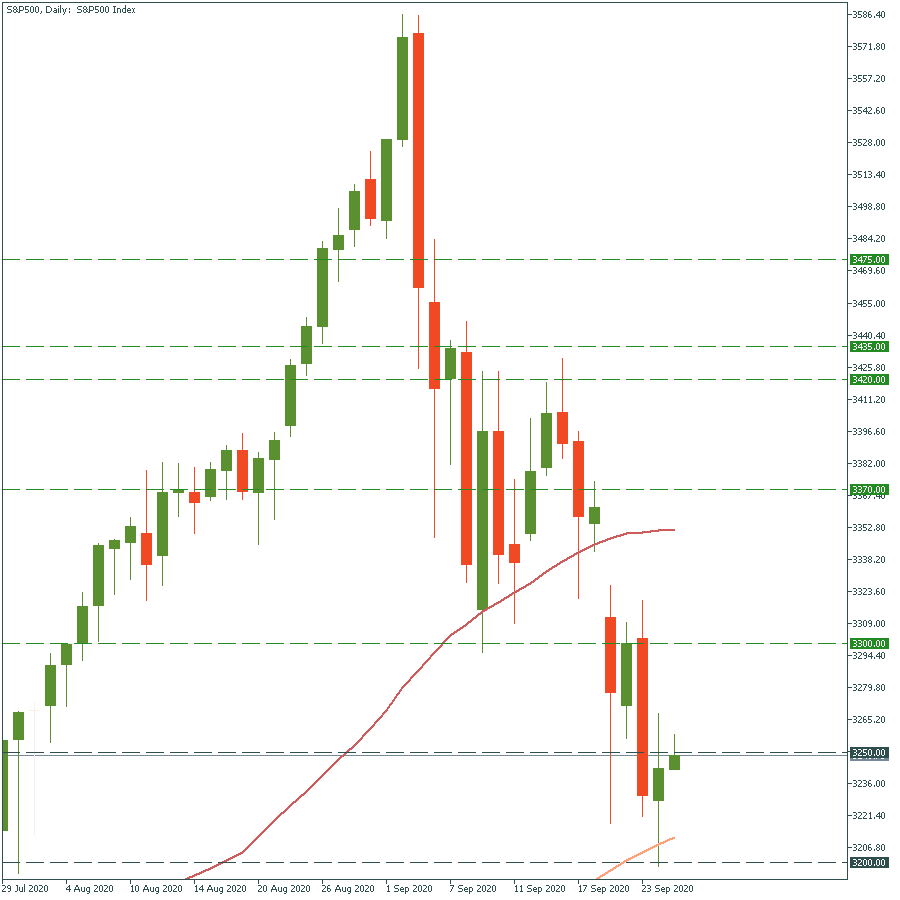 Gold is edging higher as well, bouncing off the support of $1 860. If it breaks through the key resistance of $1 900, the way towards the 50-day moving average of $ 1940 will be open. Support levels are $1 860 and $ 1 840.
Finally let's discuss USD/JPY. It's steadily moving down. If it breaks through the 50-day moving average at 105.00, the way to the support of 104.85 will be open. Resistance levels are $105.50 and $105.80.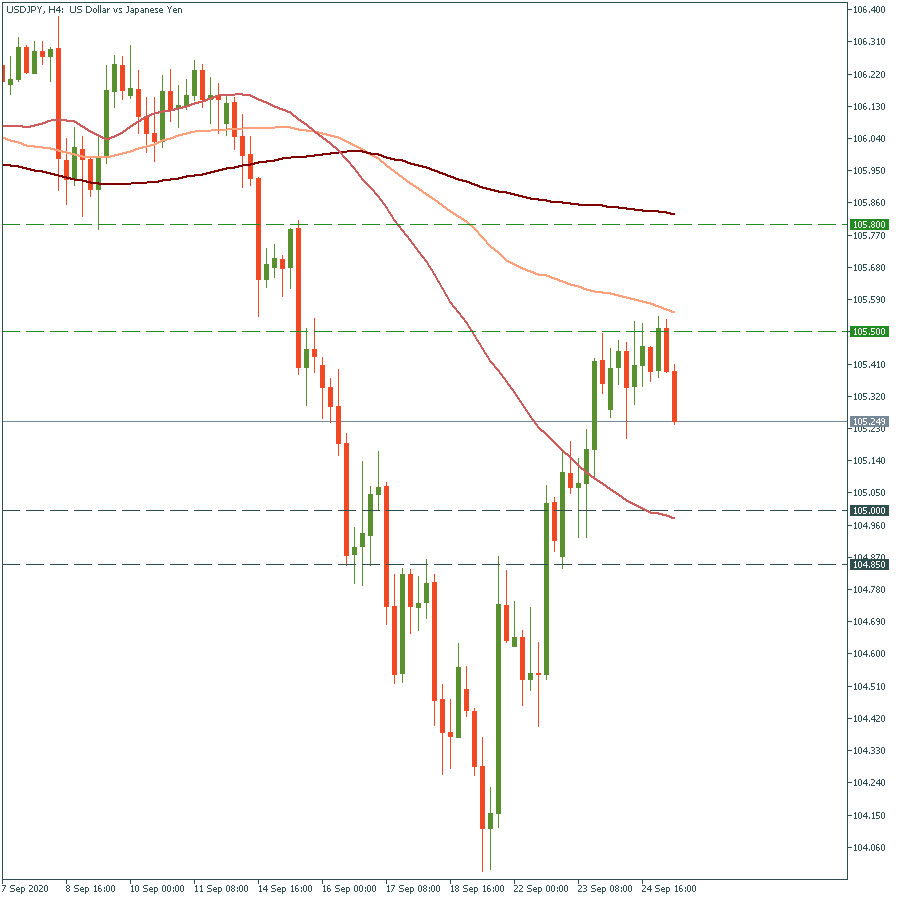 Follow US durable goods orders at 15:30 MT time! The better-than-expected reading will push the USD upwards.
Similar
News for The Week
US stock markets started falling, while the US dollar is rising. What to expect from
Latest news
The US Dollar Is Correcting
Inflation in Europe was released better than the forecast. The preliminary fact was published at 4.3%. What's happening in the markets?
Bearish Signal For The USD
XAUUSD fell below 1900 for the first time since March 2023. Meanwhile, the US dollar index gives a bearish signal. Read the full report to learn more!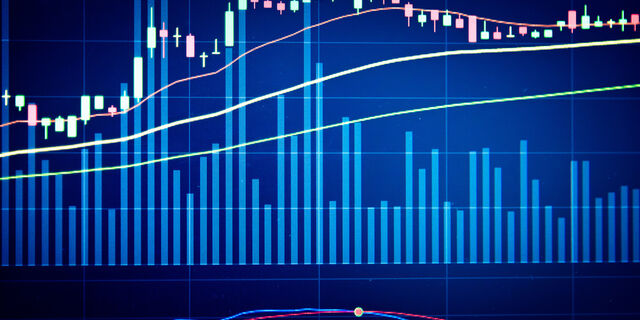 Deposit with your local payment systems