Good morning, dear traders! Are you ready for a new trading day? Let's see what news can shake the market today.
Today's key events
15:30 GMT+2, US Goods trade balance
The US dollar index keeps holding the global support level
US dollar index, H4 timeframe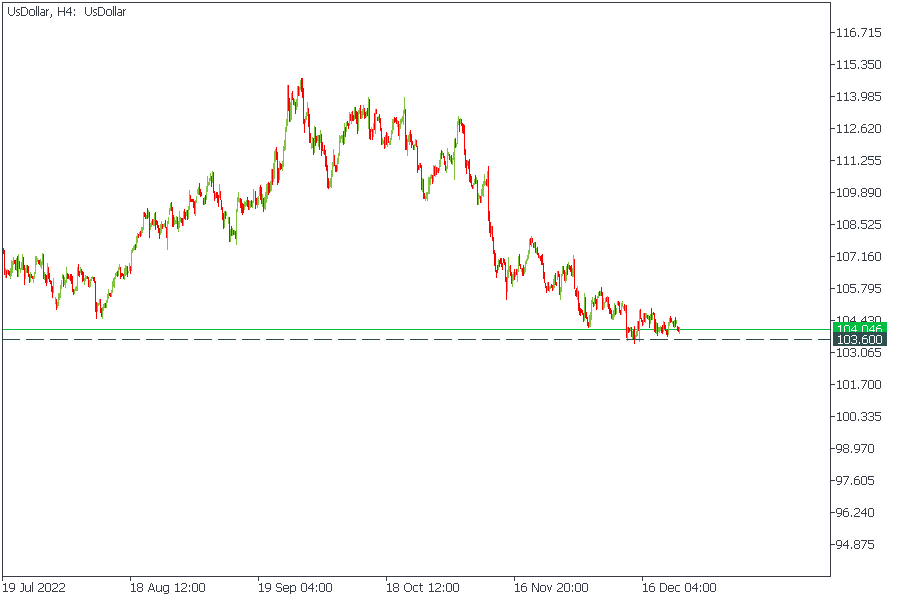 The US dollar index keeps rounding above the 103.60, January 2017 and March 2020 highs. The buyers have already defended this level for three weeks, highlighting their interest in the greenback. Thus, buying USD looks less risky right now.
Other important news:
Tesla extends production shutdown at Shanghai factory amid Covid-19 outbreak.
China will reopen borders despite the rise in Covid-19 cases.
The US, Asian and global stocks still remain down about 20% this year, which is the worst annual performance since 2008.
XAUUSD breaks above the 1804.00, 61.8 Fibonacci level as the USD declines. The next major resistance is 1812.00.
Equities markets in Hong Kong and Australia remain closed Tuesday.
There is deathly silence in the crypto market. Out of boredom, analysts draw different figures of technical analysis. Judging by them, #BTC is at a tipping point and a massive momentum is approaching.
GBPUSD reached the resistance level of 1.2110. The breakout of this level might open the way to 1.2165 for the pair.
Elon Musk, Sam Benkman-Fried, Jeff Bezos, and Mark Zuckerberg made it to The Guardian's list of the worst tech executives of 2022.
Have a great day!
Similar
Latest news
Gold Rises as Central Banks Buy More
About 24% of global central banks intend to increase gold reserves in 2023. Rising inflation, geopolitical turmoil, and worries about interest rates are reasons to increase gold reserves.
US Evades Default This Time
Greetings to a brand new week full of events, economic releases and US debt frictions. We are here to tell you everything you need to know!
USD Gains Momentum
The US dollar index breaks one resistance after another. Read the report to learn the next target for the US dollar index!
Deposit with your local payment systems