Why Virgin Galactic Dropped after Branson's Flight
What happened?
Virgin Galactic's founder Richard Branson successfully flew on the company's spaceplane to suborbital space! His trip was the first among space tourism pioneers, beating Blue Origin's Jeff Bezos (ex-CEO of Amazon) and SpaceX's Elon Musk. However, the stock of Virgin Galactic (SPCE) dropped. Why?
Well, the fact that Branson flies to space was known well ahead of the flight itself. In other words, it wasn't a surprise for investors. They priced to this company's advantage before the event and start selling it afterward, that's why the so-called 'buy the rumor, sell the fact' scenario occurred.
More headwinds
Virgin Galactic dropped also because of the announcement it would sell about $500 million worth of additional shares. The secondary offerings tend to press a stock value down as they increase the pool of the company's shares, leaving every investor with a smaller piece of the total float. Besides, Blue Origin's Bezos steps on the toes of SPCE's Branson. Jeff Bezos will fly to space on July 20. After all, investors concern whether the demand for tickets to space will be high enough to cover the company's costs.
Overall, the forecasts are not bright. Bank of America wrote that SPCE is already richly valued. Another bank, UBS, said the stock has little upside potential left. So good that FBS traders can open not only buy orders but also sell positions while trading stocks.
Why is it important?
A trader can learn from this example how the market can react to the earnings reports. Indeed, strong data doesn't always push the stock price up, that's why it's necessary for investors to be always updated with the latest news.
Technical outlook
The stock is moving down and down. It's likely to reach the support of $35.00 soon, which it has failed to cross many times in June. The price may stop for a while at the $35.00 level. If it breaks it, the way down to the low of June 4 at $31.00 and then to $29.00 will be clear. However, the stock can't fall all the time. Once, it will reverse up! The current resistance levels are the 50-period moving average of $42.00 and the high of June 6 at $47.00.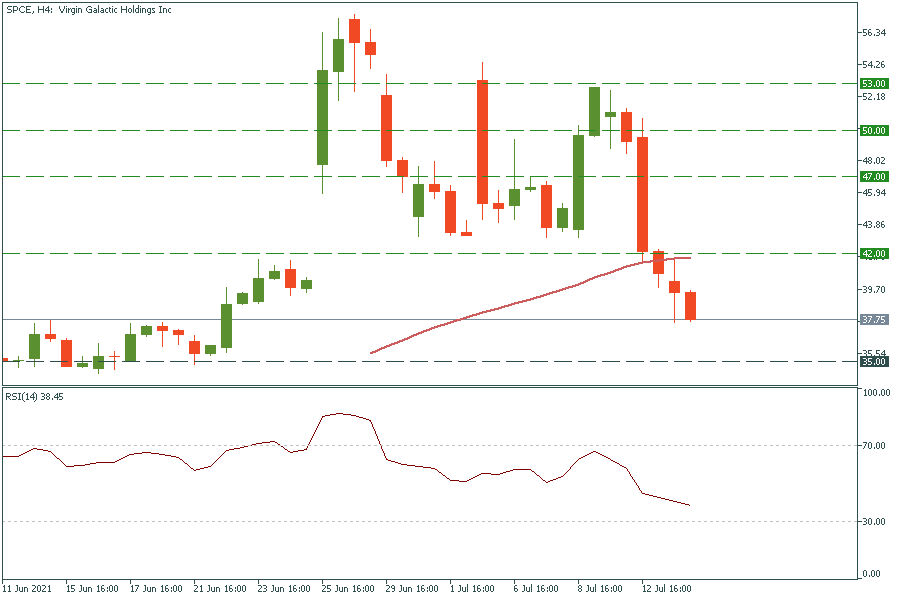 Don't know how to trade stocks? Here are some simple steps.
First of all, be sure you've downloaded

FBS Trader app

or

Metatrader 5.

FBS allows you to trade stocks only through this software.
Open

an account in

FBS Trader

or

the MT5 account in your personal area.
Similar
Latest news
Gold Rises as Central Banks Buy More
About 24% of global central banks intend to increase gold reserves in 2023. Rising inflation, geopolitical turmoil, and worries about interest rates are reasons to increase gold reserves.
US Evades Default This Time
Greetings to a brand new week full of events, economic releases and US debt frictions. We are here to tell you everything you need to know!
USD Gains Momentum
The US dollar index breaks one resistance after another. Read the report to learn the next target for the US dollar index!
Deposit with your local payment systems