War for GameStop between Reddit and Wall Street
What happened?
If you didn't know about GameStop before all this fuss over it, we'll tell you. GameStop is an ordinary American high street shop that sells games, consoles, and other electronic devices. Obviously, the Covid-19 pandemic hit hard such kinds of shops and GameStop was no exception. And who would go buying games in a street shop when everything is sold online?
As you can see, GameStop was having a tough time. Therefore, a lot of hedge funds made bets on GameStop to lose its value and started selling the stock. And GameStop would have really fallen, but, all of a sudden, people in Reddit began discussing this topic, made it trending, and started massively buying GameStop shares.
As a result, the demand raised its stock price enormously, and all the investors, who bet on its dropping, lost billions of dollars. This activity has created a so-called "short squeeze". The short sellers betting against GameStop were forced to buy more GameStop stock to cover their losses. That in turn drove the price even higher, which then again forces more short sellers to cover their losses, which pushes the price up even more.
What was the real purpose?
Some people started buying GameStop just for fun. Others wanted to test what the internet community is capable of. There is even an opinion that it was kind of revenge against the big financial companies accused of the market crash in 2008. Even Elon Musk entered the game with a tweet, which sent GameStop further upwards.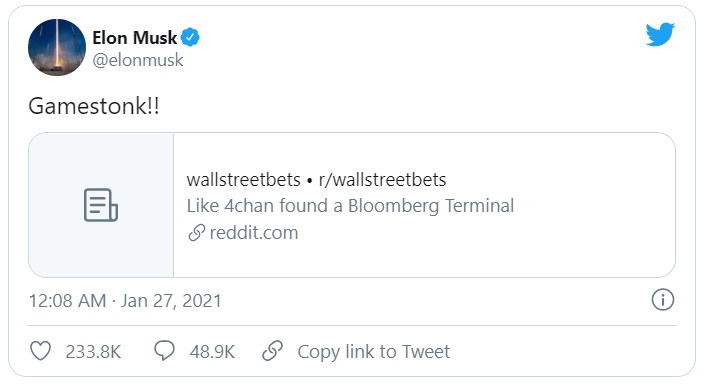 Result
The total cost of all the bets against GameStop reached $5 billion, according to Investopedia. "We're seeing a phenomenon that I have never seen," Jim Cramer, a Wall Street commentator.
GameStop stock jumped more than 822%, from $17.25 at the beginning of the year to a high of $159.18 on Monday. On Thursday, it jumped to $483.00, before halving again. Today it's trading near $380.00.
All this GameStop chaos made a huge impact on the large-cap indexes. The S&P 500 and Dow Jones both dropped significantly on Wednesday, down 2.6% and 2.1% respectively. Some analysts consider that the index selloff happened because of the investors who took their money out of these indexes to cover short bets made on stocks like GameStop.
Let us finish on a positive note. This situation gave rise to a lot of memes that you can see below.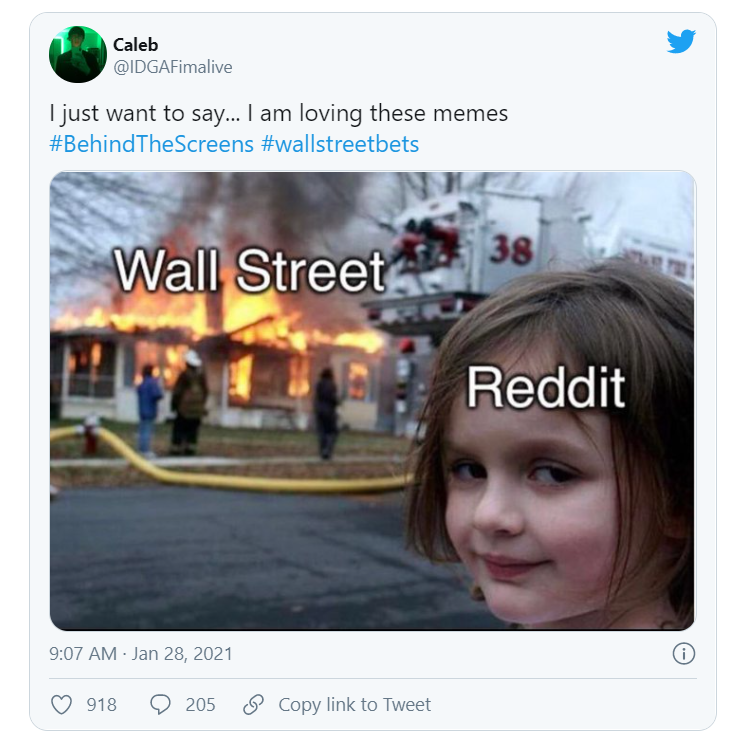 Similar
Latest news
Gold Rises as Central Banks Buy More
About 24% of global central banks intend to increase gold reserves in 2023. Rising inflation, geopolitical turmoil, and worries about interest rates are reasons to increase gold reserves.
US Evades Default This Time
Greetings to a brand new week full of events, economic releases and US debt frictions. We are here to tell you everything you need to know!
USD Gains Momentum
The US dollar index breaks one resistance after another. Read the report to learn the next target for the US dollar index!
Deposit with your local payment systems