Elon Musk, founder of Tesla and SpaceX: "I think the Bitcoin structure is quite brilliant. One downside of Bitcoin is … computationally it's quite energy intensive. There has to be some kind of constraint on the creation of crypto. It's very energy-intensive to create the incremental bitcoin at this point … It bypasses currency controls. Paper money is going away, and crypto is a far better way to transfer value than pieces of paper. That's for sure."
Is the winter for cryptomarket finally over? Or do we get ahead of ourselves when making this statement?
Monday brought excitement to the markets as Bitcoin tested the highs above the $4,000 level, near the 100-day MA on the daily chart. The price for the digital asset managed to stick above that level, but bulls have not had enough power to break the resistance at $4,065 yet. The trend for the famous crypto is bullish according to the Parabolic SAR. If Bitcoin strengthens, bulls will break the resistance at $4,065 and push the price higher towards the next resistance at $4,212. Otherwise, if the bearish pressure increases, we may expect the fall towards the support at $3,930. The next support is placed at $3,773.
From the indicators' side, RSI is placed within the overbought zone, which may signal the potential reversal.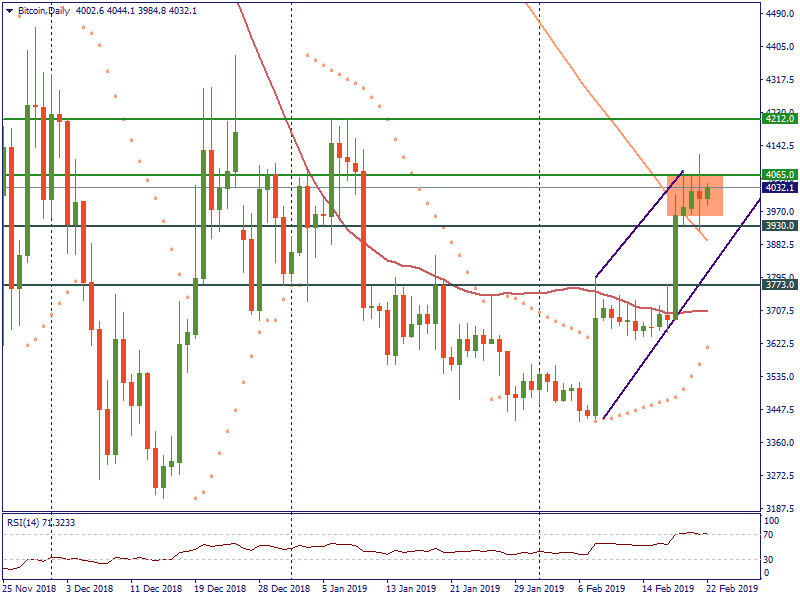 Regulations:
The Central bank of Spain claimed BTC as an ineffective payment system. The main disadvantage is, of course, decentralization.
South Korean authorities plan to invest $1 billion in blockchain startups.
The German government sought the consultation of the blockchain community on new laws.
New announces:
Here we go again: US Security and Exchange Commission will decide on the approval of two Bitcoin ETF proposals by VanEck and Bitwise within the next 45 days.
The new-released Samsung Galaxy S10 features built-in crypto support.
No comments:
Craig Wright wrote a letter to the US Commodity futures trading commission (CFTC), where he introduced himself as Satoshi Nakamoto and said that misunderstanding of blockchain had ruined his bright ideas and lead to a lot of scam in the crypto market.
IBM Crypto Chief Jesse Lund set a long-term $1 million price target for Bitcoin. Wish we all were such super bulls as him!
Opinion:
According to analysts, the trade volumes of BTC reached the last April's levels, while the volumes of ETH increased to the levels of January 2018.
Bitcoin $4,073
DASH $88.24
Ethereum $151.25
Litecoin: $50.63
Similar
Latest news
The Yen Sets New Lows
The Japanese yen fell to its lowest level against the US dollar in 33 years. Read the full report to learn the next target for USDJPY!
BlackRock CEO Supports The USD
BlackRock CEO forecasts the Fed may have to raise rates further. The US dollar index (DXY) gains 130 points today. Read the full report to get more fresh news and technical analysis!
Deposit with your local payment systems