What Currency Will Overperform?
Flash Manufacturing PMI
January 24, 11:30 GMT+2
S&P Global, a private banking company, will release a monthly change in British Flash Manufacturing Purchasing Managers Index (PMI) on January 24, 11:30 GMT+2. The index is a leading indicator of economic health as businesses react quickly to market conditions, and purchasing managers hold the most current and relevant insight into the company's view of the economy.
The index calculates according to the purchasing managers' assessments of the business conditions' relative level, including employment, production, new orders, prices, supplier deliveries, and inventories.
The previous Flash Manufacturing PMI release on December 16 caused a 600-points plunge in GBPUSD due to the lower-than-expected actual number.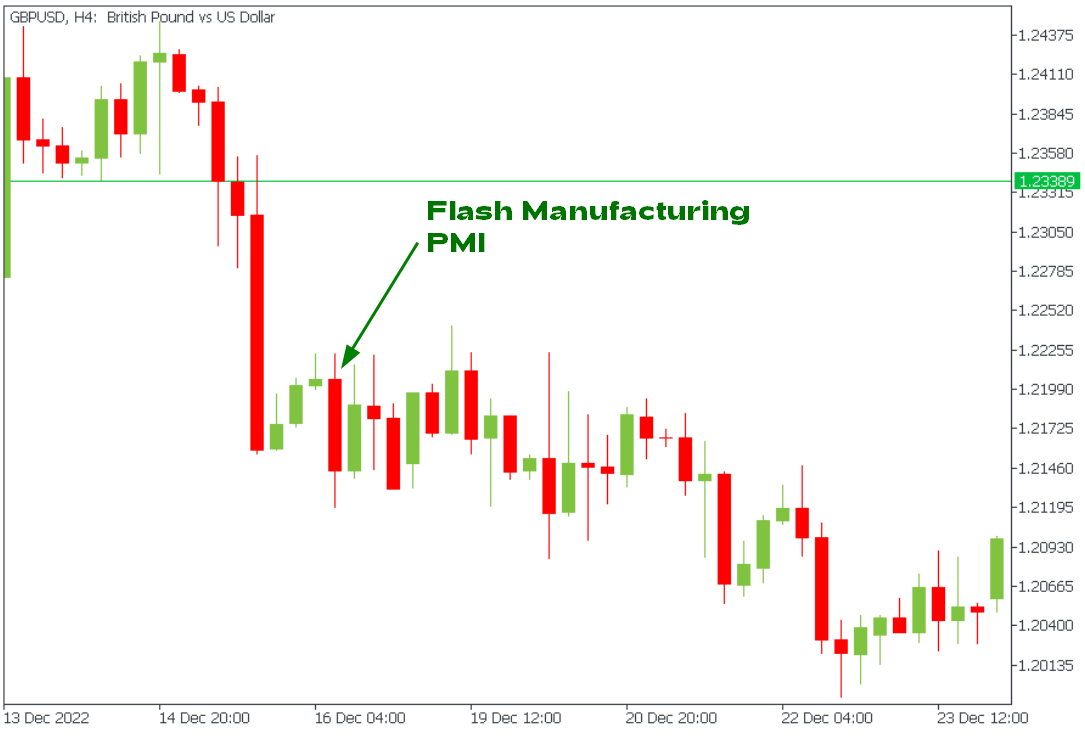 If the result is higher than expected, GBP may rise.
Otherwise, GBP will go lower.
Instruments to trade: GBPUSD, EURGBP, GBPJPY
BOC Monetary Policy Report
January 25, 17:00 GMT+2
The Bank of Canada will release its Monetary Policy Report, Rate Statement, and Overnight Rate on January 25, at 17:00 GMT+2. These releases provide valuable insight into the bank's view of economic conditions and inflation, the key factors that will shape the future of monetary policy. The BOC recently raised the key rate by 50 basis points to fight inflation. As a result, the inflation slowed down in December to 6.3% versus 6.8% in November, opening a door for the Bank of Canada to pause the rate hikes.
This time, investors expect the BOC to increase the rate by 25 basis points, hitting 4.50%.
The latest rate hike by the Bank of Canada on December 7 caused the USDCAD to decline by 500 basis points within an hour.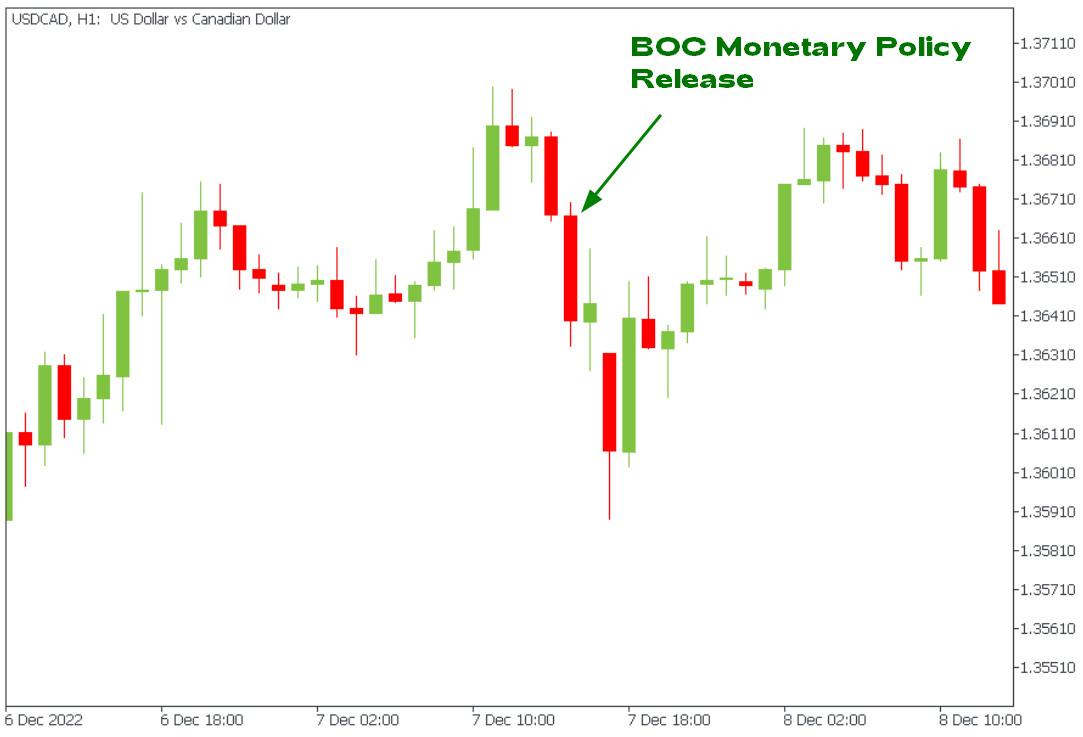 If BOC is hawkish, the CAD may rise.
Otherwise, CAD will drop.
Instruments to trade: USDCAD, CADCHF, CADJPY.
US Advance GDP q/q
January 26, 15:30 GMT+2
The US Bureau of Economic Analysis will release Advance Gross Domestic Product (GDP) q/q, on January 26, at 15:30 GMT+2. GDP is the broadest measure of economic activity and the primary gauge of the economy's health. It measures an annualized change in the inflation-adjusted value of all goods and services produced by the economy. Experts predict the US Gross Domestic Product will gain 2.6% in Q4 of 2022.
The last GDP release on October 27 caused a 3500-point plunge in EURUSD within a week since the result exceeded expectations by 0.3%.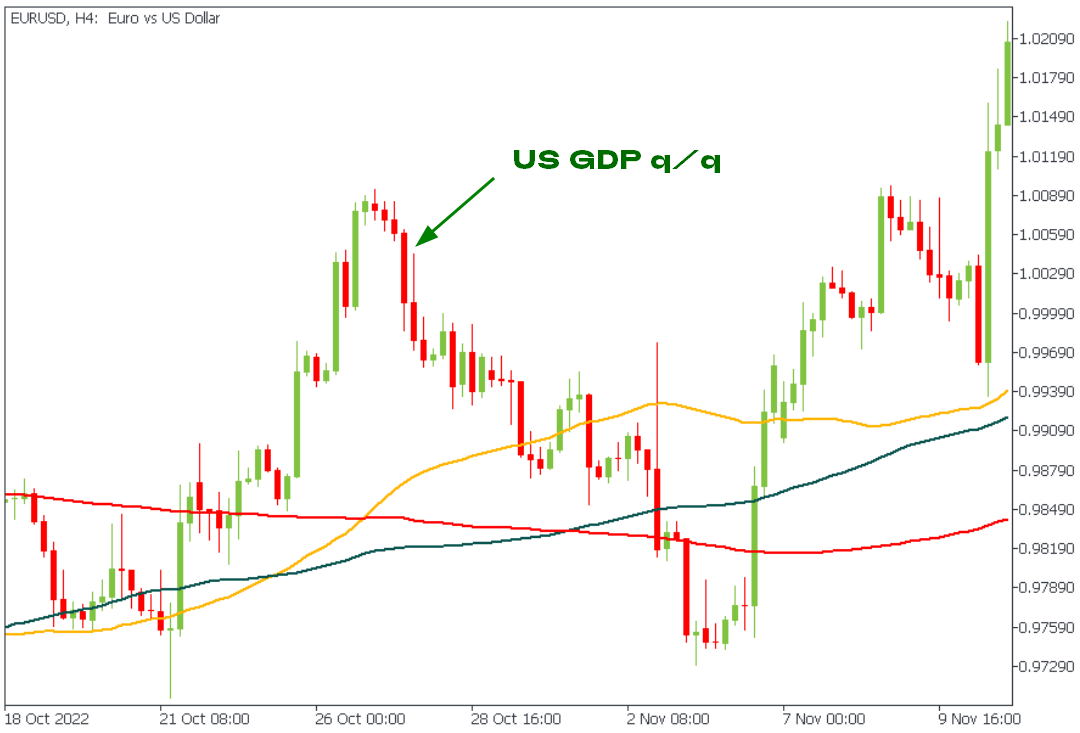 If the result is higher than expected, USD may rise.
Otherwise, USD will go lower.
Instruments to trade: EURUSD, USDJPY, XAUUSD.
Similar
Latest news
Gold Rises as Central Banks Buy More
About 24% of global central banks intend to increase gold reserves in 2023. Rising inflation, geopolitical turmoil, and worries about interest rates are reasons to increase gold reserves.
US Evades Default This Time
Greetings to a brand new week full of events, economic releases and US debt frictions. We are here to tell you everything you need to know!
USD Gains Momentum
The US dollar index breaks one resistance after another. Read the report to learn the next target for the US dollar index!
Deposit with your local payment systems