Will Australian Cash Rate Change?
What will happen?
The Reserve Bank of Australia will announce its cash rate and make a statement about future rate policy on Tuesday, July 5, at 07:30 MT. The release takes place every first Tuesday of the month. The cash rate is charged on overnight loans between financial intermediaries. This is a major event for AUD.
Possible AUD moves
Economic growth in the Asia-Pacific region is slowing as export demand falls in line with the disastrous downturn in major European economies. However, the post-COVID recovery in domestic demand was largely flat, so overall growth slowed only marginally. This is especially noticeable in Australia, India, Japan, Indonesia, and the Philippines, where growth is more driven by domestic demand. Inflation has risen all over the region, mainly due to higher energy and commodity prices, but not as much as in the US and Europe.
The RBA raised the interest rate in May and plans to do it again this month. The next increase will be announced on July 5. The RBA's governor, Philip Lowe, said that issues of raising the interest rate by 25-50 basis points are being discussed among the Board of Directors.
The previous release's result was 0.85%, and AUDUSD predictably jumped 1.02%. If you traded one lot, your potential profit could be $717.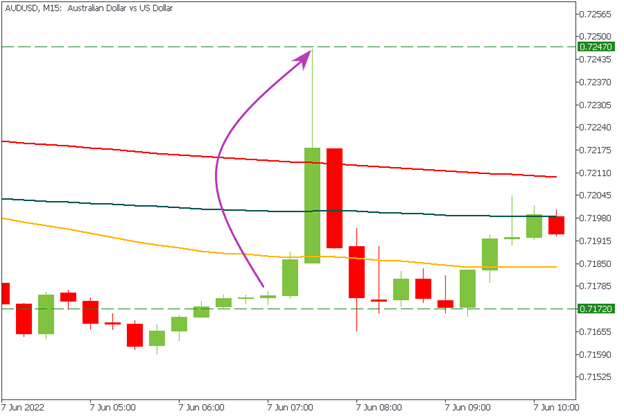 How to trade on the Australian cash rate release?
If the actual numbers are bigger than the forecasted ones, it's good for the currency. Moreover, the AUD will get higher if the RBA is optimistic about the country's economy.
Check the Economic Calendar.
Instruments to trade: AUDUSD, AUDCHF, AUDNZD, AUDJPY.
Similar
How to trade the JPY?
Happy Friday, traders! Are you ready to trade at the end of the week? Here's what you need to know before you start:
Latest news
The Most Important News For Today
The news is essential if you want to trade. Don't miss our digest, where we'll tell you about the most interesting events, happening right now.
Deposit with your local payment systems