How to find and trade a growth stock
2023-04-03 • Updated
Why trade stocks
There are many reasons why you might want to trade stocks. First, it's their long-term predictability: most of them keep rising in the long run. You may say, 'but a lot of them also fail' – fair enough. That's why FBS offers you selected stocks most of which are either decades-proven titans like Coca-Cola, giants of modern reality such as Amazon, or promising hi-tech like Tesla. In other words, all stocks you find at FBS are worth considering.
Where to find the list
On the FBS website, you go to Trading, press Stocks, and you'll the full list with all specs.
In the MT5 (remember you don't trade stocks on MT4 – only MT5), you right-click in the Market Watch, press Symbols, and choose Stocks.
In the FBS Trader, which may be the easiest option, you just open the app and go to the Stocks section.
How to trade stocks
Technically, you can use all the techniques you trade currencies and commodities with, in stocks. At the meantime, stocks are best suited for mid-term and long-term trading – exactly for the reason explained in "Why trading stocks" (go check it out if you skipped it). Therefore, if you're bored with intra-day trading and want to have a life while still operating on the market – stocks may be your best option.
How to choose a growth stock
What you're looking for is a company that's expected to bring consistent profits in the observable future and to expand faster than its industry average. A local or an absolute industry champion. That's a growth stock. How to find one?
Fundamentals and the trend. Check the stock's last several years of performance. Don't get distracted by the fluctuation – they are all volatile. Look at the trend. If the stock has been following an uptrend for the last 24 months, that's a good candidate. Be cautious with 'rocket-launchers' like Tesla (unless they have really outstanding fundamentals): very often, after inflating like a black hole in a very condensed period of time, such stock faces a possibility to lose steam and cool off rapidly. Next, dig into the company's earnings, reports, news. Read some forecasts. Does it look optimistic and solid? Do observers believe this company has a bright perspective for the next several years? What about the mid-term outlook: is the company likely to make good sales and show better-than-expected performance? Has it done so already? If the answer is 'yes' to most of this question, looks like you've found a worthy stock.
So, you go for those, which are relatively stable in the uptrend and have good fundamentals – that's your guide to find a growth stock.
For example, you have Apple below. After going down in the beginning of 2020, it recovered, took the upward trajectory and has been loyal to that trajectory ever since. Note the inclination: it stays relatively stable. That's good: the stock is following the path of well-balanced growth. That's what you want. What about the fundamentals? Pretty solid last earnings report, ambitious expansion plans up to making electric vehicles and tapping into this new market sector, good sales projections – looks nice.
Another example – Coca-Cola. It suffered much more from the virus than Apple. It didn't yet recover its pre-virus highs of $60. But look at the recovery trajectory: it falls well into an equilateral channel. That means it grows in a balanced manner. On the fundamental side, it proved to be a very resilient business. In the fourth quarter of 2020, it performed quite impressively and beat the expectations. A couple of intriguing acquisition prospects in the mid-term future adds to the promising outlook Coca-Cola has. What does it mean? It's worth looking at – especially from the technical perspective to benefit from buying it at local lows where it is on the chart.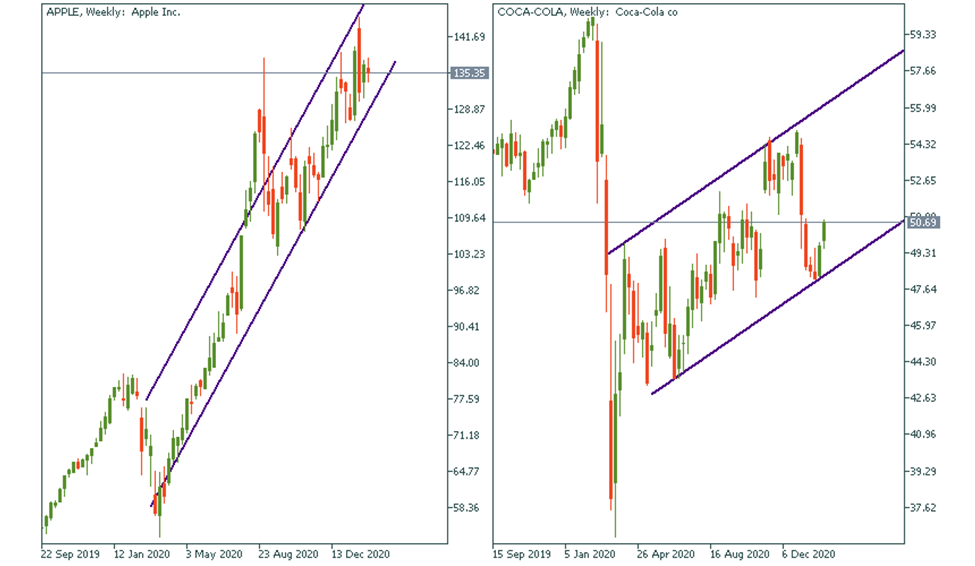 Wait one month
Now that you've chosen a stock, you think, 'How do I actually trade it'. In case "How to trade stocks" wasn't clear enough, here is a simpler guide: just buy a stock and hold it for a month. Put Stop Loss at -2%, and Take Profit at 5%. From experience, if you've chosen well, there's a very high likelihood that in about four weeks, your Take Profit will be executed successfully. Seems hard to believe? Try it out!
Don't know how to trade stocks?
Here are some simple steps.
First of all, be sure you've downloaded Metatrader 5 or FBS Trader app. FBS allows you to trade stocks only through this software.
Open the MT5 account in your personal area (in account in FBS Trader)
Similar
Cup and Handle Pattern
A Cup and Handle price pattern is a technical chart setup that resembles a cup with a handle.
How to open an FBS account?

Click the 'Open account' button on our website and proceed to the Personal Area. Before you can start trading, pass a profile verification. Confirm your email and phone number, get your ID verified. This procedure guarantees the safety of your funds and identity. Once you are done with all the checks, go to the preferred trading platform, and start trading. 

How to start trading?

If you are 18+ years old, you can join FBS and begin your FX journey. To trade, you need a brokerage account and sufficient knowledge on how assets behave in the financial markets. Start with studying the basics with our free educational materials and creating an FBS account. You may want to test the environment with virtual money with a Demo account. Once you are ready, enter the real market and trade to succeed.

How to withdraw the money you earned with FBS?

The procedure is very straightforward. Go to the Withdrawal page on the website or the Finances section of the FBS Personal Area and access Withdrawal. You can get the earned money via the same payment system that you used for depositing. In case you funded the account via various methods, withdraw your profit via the same methods in the ratio according to the deposited sums.
Deposit with your local payment systems