Bitcoin Trading Strategies
If there were no cryptocurrencies, someone would need to invent them. Indeed, daily changes of Bitcoin price are usually bigger than those of currency pairs like EUR/USD, USD/JPY, and other majors. As Bitcoin's price makes bigger moves, it means that you can profit more and faster.
The mechanics of trading cryptocurrencies with FBS is simple. You can trade Bitcoin, LiteCoin, Ethereum and Dash vs. the USD just like any currency pair using MetaTrader.
To increase your chances for success, you have to be systematic. In this article, we present 2 strategies that will help you gain an edge in trading Bitcoin. The strategies take into account its high volatility. Choose the one that suits you most and start earning!
1. Trading the news
Bitcoin doesn't usually react to the news from the economic calendar. You will need to follow specific news about Bitcoin. Such news seems to have a more long-lasting impact than some economic news like US nonfarm payrolls. For instance, if you learn that a large fund invested hundreds of millions in Bitcoins, consider buying the cryptocurrency during the next few days. If a big cryptocurrency exchange was hacked, consider selling Bitcoin.
Let's illustrate this idea with the recent examples. Bitcoin price made a turn up at the beginning of April. The cryptocurrency's advance was caused by several reasons. Firstly, Bitcoin was announced compliant with Sharia law. Secondly, there were reports that famous investor George Soros was interested in trading cryptocurrencies. In addition, traders were looking forward to World Blockchain Forum which was to take place in Dubai on April 16-17. The green arrow marks the start of Bitcoin's swing up. The cryptocurrency rose by 30% during a month on the positive news.
Then, however, new factors came into play. Microsoft-owned search engine Bing joined the ranks of other internet giants in banning crypto-related ads from its network by July 2018. Moreover, cryptocurrencies came under criticism by European financial authorities. The red arrow marks the start of Bitcoin's selloff. The negative trend has been continuing up to date.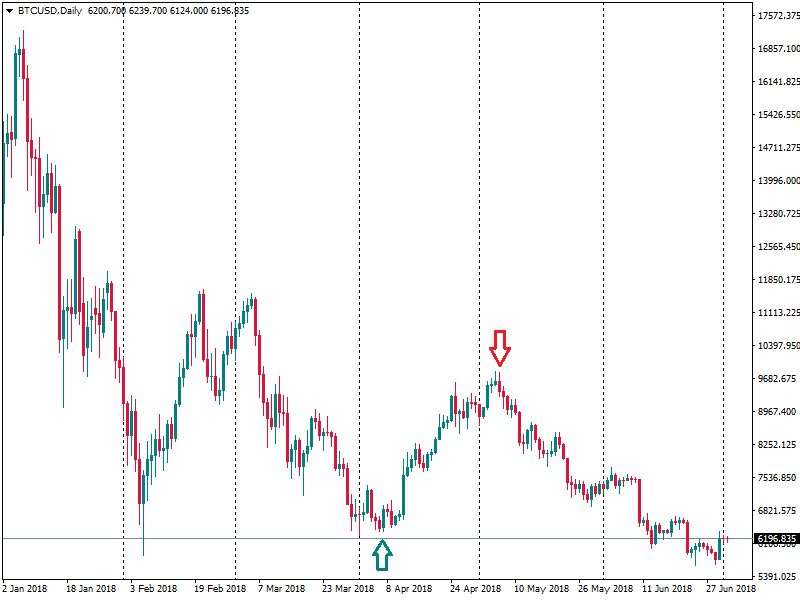 Notice that this strategy requires following special websites and blogs which track Bitcoin-related events. You will also have to filter the really important news from the noise that doesn't lead to any trends.
2. Trading with technical analysis
Technical analysis can also be a great source of Bitcoin trade ideas. We don't recommend scalping or, in other words, trading during the most short-term time periods. Better focus on timeframes exceeding H1 as they will allow you to get the biggest best of this market.
Bitcoin tends to move in trends. The most promising strategy is to choose a trend-trading system for Bitcoin. It can be as simple as trading on the basis of a moving average or a combo of MAs.
Here's an example of Bitcoin trading strategy.
Timeframe: H4
Indicators: 200, 26 and 12 EMA (Exponential Moving Averages)
The strategy generates a SELL signal, when:
The market is in a downtrend. The price should be below 200 EMA (the orange line on the chart).
12 EMA (red line) goes below 26 EMA (blue line).
Take profit when price moves back and touches the 12-period EMA. Place a Stop Loss above the swing high. Don't forget about money management. Do the opposite for a BUY trade.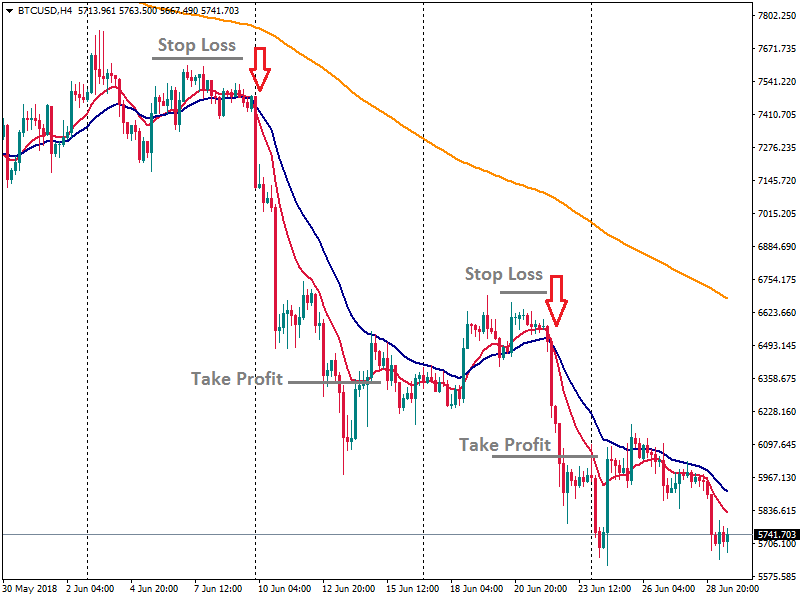 A tip: trade different cryptocurrencies
To minimize your risk and maximize your profit while trading cryptocurrencies, diversify your capital among several of them. Different cryptocurrencies have different purposes. For example, Bitcoin and Litecoin act directly as currencies. Ethereum represents a decentralized application platform, while DASH is focused on the privacy of its users. These all are cryptocurrencies with high liquidity and market capitalization, and you can trade them with FBS. It's wise to pick cryptocurrencies representing different industries: if one of them shoots to the moon, you'll be prepared!
The conclusion is simple: diversify, follow the news, and use technical analysis to profit on cryptocurrencies!