How to Trade Cryptocurrencies in 2022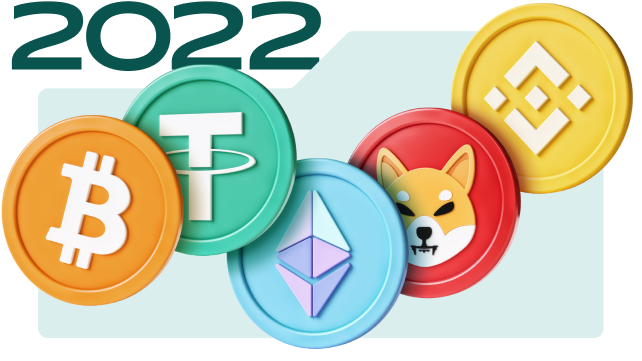 It's 2022 and you're still not sure how to trade cryptocurrency? If not, this is your chance to catch up before it's too late. Read on to discover cryptocurrency, the world's most fascinating asset type, and learn how to start trading cryptocurrency in 2022 with confidence.
What is cryptocurrency?
Cryptocurrency, a combination of the words 'cryptographic' and 'currency', or 'crypto' for short, is a digital asset type that has revolutionized the global finance industry. As 2009 marked the creation of the first crypto ever, Bitcoin, the popularity of both trading crypto and developing new cryptocurrencies has increased dramatically. In fact, just after 13 years, the total value of the entire cryptocurrency market is over $89 billion and there are now over 10 000 different cryptocurrencies, or 'coins', on the market.
Although every coin has some unique features, all coins share one fundamental thing: they operate on a technology called 'blockchain'. Blockchain refers to a digital record of all transactions (and other information, depending on the coin) of a particular coin. Blockchain is stored on a decentralized computer network. Decentralization refers to a type of ownership arrangement where ownership is divided equally across each node (in this case, a computer) in the network, as opposed to centralization, where one node has most or all the ownership. This means that a copy of the blockchain is stored on each computer in its network and, most importantly, that the coin is not regulated by a central institution, such as by a bank or government. You might say "That sounds risky. I'm happy with my bank and I trust it, why should I care about crypto?". The answer is simple: because cryptocurrencies provide their users with several attractive advantages.
So, what are the advantages of using crypto? First, decentralization allows most if not all the costs otherwise imposed by banks to be avoided, making transactions cheaper when using crypto. This makes a significant difference for international transfers, which can be expensive when done via banks. Second, by allowing things like supply limit, fixed inflation rate, and loan contracts to be programmed into its code, blockchain technology makes economic regulation automatic and replaces most of the functions of banks. As a result, blockchain makes economic regulation more transparent, objective, and efficient compared to centralized regulation. Third, crypto offers more security than banks, since blockchain technology is highly encrypted, confidential, and decentralized.
Are you now more interested in trading crypto? Continue reading to find out the practical differences between trading crypto and other assets to decide if trading crypto is for you.
Trading crypto vs other assets
So, how is trading crypto different to other assets?
The key difference is that cryptocurrencies are far more volatile than any other asset type. It is common for a cryptocurrency to swing by as much as 10% over a single day. On the one hand, higher volatility implies higher risk. On the other hand, higher volatility allows for faster profit due to faster price movements. Moreover, unlike other markets, the crypto market is open for trading 24 hours a day, 365 days a year. As a result, trading crypto offers a much higher profit potential but also comes with higher risk compared to other assets.
In terms of technical analysis, trading crypto is identical to other assets, so if you already have some experience in using technical analysis tools, you won't have to learn any new theory. However, there is a difference in fundamental analysis: crypto is more sensitive to market sentiment and more influenced by social media, especially statements made by crypto celebrities.
Are you now ready to start your cryptocurrency trading adventure? Read on to find out the best way to trade crypto in 2022.
How to trade cryptocurrencies in 2022
1. Open an account with a cryptocurrency broker
To start trading crypto, the first step is to open an account with a crypto broker, which allows traders to exchange crypto to other assets and vice versa at rates set by the broker.
You can open a crypto account right here at FBS, on both web and mobile. The FBS Crypto account, offers over 100 trading instruments: coins, coin-coin, coin-fiat, and coin-metal. Moreover, FBS offers excellent terms for trading crypto: low spreads, fixed leverage of 1:5, as well as deposits and withdrawals via both fiat (traditional) currencies and cryptocurrencies.
To start using your account, you'll first need to verify your identity with your passport or ID card. This helps us prevent fraud and settle disputes so you can enjoy trading without worries. Once your identity has been verified, you're ready to deposit money into your account. With the FBS Crypto account, you can make a deposit using a debit card, an intermediary such as Skrill and Neteller, or a crypto wallet. If you aren't yet ready to invest real money into crypto, you can always open an FBS Crypto Demo account and practice trading crypto using virtual money.
2. Choose a trading platform
Once you've opened an account with a crypto broker, you'll need to choose a trading platform. A trading platform is a type of software, whose users can buy and sell crypto, track live price charts, receive trading signals, and use technical analysis tools.
The trading platforms you can choose from depend on your crypto broker. The FBS Crypto account is available on MetaTrader5 and our own trading platform FBS Trader. FBS Trader is more user-friendly and therefore recommended if you've just started trading crypto. MetaTrader5 has more advanced technical analysis tools and will therefore suit more experienced traders.
3. Create a trading plan
The next step is to create a confident trading plan to ensure that you're off to a successful start in cryptocurrency trading. First, choose the cryptocurrencies you want to trade. For traders, the main differences between different cryptocurrencies are their volatility and popularity. For example, Tether, a coin designed to be highly correlated (to move in a similar way) to the US dollar, is far less volatile than Bitcoin, which tends to swing massively. Moreover, coins that are more popular than others, such as Bitcoin and Ethereum, have higher liquidity (traded actively) and are more widely accepted on cryptocurrency trading platforms.
Another key difference is that some coins have a limited supply, such as Bitcoin, with a supply limit of 21 million units. Meanwhile, other coins, such as Ethereum, have an unlimited supply but a fixed inflation rate instead. For traders, the difference between limited and unlimited supply is that coins with a limited supply tend to increase in value as demand grows over time, since the supply cannot be adjusted to keep up with the demand. However, coins with a limited supply also tend to be more volatile and thus riskier to trade. Therefore, your attitude towards risk is also important in deciding which cryptocurrencies you will be trading.
Once you've chosen some coins to trade, keep in mind that the difference in volatility between crypto and other asset types is far greater than between coins. Therefore, to keep the high volatility of crypto under control, your trading plan should follow solid risk management principles. Most importantly, you should set a Stop Loss or Take Profit for every trade you make.
Next, choose some trading strategies. A trading strategy is a set of principles that helps traders decide when to buy or sell an asset and can be based either on technical or fundamental analysis. To maximize your trading success, we recommend using a combination of strategies that covers both types of analysis. Keep in mind that if you trade with FBS, you can always learn more about trading strategies in our Education section, available both on web and mobile.
4. Complete your first trade
Once you've created a solid trading plan, you're finally ready to make your first crypto trade. To do this, open your trading platform and choose the instrument you would like to trade. You'll then see the current buy and sell prices. You can then choose the size of your trade and whether you'd like to buy or sell. After you've placed your order, keep track of your current profit or loss. To close your trade, simply place an equivalent order in the opposite direction.
That's it, you've now successfully completed your first crypto trade! We hope that you found this guide useful and are now more prepared for your journey into crypto. Happy trading!