Secure your trading operations and benefit from using Virtual Private server
Suddenly the future became real and virtualization began to play a major role in many areas of business, such as Forex trading, making VPS hosting of financial applications more safe and efficient. It provides the user with the benefits of privacy, control, dedicated resources, and customization. Given that trading and financial applications often require more stability and faster connectivity than any other type of application, the benefits of virtualized hosting are enormous.
Forex VPS or Virtual Private Server is something very close to Cloud or Virtual Box and allows running as many trading systems in one machine as possible. In outline, it is a virtualized environment hosted on a powerful and robust server dedicated to deploying the expert advisors to run nonstop and independent of the trader's computer or input. The server runs 24 hours a day with software designed to overcome internet connection issues that may slow down or totally restrict the functions of a trading system. Problems like power outage, technical difficulties, viral attacks, and other issues put traders at a disadvantage because of risk to stop the trade from going on. With a well structured strategy and a favorable market environment trading by means of virtual machine offers a bright prospect and great potential.
Forex trading via a VPS has recently become very popular in the retail Forex community. The essence of a Forex VPS hosting service is to provide the trader with a complete Windows virtual desktop that can be accessed and used round the clock from anywhere in the world, allowing the trader to maintain connectivity to the trading platforms at all times. Let's see how it works.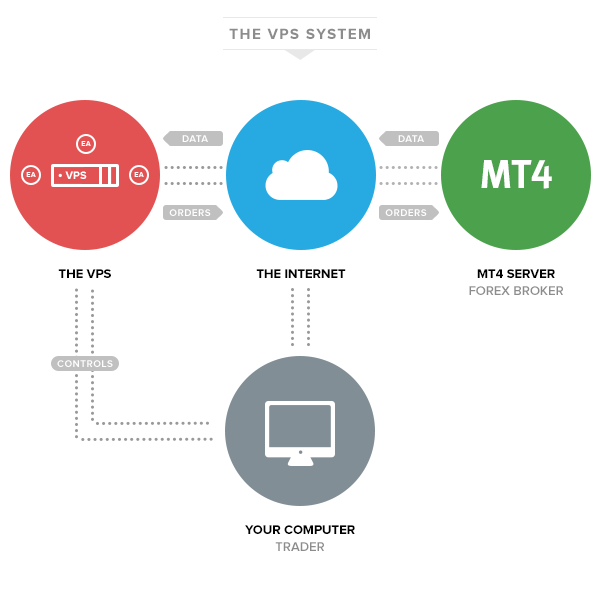 Once the Forex VPS hosting service has been setup and is functional, the trader is allocated an IP address, along with a username and password with which to gain access to the Forex VPS. If the trader has a Windows-based operating system, a program known as 'Remote Desktop Connection' can be accessed by clicking on the Start menu button. There is no need to install anything as the program runs on Windows operating system by default. Once the program is up and running, the trader simply enters the username and password provided by the VPS hosting service provider and the connection to the Forex VPS is established. As soon as login details are entered the trader is presented with a "virtual desktop". From here, the trader can choose to either download the MT4 platform from the VPS browser, or simply copy and paste files of the expert advisor from the computer to the VPS.
All three entities - trader's PC, VPS with EAs and broker's MT4 server — are connected to the Internet. Trader has still a choice to control the VPS and upload new EAs to it and also to control and monitor its trading account with a Forex broker. Fortunately, none of these actions require a 24/7 uptime from the trader's PC or connection. EAs installed on VPS are sending orders to the MT4 server 100% autonomously - the actual trading requires a 24/7 uptime and it's provided by the VPS.
The variety of VPS providers is extremely wide. Luckily it is not necessary to spend long hours for research, because many reliable and certified Forex brokers as FBS offer to use their VPS server.
FBS is an international broker with more than 120 countries presence, 5000000 traders and 130000 partners involved. Founded in 2009, FBS has received numerous awards, proving its worth to the customers. FBS offers a wide range of trading services including one of the best VPS servers.
Starting November 2016 FBS has a unique promotion: in case of opening a deposit and trading a specific number of lots, you get an opportunity to use VPS server absolutely free.
Visit fbs.com to get more details about conditions of promotion.