THE FOREX AND THE CHICK. LEVEL 1
FBS does an exciting experiment: we were wondering what will happen if a girl who has never done a single minute of trading in her life would try to make money on Forex?
Miss Ann agreed to take part in this experiment and made $113 with the $140 Bonus. They say, beginners are lucky. Let's watch Ms. Ann challenging the global market as a newbie. Read the fascinating story from the first person!
Hello! My name is Ann, I'm a 34 years old female who made a decision to take part in a sort of experiment. Can a girl like me make money on Forex or I'm too far away from all the financial gurus?
You don't have to take my word for it and you don't have to try it, but I made my first $113. I think if I can do it, you can do it too! Now I want to describe my first experience and impressions that can probably make you laugh and certainly this is not a guidance for trading.
Experiment conditions:
I learn to trade on my own not asking for help from FBS analysts
I describe all the difficulties I faced in my trading diary
FBS Analysts tells me what instrument I should trade next time
Experiment results:
Time spent searching for educational materials and about trading: 3 hours (1,5 hours a day for 2 days)
Financial result: $113 on my account balance
TALKING ABOUT MONEY
I feel like a baby in the big Forex world, so it's obvious that I don't want to risk my own money. However, trading on Demo account doesn't make any sense for me. What's the point of trading with a "toy" money, that will never bring any real money?! I'd rather spend my time by practicing real trading with the help of FBS Level Up Bonus. For me, this is a pretty good plan of how to grow my trading skills and to try catch some luck. After all, this is not my money, nothing bad will happen if I lose them.
Registration process
Downloading MetaTrader 4 was fast and simple. "I came, I downloaded, I conquered!" (smart joke). I almost felt like a pro, until the first problem occurred, oops. In fact, I made several attempts trying to log in to MetaTrader. What was my error? I discovered this later – you need not only enter your password, but the correct server as well!
Here I made a screen shot to show the correct way to fill in the form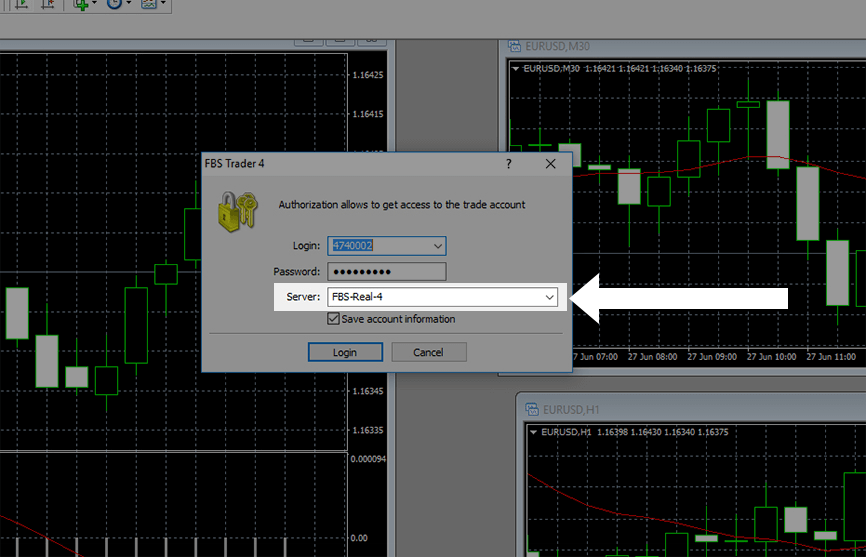 By the way, before I started with MetaTrader, I created an FBS account. So I received an email with all the necessary data.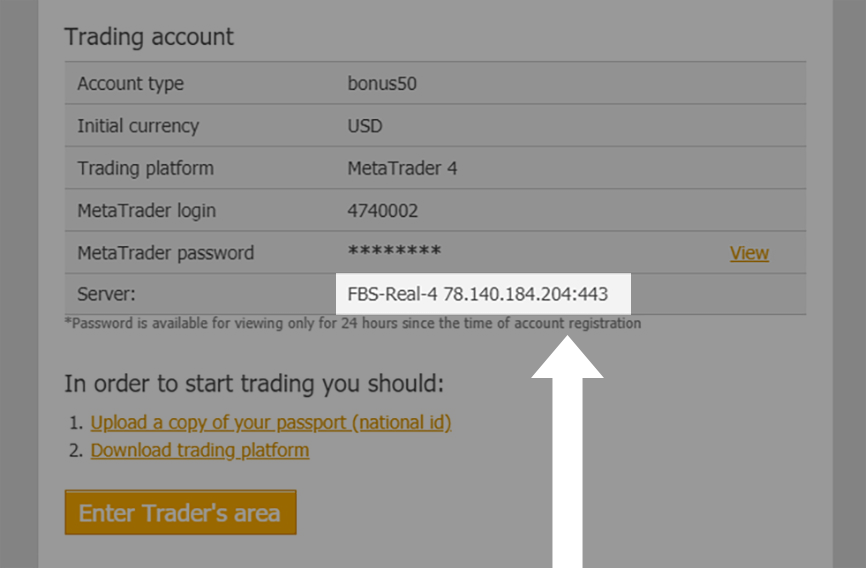 Just listen - I was copying the whole line with the server name and IP address (whatever that means) and pasting it to MetaTrader. Instead of choosing a server from the list in the drop-down menu or copying only the server name. I repeated this several times. Did I log in or not?! My Forex career ruined before it even started, what a drama!
I finally managed to log in properly after watching the FBS educational video "How to open your first trade in MT4". It turned out, that MT4 connection icon hides in the bottom right corner and I really did not notice it (many bad words not for your ears)!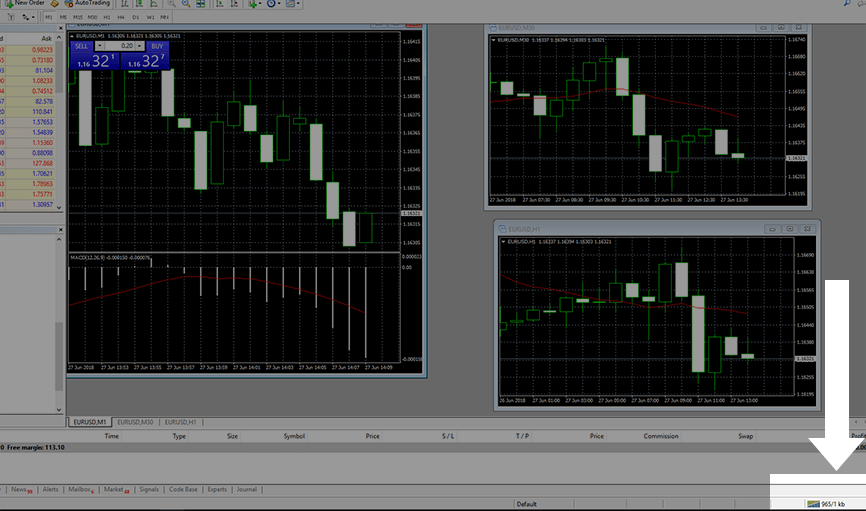 FBS Analyst's comment:
The good news is that you don't have to face login windows and servers on your own. Before you start, watch our short video tutorial. After that, you'll be able to set up your trading terminal smoothly and in no time! We are thankful to Ann for finding this problem and already fixed it so nobody else will have to face such difficulties in the future.
Trading
Well, for sure, professional traders (as well as newbies) will laugh at my conclusions. So I make a poker face and start telling my story.
Timeframes
Thank you God for creating time frames (now I know how to switch them). At first, I just saw EUR/USD currency pair on the daily timeframe and traded only with it. It could become a real fiasco (elegant word for total failure) because I couldn't see the current price in detail. Luckily, I clicked on the "H1" button in the top menu. This brought me to 1-hour timeframe where every rectangle stands for 1 hour. Then I clicked on the date right below the price chart and dragged it. This allowed me to look at the price as if through a microscope and I was finally ready to trade. I think, this is the main reason of my "accidental success".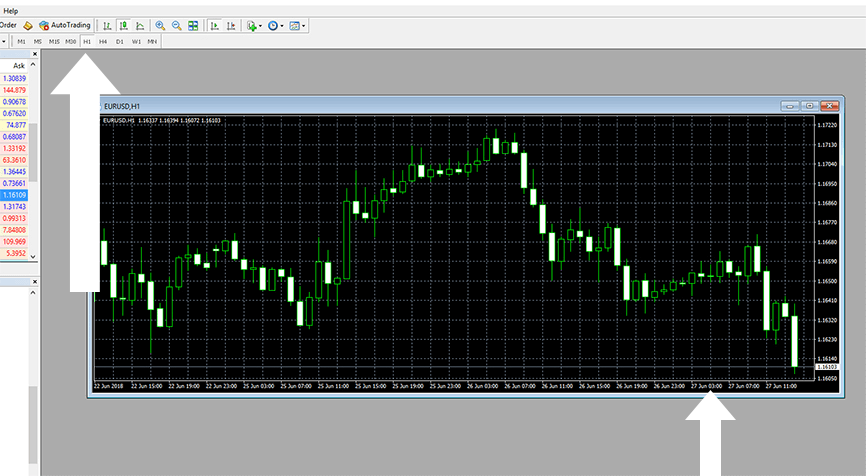 Orders
I was buying the currency when the chart was going down and selling it when I saw at least $1 profit opportunity. All the orders lasted no longer than 5 minutes. If I'm not mistaking, this strategy is called "Scalping", but not perfectly sure, need to google this.
There were a few issues:
I didn't know the price of 1 lot. Only from the third attempt I understood that with my $140 capital I should open orders by buying 0,10 of a lot.
To close the order you need to click on the "Close" button (surprise!) One time I clicked "Sell by market" button and opened 2 new orders instead of closing one (bad surprise!).
What seemed cool to me: it's very comfortable that you see your current profit after opening the order.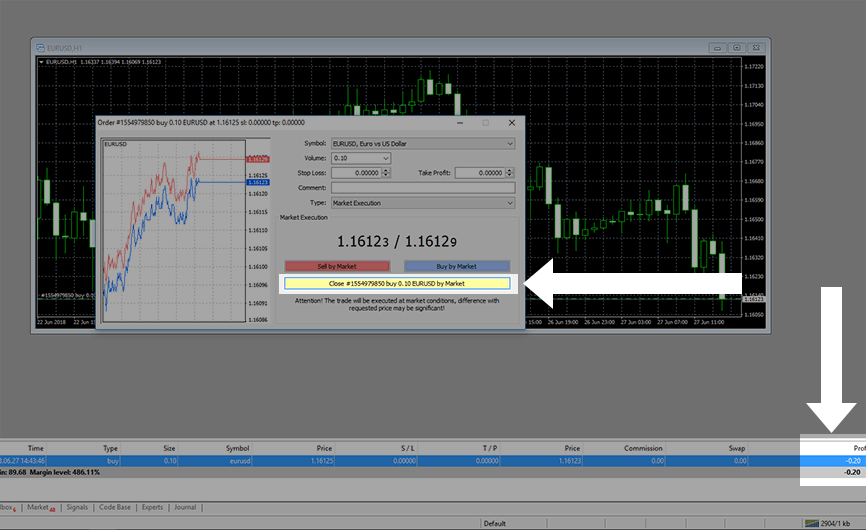 Stop-loss
I knew from theory that such a thing as stop loss exists. I need to use this when trading not to lose money. I didn't want to automate my trading process because I think that you can't learn how to swim if you always wear a life vest. I want to understand the Market and to make my profits and loses without the help of any stop-loss. May be it's silly, but that is how I feel.
My orders history

Total profit for 2 days

FBS Analyst's comment:
Stop losses are important, and so are take profits. Bad trades happen and stop losses will help you minimize the losses. At the same time, using take profits you will be able to choose price levels at which your trade can close with solid profit. It's good either way, so wise traders use both stop loss and take profit orders.
What's next?
I really enjoyed making profit (surprise again!). According to the experiment, FBS analyst will not help me in my trading. Instead of it, they will give me topics for self-education. I must read, watch and understand many Forex things and then practice in MetaTrader using this sacred knowledge.
My homework is "Moving Average", as Liza says this is the simplest MT indicator. Will start exploring it today!