Top Tech Trends of the Future for Trading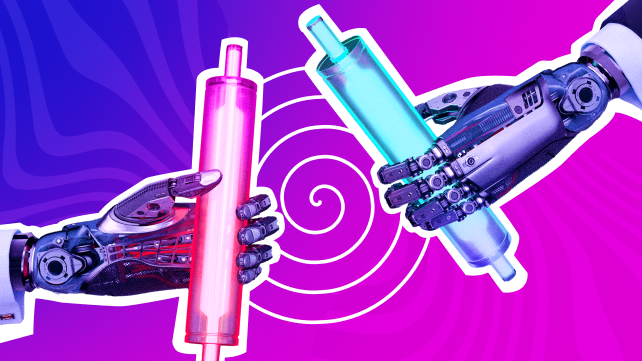 Tech development impacts our daily lives as well as traders' profits. Technologies change rapidly, creating new opportunities in everyday routine and the stock market. To keep up-to-date and gainful, traders should be aware of the current and future tech trends. Trading is one of the fastest shifting industries, and the tech sector has always been brisk. But we know the importance of technology predictions and have prepared a list of emerging stocks.
Besides that, a wealthy trader always reads and analyzes the most relevant and influential market events. To help traders do in-depth technical and fundamental analysis, we're collecting the latest technology news on the stock market.
However, apart from nowadays trends, predicting future trends helps traders recognize the potential effect the past could have on a future event, which is a key for successful trading. This article will provide the most promising future tech trends and answer the question of what to trade in the next ten years.

Blockchain
The blockchain is the underlying technology that provides security and transparency in the cryptocurrency market. Most cryptos, like Bitcoin, Ethereum, and Non-fungible tokens (NFT) operate on the blockchain, but this unique way of safe recording and transferring information is used outside of cryptocurrency. For example, in logistic and chain management or insurance and medical records.
Due to the high volatility and worldwide popularity of crypto, you might be interested in a guide on how to trade crypto smart in 2022 prepared by FBS financial analysts.
The numbers demonstrate the potential of the blockchain market, which is expected to grow from $7.18 billion in 2022 to $163.83 billion by 2029 at a CAGR of 56.3% in the forecast period. This technology is used by 2.8% of the world's population, and there are almost 83.5 million blockchain wallet users. Worldwide spending on blockchain solutions hit $6.6 billion in 2021, while the USA is going to spend $2.5 billion.
Obviously, blockchain innovation will accelerate, pushing more companies to invest in this technology. So in the next ten years, stocks related to blockchain technology will be even more promising.
Stocks to trade: COIN, ALIBABA, TWTR

Metaverse
Metaverse is a digital space allowing users to meet each other in virtual or augmented reality to socialize, commerce, play, transact, and more. Due to the rising focus on converging physical and digital operations on the Internet, more companies engage in metaverse development stimulating stock market growth.
The global metaverse market was around $47.48 billion in 2022 and is projected to be worth about $678.80 billion by 2030 at a CAGR of 39.4% during this period. It's not just a talk. COVID-19 epidemic accelerated metaverse potential even more, and the 2021 year showed metaverse-related companies raised upward of $10 billion, more than twice in the previous year.
Despite the metaverse still in its early stages, companies like Meta are developing this tech of the future, and many traders already have the related stocks in their portfolio.
Stocks to trade: FACEBOOK, DISNEY, NVIDIA

Biotechnology
Biotech is also presenting favorable opportunities for traders. The biotech industry includes companies developing drugs and diagnostic technologies to treat and prevent diseases. With advanced molecular biology, new scientific disciplines emerged, stimulating companies to develop this industry.
The pandemic and the need to develop vaccines for the coronavirus have also stimulated this tech sector. The global biotech market was valued at $793.87 billion in 2021 and is expected to surpass $1.683.52 billion by 2030, expanding its growth at a CAGR of 8.7% for nine years.
With its significant impact on a variety of industries, including medical and pharmaceuticals, genomics, food and chemical manufacturing, biotech technology is always in high demand and makes related stocks really promising.
Stocks to trade: INO, MRNA, EBS

Internet of Things (IoT)
The Internet of Things, or IoT, has become one of the major technological innovations of the 21st century. This tech trend describes the network of things - physical objects - embedded with software, sensors, processing ability, and other technologies that connect and exchange data with other devices. That includes a huge number of objects of all shapes and sizes, from smart houses to self-driving cars. Simply speaking, IoT allows us to do different things without human participation.
The IoT market is estimated to rise from $478.36 billion in 2022 to $2465.26 billion by 2029 at a 26.4% CAGR during the forecast period. The growing power of the IoT-related stocks is doubtless since this tech trend is used on a large scale in sectors like energies, manufacturing, healthcare, and more.
Major stock companies are already benefiting from IoT technology, and in the next ten years, this trend will be even more profitable.
Looking for the right approach to trade tech US stocks? Here is the plain guide.
Stock to trade: GOOGLE, QCOM, CISCO

Artificial Intelligence (AI)
Artificial Intelligence, or AI, simulates human intelligence processes by machines and computer systems. Don't confuse AI with IoT. AI is all about adding the intelligence human-mind feature to the machines, while IoT means connecting all electronic devices to a single network which are interlinked.
AI has received ever-growing attention in various sectors since it excludes the factor of human error and accelerates processes. Plus, laziness has been a great driving force of progress, making our life easier. As a result, AI is being applied to industries such as robotics, medical treatment, manufacturing, environmental protection, and network construction. In 2021, the AI market was valued at $59.67 billion and is projected to expand at a CAGR of 39.4% to reach $422.37 billion by 2028.
Although some companies just started their AI journey and others are veteran travelers - both have a long way to go. Regardless, AI has become a top trend in almost every industry, not just global technology companies. With science and technology development, AI will continue to emerge and stimulate related stock prices to go up.
If you want to puzzle out AI and its impact on trading, read our previous article.
Stocks to trade: NVIDIA, AMAZON, GOOGLE

Cybersecurity
With the tech and Internet development, scammers appear more often, motivating the cybersecurity industry. Cybersecurity provides protection against various cybercrimes such as malware, identity theft, cyber-scams and attacks, ransomware, fishing, and more.
The global cybersecurity market is projected to expand from $155.83 billion in 2022 to almost $478.68 billion by 2030, showing a CAGR of 13.4% during the reviewed period. All the above tech trends described in this article drive the cybersecurity industry.
This tech of the future is always in demand since hackers are adapting to even most modern cyber controls, making them obsolete. As cyber threats keep growing in type and frequency, so too will cybersecurity spending. Most companies, from small businesses to global corporations, implement and increase cyber security. Moreover, geopolitical events also stimulate and move forward the development of this technology. So stocks of companies moving into this space have a high potential to trade in the near future.
Stocks to trade: GOOGLE, INTEL

Quantum computing
Another rapidly emerging technology that gears the quantum mechanics laws to solve problems too complex for classical computers is quantum computing. This computing area focuses on developing computer technology based on the principles of quantum theory. In theory, quantum computing allows us to store more states per unit of info and operate much more efficient algorithms at the numerical level.
The quantum computing market was estimated to rise from $325.4 million in 2022 to $1987.6 million by 2028, with a CAGR of 35.2% within the forecasting period. This market covers software, hardware, cloud services, etc.
With quantum computing progress, more industries, including energy, finance, pharma, telecom, and agriculture, will apply this technology. One of the companies that developed this tech trend is Alphabet, with Google as one of its segments. Based on reports, the company showed significant growth in revenue and net income. The company also announced a 20-for-1 stock split, giving more opportunities to traders. Dive deeper into Google split by reading our article.
Stocks to trade: INTEL, MICROSOFT, IBM
Technological advancements and innovations have influenced the stock market a lot. According to McKinsey, we will experience more technological progress and revolution in the coming decade than we did in the past 100 years, and some tech trends will dominate this ever-changing field.
Awareness and understanding of this change and the potential of technologies help make the right decisions while trading. The companies dealing with the tech industry will just empower in the future, making their stocks powerful instruments for trading.
You can trade stocks of the future already now with FBS. All stocks above in this article are available on FBS MT5 or FBS Trader.