Use Forex charts for faster response on the dynamical changes of quotes
Could you just imagine while studying a simple statistics in high school or in a College that it may help you to become a successful Forex trader in future? Believe it or not, but Forex charts are one of the most powerful trading tools used to compare the current price with historical price and figure out the patterns and future price movements. Let's see what you really need to know to make the most efficient use of Forex charts.
Forex charts display the dynamics of prices of various currency pairs based on historical data. They provide powerful insights and patterns into the currency market and make technical analysis work. As a matter of fact, the market participants use the data of charts to decide when to open or close positions. Charts are an optimal instrument for analyzing trends and patterns. For traders understanding charts it is quite easy to predict where the market will move.
Most Forex trading strategies whether or not are based on chart analysis. Forex charts allow seeing and understanding at glance such factors as volatility and momentum. Without charts, it would be very difficult to analyze these factors and make wise trading decisions. Many renowned traders successfully used technical analysis tools, such as charts and graphs, to build their winning trading strategies. Those were charts showing trading volume, the relation between price and volume, or price relative to all kinds of indicators, such as momentum and strength indicators.
Most of the Forex traders are using the Meta Trader 4 platform, which provides three Forex chart appearance: line chart, bar chart, and candlestick chart. These three types of charts are the most commonly used and well-known in Forex trading community.
A line chart or a line graph is a type of graph, which displays information as a series of data points connected by straight line segments. It is a basic type of chart common in many fields. It is an extension of scatter graph, and is created by connecting a series of points that represent individual measurement with line segments. A line chart is often used to visualize a trend in data over intervals of time, thus the line is usually drawn chronologically. Its power lies in its simplicity, as it gives easy to understand view over the closing prices at the specific time. The prices are displayed on the side of the chart, and the dates are displayed in the bottom of the chart. Single line shows the closing price each given day.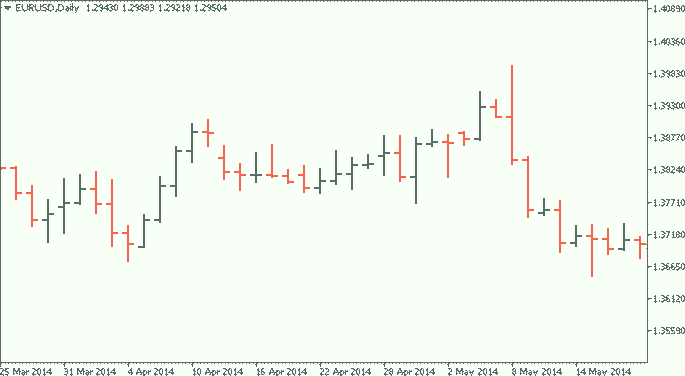 Candlesticks charting comes from ancient Japan. It was initially used by Japanese rice traders to keep track of changes in the price of rice. Currently this type of chart is one of the most preferable among the traders. Information provided by candlestick chart is very similar to one provided by a bar chart. Every candle represents one timeframe period. It consists of the body and the shadows. Body is the sick part of the candle which shows the range between open and close price. If he body is filled with color it means that the priced being closed at the lower cost than it was opened, and if the body is clear, it is backwards. Two lines on each end of the body are called shadows. They indicate the highest and lowest price that was paid during the period of time.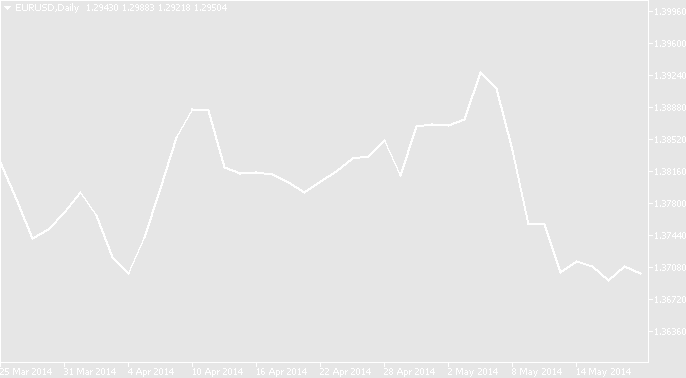 You may ask yourself which type of Forex chart you'd better use. There are many technical tools that help traders to predict the market movements and avoid possible losses. Every type of chart provides trader with certain type of information that can be used for making profit. Choose among wide range of technical tools depending on your trading plan and expectations.
Most traders prefer to use candlestick chart as it gives the most vital information about currency pairs from a technical standpoint with the best presentation, but you should try all available tools to find the best matching you. Proper interpretation of Forex charts allows building efficient trading strategy and move step-by-step to achieve your financial goals and ambitions.