What New Crypto Coins Are Coming in 2022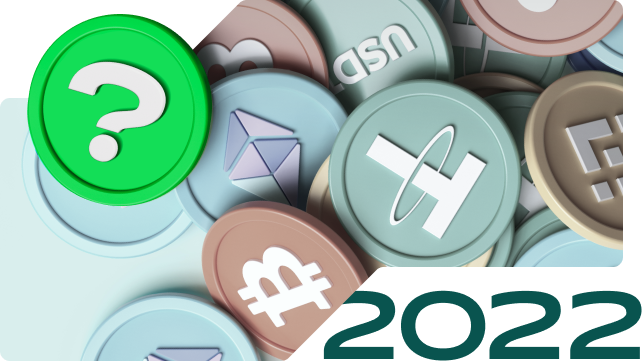 The crypto industry has experienced an eventful 2021. The world's largest investment funds are actively investing in various crypto assets. It's been a few years since Bitcoin entered the scene. Despite its legendary status, it is not the last word on crypto coins. The industry is on an uptrend, and this trend is likely to continue for a long time to come with the newest crypto coins.
There are currently over 7 000 cryptocurrencies to choose from, and new crypto coins are waiting in the wings. We figured out what to expect in the new year and what the newest cryptocurrencies that can bring more profit are.
A useful guide on trading with FBS will help you raise your income.
New altcoins to buy in 2022
First of all, crypto tokens must be simple enough and understandable. Exchange and withdrawal mechanisms should not take much time. Cryptocurrency should not only be promising but also implement unique technologies and innovative solutions. Of course, it must be a cryptocurrency whose prospects you do not doubt.
Here are the most popular altcoins for investors to look at in 2022.

1. Ethereum (ETH)
The top cryptocurrency, which has already shown that it can handle competitors. In the long term, it looks solid. Unlikely that anything will move this coin from the top 3 cryptocurrencies. Users are happy with Ethereum's transition to the Proof-of-Stake algorithm. This helps in speeding up Ethereum transactions for smoother decentralized applications. The token is a good investment asset.

2. Ripple (XRP)
A dynamically developing cryptocurrency from China. The development team is working hard to modernize and promote their project. The March crisis on the exchange did not hit it as hard as others. That indicates stability and potential.

3. Stellar (XLM)
A platform for the implementation of cryptocurrency transactions. Many users like Stellar for its high transaction speed. Over the past three years, it has become the fastest-growing platform.

4. Dogecoin (DOGE)
It started as a joke, but with the support of Elon Musk, it became a serious project. The token has a capitalization of $18 billion versus $726 million in early 2021. Developers are focused on creating new products for mass adoption of this cryptocurrency.

5. Cardano (ADA)
A fairly new but rapidly developing cryptocurrency. Despite its recent appearance in the digital asset market, it is already showing excellent results. It is one of the top five cryptocurrencies by capitalization. Sustained implementation of the roadmap is a guarantee of preserving the uptrend in the long term. The developers are focused on performance optimization and blockchain scaling.
New cryptocurrency releases 2022
2020 was the year of DeFi. 2021 was the year of NFT. And 2022 will be the year of DAO. Now DAO is popular in narrow circles of crypto-specialists, but its potential is enormous. Most of us will be working with DAO someday. It makes sense to pay attention to this model now.
Analysts recommend paying attention to such brand new or upcoming crypto coins as Curve Dao Token (CRV), Polygon (MATIC), Terra (LUNA), Stacks (STX), and THORChain (RUNE). Educate yourself on trading strategies and trading accounts to be prepared for the newest 2022 releases.
Cryptocurrency updates 2022
With the development of blockchain and cryptocurrency technology, the widespread adoption of cryptocurrency is becoming more and more likely.
The overall demand for cryptocurrency seems likely to grow in the current world situation. The total market capitalization of cryptocurrencies almost surpassed its peak in 2021. New crypto-coin developments are likely to be the areas of highest growth. Therefore, it is worth paying attention to altcoins.
Altcoin season-best buys
Now is the best time to invest in digital money. The prospects for the cryptocurrency market are expanding by the day. Cryptocurrency has found its niche in the world market and is gaining popularity.
However, it is essential to understand your needs before making a choice. Do you need cryptocurrency for quick trades and getting money here and now? Or are you aiming for the long term? Thoroughly study the market of electronic assets and their rates, and try several digital platforms for buying and selling electronic money.
For example, FBS offers trading cryptocurrencies on favorable terms. Check it out.
And always pay attention to new cryptocurrency releases!