Trading Stocks Online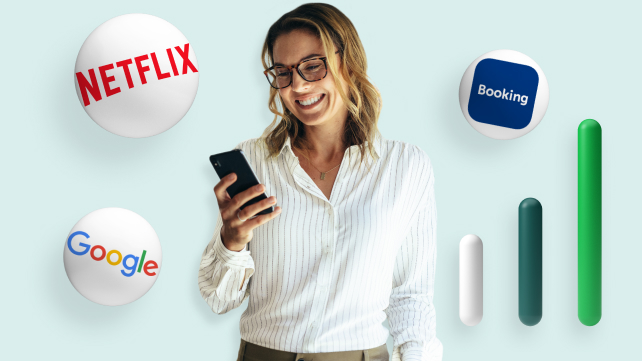 Money should work. Do you agree? These days, it has already become common knowledge that investing in stocks may significantly increase your capital. To start doing that, you need to learn some basics. In this article, we will review some issues of stock trading and tips on how to do that most effectively.
How to start investing in stocks?
Follow these steps to start trading stocks online
1. Open a brokerage account
Download the FBS Trader app on your mobile phone to always have charts at hand and/or MetaTrader 5 on your personal computer for more complex tech analysis.
2. Select your stocks
Open the FBS stock list and see the catalog of publicly traded companies offered by FBS. The list is rather long, so don't be confused or lose spirits: stay calm and use our list of best-performing stocks below at first – that'll make your market screening much easier.
Once you become more experienced, dedicate more time to self-education. Study stock-picking strategies, read financial blogs, and listen carefully to hints from market observers. Once you choose a strategy for selecting stocks, learn its ins and outs, follow it precisely, and you will be on the path to success.
3. Make a portfolio
It's always better to start small. First, buy one stock to get a general idea of how to manage it. Later on, you'll always be able expand your portfolio. Don't forget to diversify it across various market sectors and try to compare and evaluate companies' risk-to-return outlook to make a sound asset selection.
With FBS, you buy and sell stocks easily without paying for a deal registration or keeping your stocks. The trading scheme is similar to trading currencies.
4. Do not give in to negative emotions
Even if the market goes against you on a given day, remember that owning stocks works best in the long-term. Learn from your mistakes and try to concentrate only on the issues you can manage, and don't stress out too much about something that's out of your control!
10 best stocks to buy
Coinbase – the first cryptocurrency exchange to go public, and this fact is very intriguing: if this listing proves to benefit the company, it may open the doors for other start-ups in the sector.
PayPal (PYPL) – a US company that processes digital and mobile payments. It was the first one to allow its customers to buy, sell and hold cryptocurrencies.
ALIBABA - a Chinese company specialized in e-commerce and retail.
Microsoft – a US tech giant, the creator of Windows, Microsoft Office, Xbox, etc.
Nvidia – a top chipmaker and producer of GPUs for gaming and narrow-niche markets.
Tesla – the leading EV producer founded by Elon Musk. Biden's plan to make the US carbon-free to 2025 ad climate change program may be beneficial for the company.
Amazon - an American tech company focused on e-commerce, cloud computing, and digital streaming.
Google – the world's largest search engine company.
Apple - an American technology company, creator of iPhone, iMac, and other iProducts.
Disney - an American mass media and entertainment company, famous for its cartoons, parks, cruises, and its streaming platform Disney+.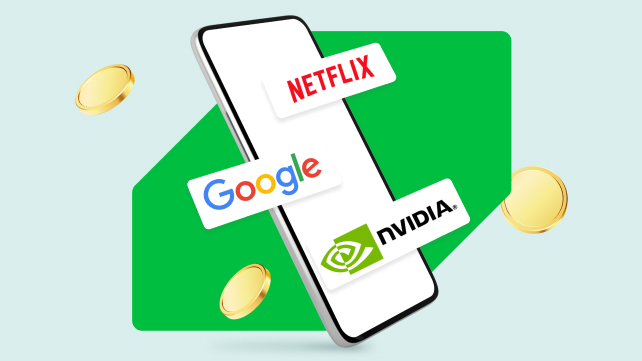 How to trade stocks?
Diversify and reduce risks. How? Invest in different sectors. Buy undervalued stocks with higher potential growth and decades-proven titans like Amazon or Google. Vary companies' size and type.
Read our article "How to find and trade a growth stock".
Follow news. Be updated with the key economic events. The overall market sentiment tends to have a huge impact on all stocks.
Read stock news on our site to stay informed.
Trade on earnings reports. Earnings seasons offer unique opportunities for traders. This is the time when the largest American companies publish their earnings reports for the previous quarter. The price can jump or fall by tens of percent after these releases, so traders can profit during a very short period of time. FBS traders can open both buy and sell orders. Thus, they can profit in case of either outcome!
Read our article: "How to trade on earnings reports?"
How to pick stocks to invest in?
Select a stock you believe to be worthy.
Make research, look through experts' opinions on the chosen stock.
Watch its daily and weekly chart. Does it trend up overall? Yes? Great! Long-term strength and stability are really important!
Review a stock's performance to assess its potential – search for steady earnings growth.
Compare a stock to its peers in the same industry. It should be better than the average or have a higher potential to rise by some reason.
Look whether a company pays dividends. If it's increasing its dividends from year to year – it's a good indicator. Besides, high dividend stocks will increase your profit.
How to buy stocks online?
After making a proper analysis of the stock market, you can easily trade stocks online in our all-in-one trading platform FBS Trader app. Besides, you can use MetaTrader 5 on your personal computer for more complex tech analysis. Read more about how to buy stocks on our website.