JPM, BAC, CITI: three destinies
Next week, we are going to have quarterly reports from our favorite banks: JPMorgan and Citigroup on Tuesday (15:30 MT and 17:00 respectively), and Bank of America on Wednesday (15:30 MT). What do their stocks have from the technical perspective so far?
JPM and BAC present very similar pictures. A launch from the bottoms of mid-summer, unstable growth, tactical high at the end of July, trembling, then a slump to the same bottom of mid-summer. Currently, both banks are recovering the losses from that slump, with JPM being closer to the summer heights and the BAC a bit slower.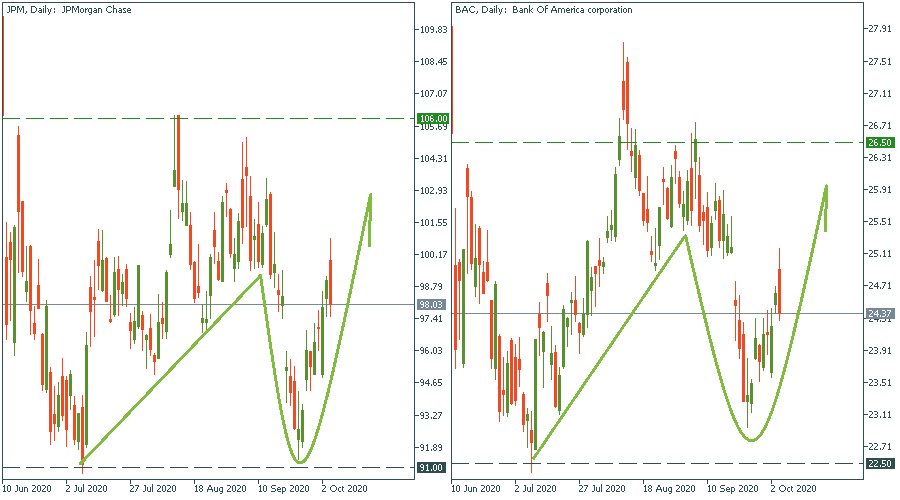 With Citigroup, the picture is a bit different. This stock has been trading flat between $49 and 53$ per share since May. Only recently it left this sideways channel with the rest of the sectors to drop to slightly above the April supports. Currently, it is recovering, and still has a considerable distance to cover before it comes back to the range of $49-53 it was in during the summer.
If you like a general fundamental outlook, it will be fair to say that JPM stock is more volatile, BAC is somewhat more optimistic, and Citigroup is the slowest among the three.
So be there for the quarterly reports on Tuesday and Wednesday, and make sure you set you trades accordingly.
Don't know how to trade stocks? Here are some simple steps.
First of all, be sure you've downloaded Metatrader 5. FBS allows you to trade stocks only through this software.
Open the MT5 account in your personal area.
Reveal all trading instruments by clicking "show all" at the "Market Watch" window.
Similar
No More US Debts in Sight
The first day of June should've brought us the US default. Unsurprisingly, the US House passes the debt ceiling bill at the latest possible moment.
Gold Rises as Central Banks Buy More
About 24% of global central banks intend to increase gold reserves in 2023. Rising inflation, geopolitical turmoil, and worries about interest rates are reasons to increase gold reserves.
Latest news
Bank of Canada Surprises Markets
The CAD is dominating the markets after the key rate increase! Read the full report to learn more about trading opportunities with the Canadian Dollar!
Deposit with your local payment systems