China's economy keeps speeding down
The Chinese economy is demonstrating signs of deceleration because America is about to impose tougher trade tariffs. In this Asian country, investment decelerated to a record minimum and customers became more cautious about spending. That's what Tuesday's data disclosed.
Fixed-asset investment surge speeded down more than anticipated to 5.5% in January-July. It was an outcome of the government's clampdown on lavish local government borrowing for projects to spur surge.
Additionally, industrial output surge also undershot hopes, suppressed by pollution curbs as well as the uncertain trade outlook. Exports were quite resilient, but business surveys point to diving overseas orders.
With the American trade conflict threatening more pressure on the Chinese already decelerating economy, the Chinese government has shifted its focus to stimulating domestic demand. Moreover, the Chinese authorities took another approach in its clampdown on debt and financial risks that stimulated borrowing costs and provoked a soaring number of defaults.
The Chinese government promised to spur spending on roads and railways. That's the country's traditional measure when the Chinese economy decelerates. The PBOC is injecting more funds into the financial system and making commercial financial institutions offer more loans at more affordable rates to small firms.
In July, new Yuan loans managed to surpass hopes, as statistics disclosed on Monday. That's one of the few upbeat moments in the recent data.
With the Chinese economy shifting into lower gear without a trade shock, some market experts foresaw that the PBOC will soon have its official lending rate cut for the first time since 2015, although most financial experts forecast a more moderate stream of support measures in the nearer future.
The pace of fixed asset investment turned out to be the weakest on record since 1996.
Fixed-asset investment tacked on by 3% in July from 2017.
Similar
News for The Week
US stock markets started falling, while the US dollar is rising. What to expect from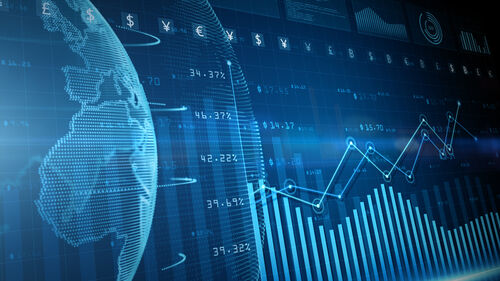 Analysts Waiting China to Decrease the Rate
Key market players expect China to start decreasing the rate and giving liquidity to the markets. China is actively pushing to switch to the stimulative monetary policy. What's going on right now? Read it in our new review.
The Market Flies on News
Be aware this day is filled with PMI releases, so the market may act quite unpredictably. Still, there's something you should know:
Latest news
The Yen Sets New Lows
The Japanese yen fell to its lowest level against the US dollar in 33 years. Read the full report to learn the next target for USDJPY!
BlackRock CEO Supports The USD
BlackRock CEO forecasts the Fed may have to raise rates further. The US dollar index (DXY) gains 130 points today. Read the full report to get more fresh news and technical analysis!
Deposit with your local payment systems