Citi: strategic change ahead?
The earnings report
Citigroup brought better-than-thought data of its Q1'2021 performance: both the EPS and the revenue came out considerably higher than the forecast (actual EPS of $3.62 vs the forecast of $2.24; the revenue of $19.3bln vs the forecast of $18.82bln) - the figures were released an hour ahead of the US market open.
As a result, straight when the US session started, the stock price soared to $74.70 making a 3% rise. However, it quickly erased the gains and returned to the support of $72 above which it's been trading since the end of March. That may possibly mean that while investors were impressed in the short-term by the forecast-beating data, they have dought about the wider perspective of Citi. What may that be?
The wider perspective
Technically speaking, the stock is still up for the full recovery from the virus - that'll happen when the stock crosses the resistance of $83 which is also the 10-year resistance. In the meantime, you may be surprised to know that this level is miles away from the heights where the Citi stock used to trade two decades ago - above $400! So, strategically speaking, there is the whole abyss for the Citi stock to cross to start making its all-time highs like the other banks as BAC or JPM do. What's happening in the Citi then?
Citigroup is the process of global reorientation. Its new CEO Jane Fraser is leading the strategic change. One of the first steps we've recently been informed of is that it's planning to discontinue retail banking in most regions of the world: Australia, Bahrain, China, India, Indonesia, South Korea, Malaysia, the Philippines, Poland, Russia, Taiwan, Thailand, and Vietnam will no longer see retail banking from Citi. Instead, the bank will offer its services to institutional clients as that field proved to be much more reliable in terms of return - that was one of the primary factors that allowed Citi to excel with its Q1'2021 performance.
Therefore, strategically, there is a very big potential for Citi to take on a new path and see its stock grow if it manages to restructure well while competing with other banks. In the meantime, the local target of $83 is still there!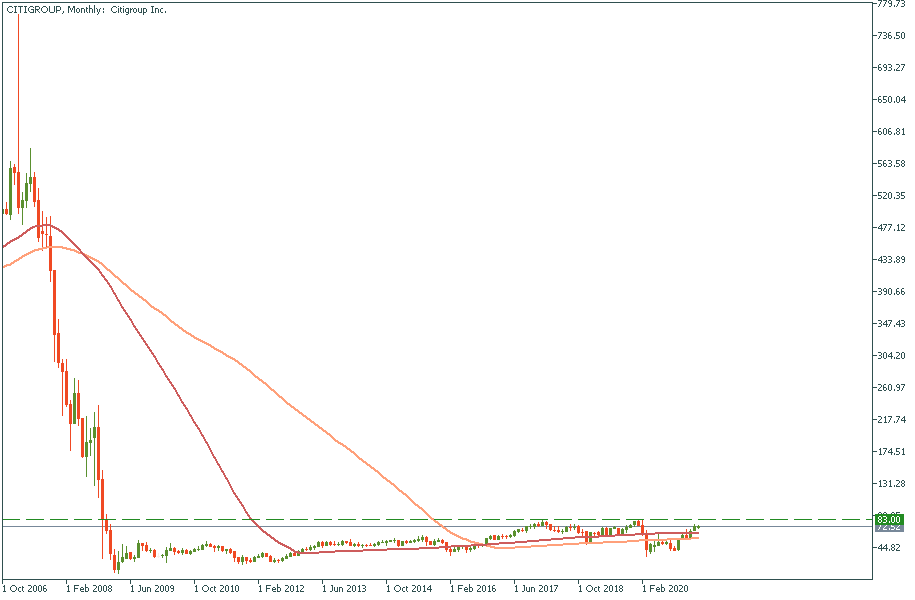 Similar
Latest news
Bank of Canada Surprises Markets
The CAD is dominating the markets after the key rate increase! Read the full report to learn more about trading opportunities with the Canadian Dollar!
Deposit with your local payment systems