Final Opportunity for the CAD
What will happen?
Canada will post Retail Sales and Core Retail Sales on December 21, at 15:30 GMT+2. They are indicators of economic activity that show the change in the value of sales at the retail level. The main difference between the headline and core indicators is that the latter excludes automobile sales.
Why is it important?
They are the measures of consumer spending, which account for most overall economic activity. It brings volatility to the Canadian dollar that you can trade against other currencies.
Last time, the Canadian dollar inched higher after retail sales outperformed expectations with -0.6% versus the forecast of -1.6%.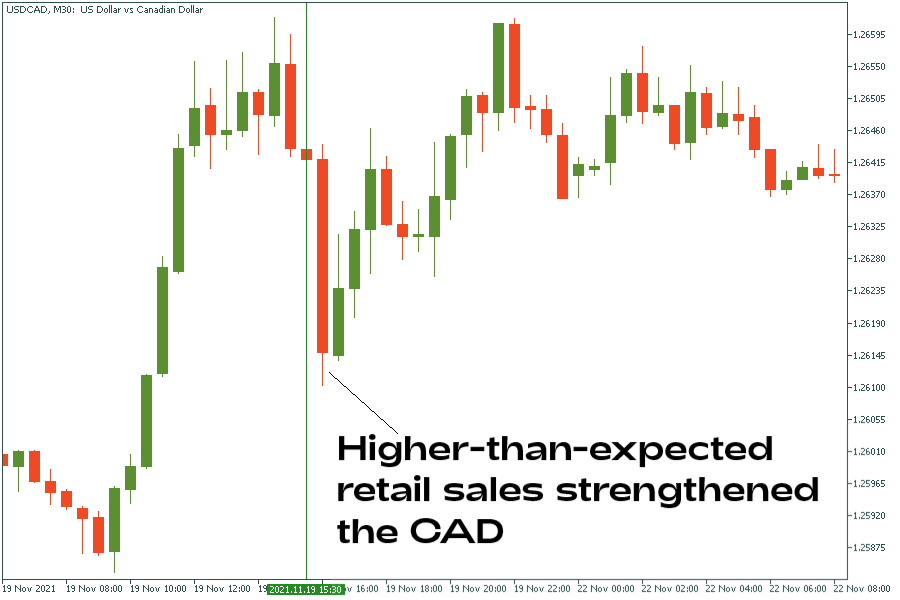 How to trade on the Canadian Retail Sales and Core Retail Sales?
It's easy! Just compare the actual data with the forecasts which appear a few days before the report in the economic calendar.
If the indicators are higher than the forecasts, the CAD will rise.
Otherwise – fall.
Instruments to trade: USD/CAD, CAD/JPY, CAD/CHF
Similar
The Last Volatile Week of 2022
The US Bureau of Labor Statistics will release its Consumer Price Index and many other critical events that will move the market this week!
Latest news
Deposit with your local payment systems