Friday is bringing news that can influence the market. Let's make a quick outlook of essential events for today.
British Prime minister changes
British Prime Minister Liz Truss has resigned after just 44 days in office. Now the officials want that her successor maintain the financial discipline needed to bolster the country's fragile finances. A new prime minister will be chosen on Monday.
If it's known that the party is considering appointing a new prime minister who will accept fiscal largesse or any other non-standard stance, the market reaction will be just as quick and brutal. The situation will be the same as the wild four-week debacle that followed the unfortunate failure of Truss with its proposal to cut taxes and increase spending.
GBPUSD now is 1.1150. 50-, 100- and 200-period MAs are coming closer. If the pair continues the short-term downtrend, the closest target will be 1.1080. In case of a sudden reversal, the price might rise to 1.1400.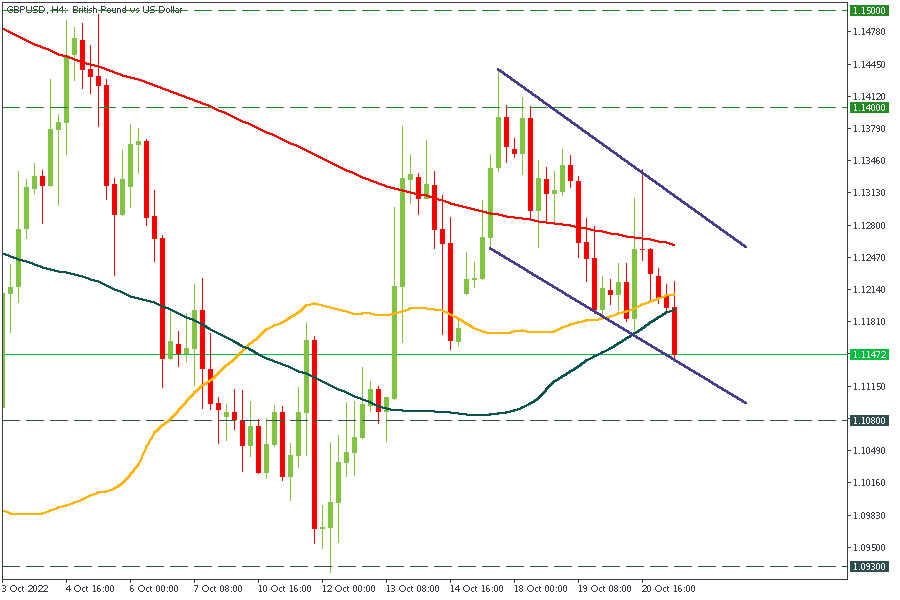 Other news that is interesting to follow:
AT&T released a stable earnings report after a disastrous one last quarter and a recovery in demand for more expensive tariff plans. A company's stock price gained 7.7%.
The advance of USDJPY above the symbolic $150 mark leaves traders wondering when the Japanese authorities will intervene to stop the yen from further depreciation. Next week the BoJ will update its interest rate and announce some plans for the future of monetary policy. At the moment, USDJPY is 150.430.
Stocks in some Chinese chip-related companies tumbled as the US considered imposing new export controls limiting China's access to powerful computing technology.
Oil rose after a tough week. Fears of a global economic downturn continue to weigh on the market. XBRUSD is 90.60.
Have a great weekend!
Similar
US Dollar Index at a 3-month Low
The USD weakened after Fed Chair Powell hinted at a slowdown of rate hikes, and stocks strengthened. What else is moving the markets today?
Soon Bullish Rally for Gold
The winter is coming, and risky markets expect a rally to come with it. Will this December be bullish for stocks, crypto, and gold? A pack of news will surely help you out.
Latest news
Deposit with your local payment systems