Ideas for trading US stocks on July 26-30
This week Apple, Microsoft, Google, Facebook, Pfizer, and other large US companies will deliver earnings reports. For traders, it means opportunities to open buy and sell trades, as the prices of these stocks will surely make big moves. Here is the earnings schedule for companies that we will discuss in this article.
| | |
| --- | --- |
| Tesla | 00:30 GMT+3 July 27 |
| Google | 23:30 GMT+3 July 27 |
| Facebook | midnight from July 27 to July 28 (GMT+3) |
| Microsoft | 00:30 GMT+3 July 28 |
| Pfizer | 17:30 GMT+3 July 28 |
| Amazon | 00:30 GMT+3 July 30 |
Check the full list of earnings releases and their forecasts
Amazon
Amazon is a US tech giant company, involved in e-commerce, cloud computing, digital streaming, and artificial intelligence. This earnings release will show the results for the second quarter of 2021 – the last quarter under which Jeff Bezos was CEO.
Investors are quite optimistic over Amazon's report, that's why its stock price is likely to go up before the release itself. However, the e-commerce giant is facing a tough year-over-year revenue comparison. In 2020, it gained from the long lockdowns as demand for online shopping surged and its stock price skyrocketed. In late 2020 and 2021, the stock has been trading sideways as social-distancing restrictions were eased. Finally, it has escaped the horizontal corridor between $2900 and $3500 and surged to $3800. If it breaks this level, it will rally up to the psychological mark of $4000.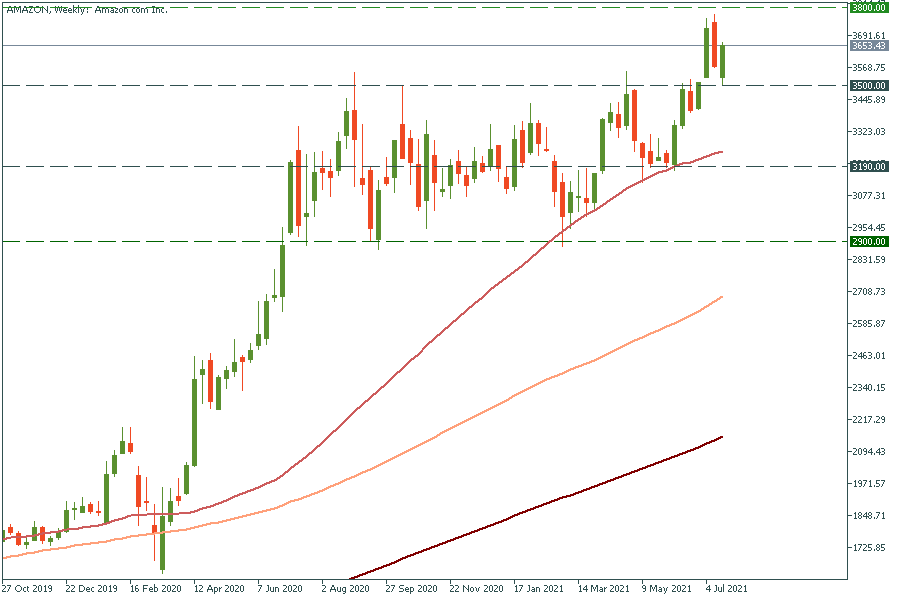 Google and Facebook
Investors expect Facebook and Google to deliver a year-over-year increase in earnings when the companies report results for the quarter ended June 2021. Why? The main source of revenue for both Google and Facebook is advertising. Since the economy is reopening, businesses are recovering and more willing to spend their capital on ads. Thus, investors expect strong results from these companies, that's why their stock prices may rally up before the releases.
On Google's chart, you can see the stock's amazing performance. It's getting closer to the psychological mark of $2800. It may struggle to break it, but if it manages to jump above it, the rally up to $2900 will continue. The RSI indicator is above 70.00, signaling the stock is overbought, but if Google reports strong results, the price may rise further even despite the fact that the RSI is above 70.00. Support levels are July 19's low at $2585 and the 50-day moving average of $2500.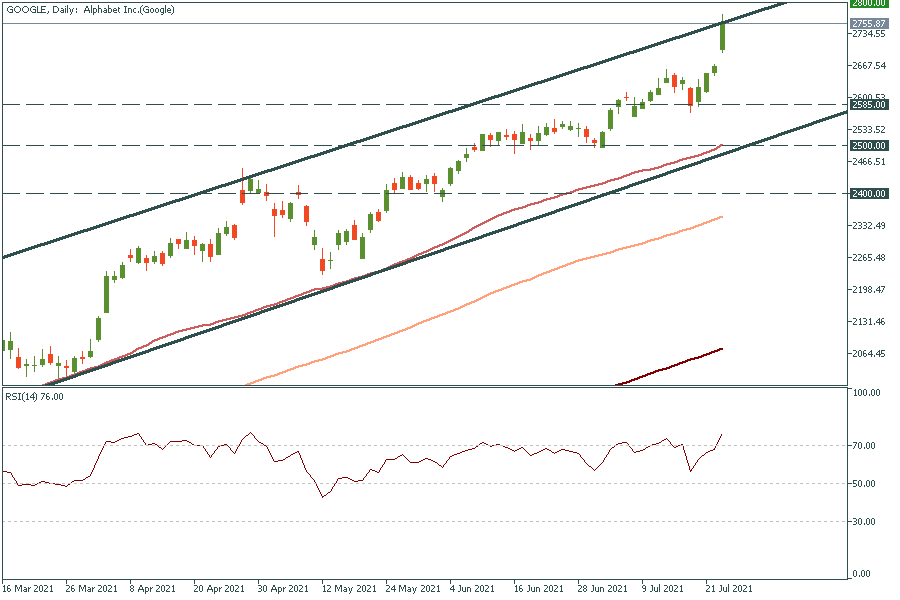 Apple
iPhone 12 sales have been very good. The series has been the most successful launch of an Apple lineup since the iPhone 6 in 2014! Therefore, investors expect Apple to reveal better-than-expected earnings results this quarter. Analysts at JPMorgan expect Apple's stock to rise to $170. Perhaps, $170 is a long shot, the stock should break $160 at first. Apart from earnings, the launch of the iPhone 13, expected to be unveiled in September, might push the stock up as well.
Apple is moving inside the ascending channel. When it crosses the psychological level of $150.00, it will rocket to the next round number of $155.00. Support levels are the recent low of $142.00 and the 100-day moving average of $130.00.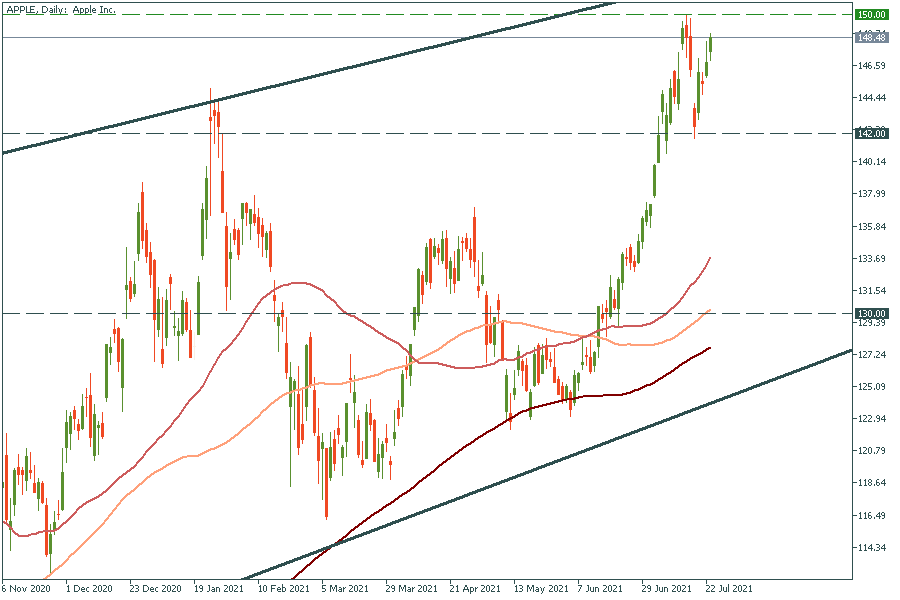 Don't know how to trade stocks? Here are some simple steps.
First of all, be sure you've downloaded

FBS Trader app

or

Metatrader 5.

FBS allows you to trade stocks only through this software.
Open

an account in

FBS Trader

or

the MT5 account in your personal area.
Similar
Latest news
The US Dollar Is Correcting
Inflation in Europe was released better than the forecast. The preliminary fact was published at 4.3%. What's happening in the markets?
Bearish Signal For The USD
XAUUSD fell below 1900 for the first time since March 2023. Meanwhile, the US dollar index gives a bearish signal. Read the full report to learn more!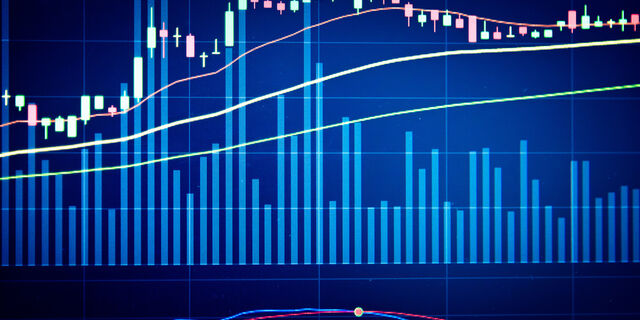 Deposit with your local payment systems