Wednesday News: All Eyes on Fed
All traders are looking forward to Fed announcement today because it can strongly impact stocks and currencies The inflation in the US influences USD, which for its part interacts with almost all spheres over the world.
Chinese stocks surged after China unveiled a more market-friendly policy stance. Hang Seng Index (HK50) is up by more than 10%. Remember that you can trade it with FBS!
CNH received support after reports that Saudi Arabia would consider paying yuan for oil sold to China. USD dipped.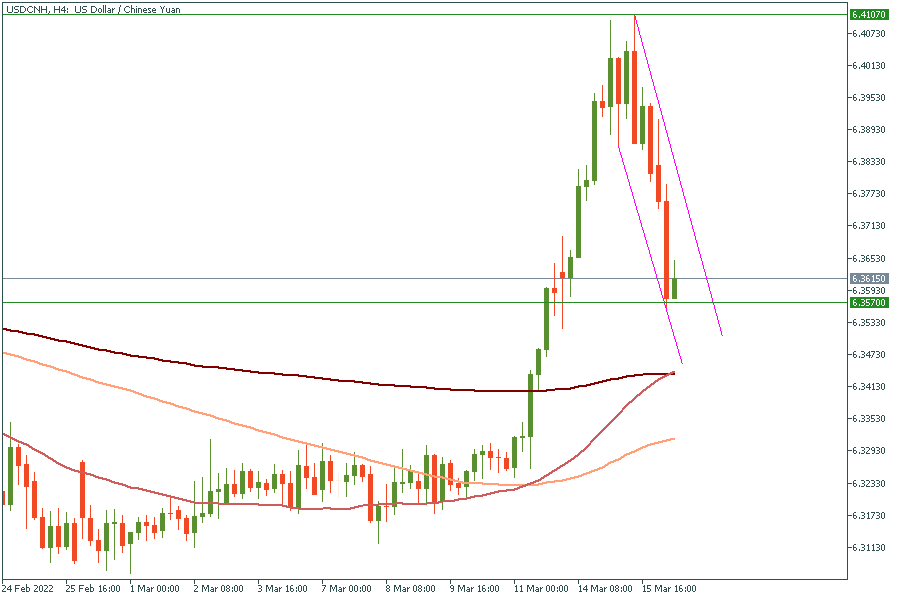 Russia has begun the process of paying $117 million in interest on dollar bonds. Investors are waiting to see if there will be a default. The coupon payments have a 30-day grace period until a default can potentially be declared.
Trading in nickel is about to resume on the London Metal Exchange, more than a week after it was suspended due to a historic short squeeze.
Bitcoin made a sudden rally, rising nearly 6% at one point before dropping to around $39,000.
Amazon.com Inc. received unconditional EU approval for its $8.45 billion acquisition of film company Metro-Goldwyn-Mayer, betting that the nearly century-old Hollywood icon could satisfy an insatiable demand for streaming content.
CEO of Meta Platforms Inc. Mark Zuckerberg confirmed that the company is building technical functionality to allow users to display their NFTs on Instagram.
Don't miss: USD Federal Funds rate, March 16, 08:00 pm MT!
Similar
USD Holds the Line
The US dollar index keeps rounding above the 103.60 historical support level. The buyers have already defended this level for three weeks, highlighting their interest in the greenback. Thus, buying USD looks less risky right now. 
Apple is Under Pressure
Happy Monday, dear traders! Hope you had a great weekend and you're ready for the last trading week in 2022! Later this week we'll announce some exciting news for you, but now let's look through some interesting news!  Today's events: USA, UK, Hong…
Latest news
Market Crash Incoming?
This week may be the most important since the year started as the Fed assess the economic outlook and the US presents fresh NFP readings.
What Currency Will Overperform?
S&P Global, a private banking company, will release a monthly change in British Flash Manufacturing Purchasing Managers Index (PMI) on January 24, 11:30 GMT+2. The index is a leading indicator of economic health as businesses react quickly to market conditions, and purchasing managers hold the most current and relevant insight into the company's view of the economy.
Deposit with your local payment systems