Nobel economics prize winner Robert Shiller: "It's (Bitcoin) a social movement. It's an epidemic of enthusiasm. It is a speculative bubble. That doesn't mean that it will go to zero…Bitcoin is a social movement whose popularity splits along geographic lines in the US."
Steve Wozniak, the co-founder of Apple called blockchain a "Bubble", however, it still has the future and thinks Bitcoin is still "just amazing".
Cryptocurrencies
Bitcoin is falling further. The cryptocurrency is under the support at $6,000. It's a warning sign for the further Bitcoin direction. On Monday, the price managed to return above $6,000, however, couldn't stick there. The next support is at $5,500. Bitcoin needs a support as soon as possible, otherwise, it will fall to $3,200 as analytics predicted before.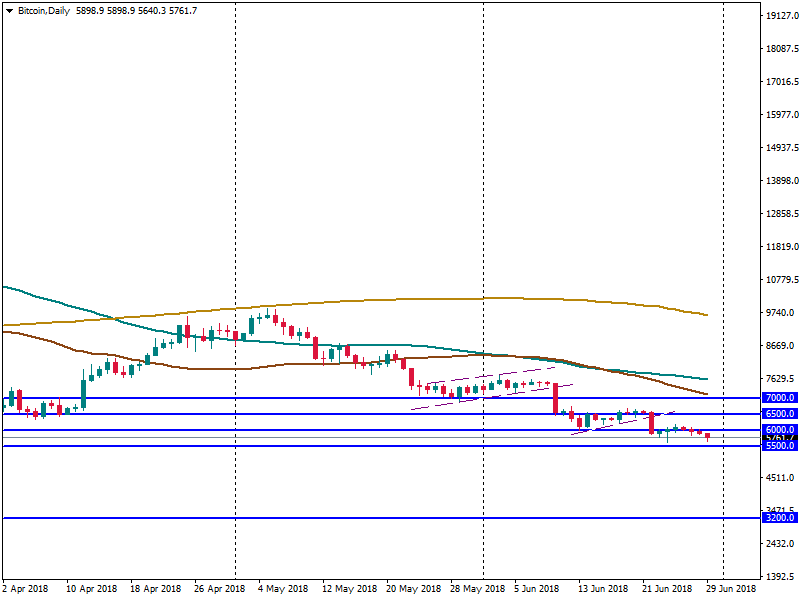 Tether released additional 250 million USDT again. Experts noticed it caused a surge of Bitcoin price and a rise in the trading volume. The founder of Litecoin Charlie Lee said that such situation isn't new for Bitcoin. Previously the rise of the price happened exactly because of the additional release of USDT tokens.
Analysts said that a launch of ETF can push Bitcoin price up. If ETFs attract 24 million American investors and 14 million from the whole world, it will add $84 billion and $336 billion to the market capitalization.
More than 40 Bitcoin forks appeared at the market less than in a year. According to an analyst, such platforms as Fokgen let almost everyone create clones of major cryptocurrencies. Cryptocurrency investors don't take them seriously. Just have a look at their names: Bitcoin Pizza, Bitcoin Candy, and Bitcoin God. According to June data, only Bitcoin Gold, Bitcoin Diamond, and Bitcoin Private are Bitcoin forks.
Antpool and BTC.com pools (under control of mining giant Bitmain) managed to mine 16.5% and 25.5% of all Bitcoin blocks. Cryptocurrency market worries that Bitmain may take control under 51% of the network's hashrate. A threat that the major part of Bitcoin network will be controlled by one company may pull Bitcoin price even lower.
Investors prefer Ethereum to Bitcoin and are for the regulation of the cryptocurrency industry. According to a poll of Foley & Lardner LLP (US), despite the recent correction and uncertain regulation, 58% of respondents are open to investments and ready to develop the cryptocurrency business. 84% thinks that ICO should be under control of a federal government or separate states, 68% is for a regulation of buy/sell cryptocurrency operations.
FBI investigate 130 cryptocurrency cases. Cryptocurrencies were used while a human beings traffic, blackmailing offenses, a cybercrime and a drug industry.
Regulation
China is going to implement cryptocurrencies in the financial system.
Three bills about the blockchain regulation and ICO will be considered in Malta. It's worth saying that Malta is one of the most cryptocurrency-friendly countries. Only in the last few months, Binance, OKEx and Bitbay cryptocurrency exchanges announced an opening of offices in the country.
Financial Services Commission of South Korea tightened control under cryptocurrency exchanges. Banks serving cryptocurrency exchanges have to track the movement of both funds in the accounts of traders and their own assets of cryptocurrency exchanges.
Facebook allowed limited cryptocurrency ads. To get a permission, advertisers have to provide Facebook with data on licenses, listing on stock exchanges data and any important public information about their businesses.
Cryptocurrency exchanges
The number of clients of the cryptocurrency exchange DX Exchange (based on the NASDAQ infrastructure) exceeded 500,000 people even before its launch. The cryptocurrency exchange will offer trading with 0% commission.
Coinbase will provide trading with the GBP. In March the cryptocurrency exchange started cooperating with Barclays (British Bank).
Blockchain
Alibaba tested payments with blockchain successfully. It took just 3 seconds to make a payment.
South Korea will invest $200 million to develop blockchain.
According to a research, 46 states have already presented more than 200 blockchain projects. The research company noticed that Blockchain can help states to resist manipulation of data and increase the transparency of operations, but noted that the "exaggerated hype" around the blockchain outshines its real capabilities.
Bitcoin $5,898 (-3.45%)
DASH $218.81 (-1.41%)
Ethereum $415.17 (-4.30%)
Litecoin $73.548 (-6.42%)
Similar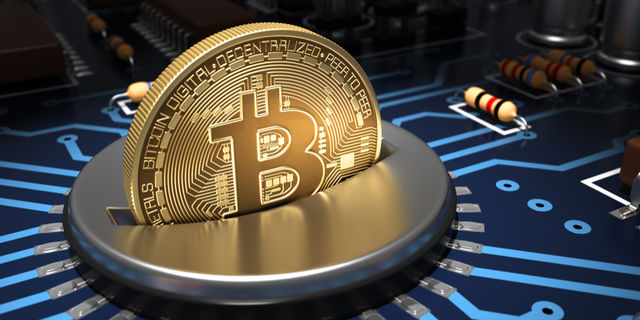 Weekly Cryptonews
What has provoked the panic in the crypto community today? Find out here!
Latest news
What Currency Will Overperform?
S&P Global, a private banking company, will release a monthly change in British Flash Manufacturing Purchasing Managers Index (PMI) on January 24, 11:30 GMT+2. The index is a leading indicator of economic health as businesses react quickly to market conditions, and purchasing managers hold the most current and relevant insight into the company's view of the economy.
Deposit with your local payment systems