Steve Wozniak, Apple co-founder: "I'm not sure that I can buy that we've seen massive value destruction but I think we've seen massive value creation… psychology will often drive markets… I never invested [in Bitcoin] as an investor, I only had Bitcoin to experiment with and find out how to buy and sell things around the world, and find restaurants that accept Bitcoin."
"What goes up must come down and that which pumps must eventually dump." Last Sunday the price for Bitcoin bounced from the $4,250 level and fell downwards to the December's support at $3.808. Bears tried to pull the digital currency lower on Wednesday, testing the ground below the 100-day SMA, but their attempt was unsuccessful. If they gain strength, the support at $3,808 will be broken and we will see a further fall towards the next one at $3,731. On the other hand, if Bitcoin continues its steady recovery, its price will face the first resistance at $3,960 and target the next level at $4,078. ADX shows bulls dominating in the market, but their pressure is weakening.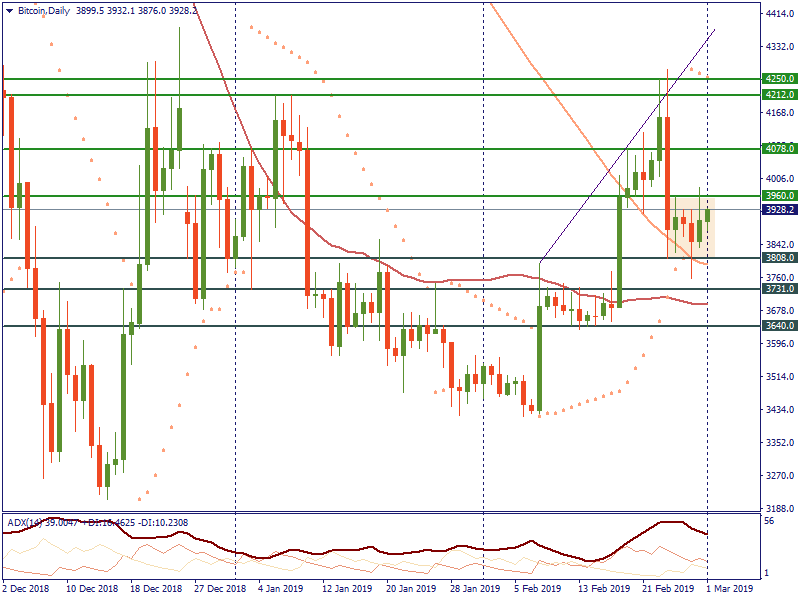 Regulations:
Reportedly, Russia plans to launch its own cryptocurrency backed by oil.
Bahrain became the first Arabic country with full Bitcoin regulation. According to its central bank, a country is a safe place for crypto assets businesses now.
Thai Security and Exchange Commission (SEC) approved ETC, LTC, BCH for ICOs and trading.
New announces:
Constantinople and St. Petersburg updates were successfully activated in the Ethereum network yesterday. According to EtherNodes data, 26.2% of users switched to the new client.
Cryptowallet of the new Samsung S10 will support BTC, ETH currencies and ENJ and BAT tokens.
The biggest Swiss bank Julius Baer announced its plans to provide cryptocurrency services to their clients.
Sony and Fujitsu companies developed a blockchain system for assessing the level of knowledge of foreign students in Japan.
Facebook consults with crypto exchange platforms about the listing of its own stable coin for WhatsApp.
Bitcoin $3,955
DASH $86,66
Ethereum $139,86
Litecoin: $48,48
Similar
Latest news
The Yen Sets New Lows
The Japanese yen fell to its lowest level against the US dollar in 33 years. Read the full report to learn the next target for USDJPY!
BlackRock CEO Supports The USD
BlackRock CEO forecasts the Fed may have to raise rates further. The US dollar index (DXY) gains 130 points today. Read the full report to get more fresh news and technical analysis!
Deposit with your local payment systems